CD: Alison Krauss & Union Station - Paper Airplane |

reviews, news & interviews
CD: Alison Krauss & Union Station - Paper Airplane
CD: Alison Krauss & Union Station - Paper Airplane
Rhythmic finesse and tonal subtlety from Krauss's comeback with Union Station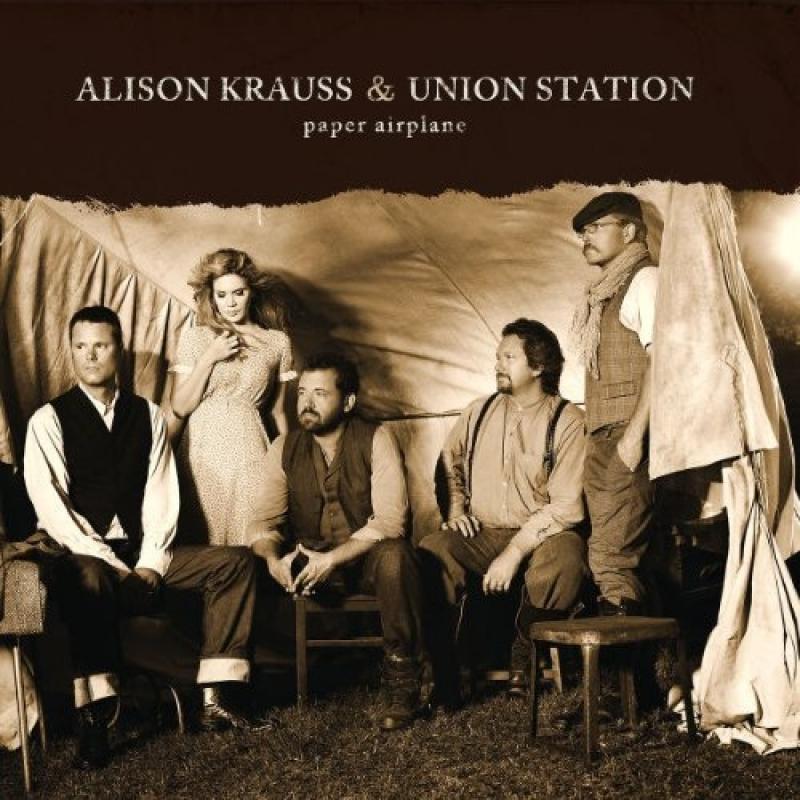 Bluegrass, newgrass, power-grass... Alison Krauss and her cohorts can play all this and more
Alison Krauss hasn't made an album of new material with turbo-bluegrass combo Union Station since Lonely Runs Both Ways, from 2004. Having filled some of the time in between by co-starring with Robert Plant on the mesmerising (and Grammy-guzzling) Raising Sand, she returns here to her familiar pastures of hard country and raw bluegrass, with a sprinkling of winsome balladry to sugar the pill.
The four-man Union Station are peerless in their field, each of them trailing a clutch of industry awards to go with their lists of performing credentials, but they always find a distinctive mood when they renew their relationship with Krauss (the longest-serving veteran, bassist Barry Bales, first played with the leaderene in 1990). It's the crispness and precision of their instrumental work that consistently dazzles, and the unit are often at their best when they keep it stark and simple.
In "Sinking Stone", Krauss's melancholy vocal is wafted aloft on a simple lattice of acoustic guitar and dobro, with discreet vocal harmonies gradually adding tints and texture. On Peter Rowan's song "Dust Bowl Children", guitarist/mandolinist Dan Tyminski sings the lead in a tale of po' folks and rural hardship, the band sustaining a tense rhythmic pulse underneath Ron Block's raw banjo picking. "Lie Awake", a kind of spectral lullaby, pads along softly amid sinister wisps of dobro, eerie fiddle scrapes and mandolin.
Krauss likes to pitch herself at a broader audience beyond the country music core, but it's on the higher-profile pieces here that she's at her least persuasive (she's not helped by the disc's somewhat sterile and technical recorded sound). Her shot at Richard Thompson's "Dimming of the Day" is so comatose that it virtually dies of old age, while Jackson Browne's "My Opening Farewell" has been shorn of its author's distinctive plaintiveness. She fares much better in the lithe groove of "Miles to Go", or on "My Love Follows You Where You Go", where the band invent what we might call power-grass. One suspects this music might sound transformed in live performance.
Krauss's melancholy vocal is wafted aloft on a simple lattice of acoustic guitar and dobro, with discreet vocal harmonies adding tints and texture
Share this article