Depeche Mode, Manchester Arena review - synth-pop gurus raise the spirits of thousands |

reviews, news & interviews
Depeche Mode, Manchester Arena review - synth-pop gurus raise the spirits of thousands
Depeche Mode, Manchester Arena review - synth-pop gurus raise the spirits of thousands
Eighties icons storm through a set that's equal parts prettiness, darkness and pomp
Saturday, 18 November 2017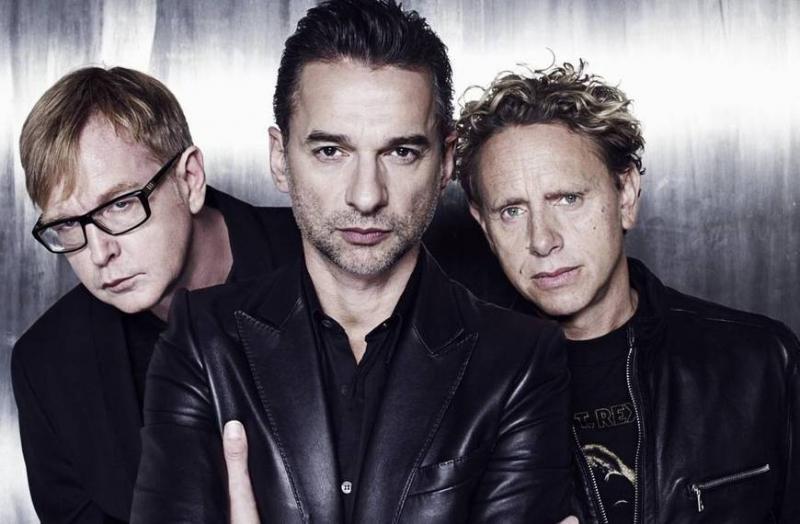 People are people and pouting is pouting
For a band as big as Depeche Mode, in a venue as big the 21,000-capacity Manchester Arena, on a tour as big as their current Spirit tour, it almost doesn't need saying that the pre-gig atmosphere is buzzing.
A major presence on the British music scene since their 1981
electropop
debut
Speak and Spell
, they've since tried their hand at goth, new wave,
rock
'n'roll, industrial music, and classical piano, all of which has helped birth this year's politically-influenced
Spirit
. Now, stood before hordes of people who grew up with their music, they'd be praised no matter what they played. That doesn't mean they're lacklustre by any means, though: there's something in their performance for everyone.
The band start off with Spirit cut "Going Backwards". It climbs slowly through spacey synths and trudging drums, warming the audience up for the mammoth 20-song set awaiting them. "We have not evolved" croons singer David Gahan in its opening bars, though the music seems to say otherwise; the newer material isn't aping their older work, but stands on its own merit.
The crowd are like an extra band member
Cryptic signs, paint splatters, animated shapes and monochromatic films play out behind the band, who loom below in all-black. Founding member Andrew Fletcher in particular looks like the Terminator in his large black sunglasses and table of synths. Martin Gore's black-painted nails take the intricate guitar parts all night, whilst Gahan marches, skips and prances his way through every song, sometimes salsa dancing with the mic stand, sometimes just stood shaking his hips at the audience, who lap up every second of it. The crowd are like an extra band member, practically taking over singing duties on songs such as "Enjoy The Silence" and "Where's The Revolution".
The gently chugging intro of Black Celebration's "Stripped" gets one of the largest cheers of the evening, although it doesn't ever properly lift off in the usually tragic chorus – it's as if the band have taken the song name literally and whittled the music down as a result. Luckily, it's an anomaly in a set which, for the most part, perfectly marries Depeche Mode's stadium-filling poppiness with their characteristic melancholy. Nowhere is this seen more than in "World In My Eyes". Bathed in soft pink light, the drums snap and dance alongside the audience, constantly pushing the downbeat melodies onwards. "Never Let Me Down Again" is also breath-taking in its stomp and force.
Gore gets a moment in the spotlight during encore track "Judas", which he gives the emotional piano-with-vocals treatment. It's then just two short songs until their final offering of the night, the rollicking and triumphant "Personal Jesus". As the last bars ring out round the arena, it seems that every pair of hands in the room is raised, desperate to "reach out and touch faith". It can't be easy for a band to condense 36 years of hits into one evening, but Depeche Mode have managed it – and managed it extremely well – all the same.
Gahan marches, skips and prances his way through every song
rating
Explore topics
Share this article