Extract: I've Always Kept a Unicorn: The Biography of Sandy Denny |

reviews, news & interviews
Extract: I've Always Kept a Unicorn: The Biography of Sandy Denny
Extract: I've Always Kept a Unicorn: The Biography of Sandy Denny
Tables turned as Fairport Convention are auditioned by their new singer
Sandy Denny: no shrinking violet
Sandy Denny was well known within the folk world by 1968 (writes Kieron Tyler). Although the recordings were as-yet unreleased, in July 1967 she had recorded with The Strawbs. She featured on two albums which were in the shops in August 1967: Alex Campbell and His Friends, and Sandy and Johnny, made with Johnny Silvo. Early the next year, she was contemplating her next move.
The story is picked up in Mick Houghton's I've Always Kept A Unicorn: The Biography of Sandy Denny as Fairport Convention audition for a new singer in the wake of Judy Dyble being asked to leave the band. The group already had their first album recorded and had not initially planned to get another female singer.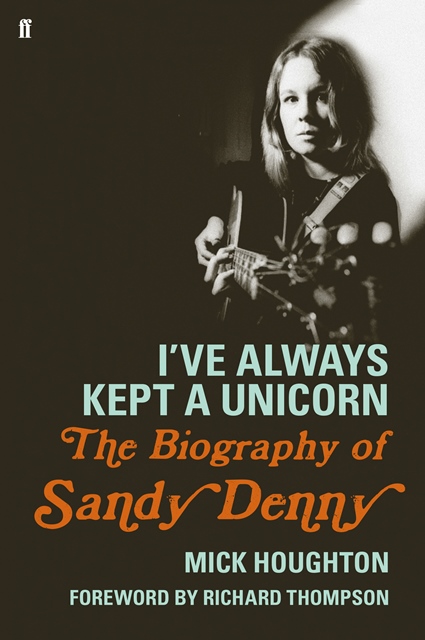 Dyble had played her final show with Fairport on 5 May 1968 in Rome and after that, as founder member Simon Nicol said, "we found the reaction at the handful of gigs we played without Judy knocked us back. It was 'where's the chick singer?'"
Author Mick Houghton continues the narrative in this exclusive extract from his I've Always Kept a Unicorn (published 5 March):
The auditions for Judy Dyble's replacement took place at the Eight Feathers Boys' Club in Fulham in the week of 13 May; nobody involved is certain of the exact date. Having realised they needed another girl singer, the group and Witchseason already had a shortlist. "I suspect none of us knew who Sandy was," says Hutchings. "I'm certain none of us had seen her. I always had my ears open and was pretty knowledgeable. We didn't know about the albums she made with Alex Campbell and Johnny Silvo – nor do I remember Sandy ever speaking about them."
"I knew Sandy's name," says Simon Nicol. "I knew she was one of the Cousins crowd. We just asked around, and between us and Witchseason we put the word out. If it was [Fairport manager] Joe Boyd's idea to put Sandy in the frame, we weren't aware of that, but she would have cropped up through other avenues anyway. We auditioned about twelve girls and it was torturous. It was all done in a day and a half and, honestly, nobody else left any impression." The entire band now claim to be unable to remember – most likely out of politeness – who the other candidates were. Nicol would later make an oft-repeated remark about Sandy "standing out like a clean glass in a sink full of dirty dishes", which, says Hutchings, "is a bit offensive to the others who came along, but there was absolutely no contest when we heard Sandy. That was it."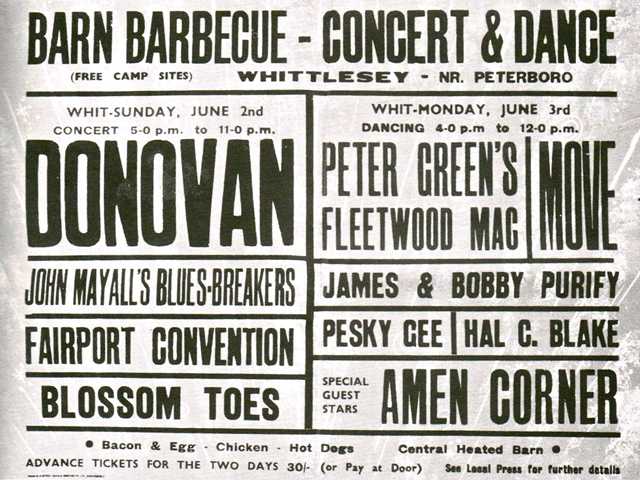 Sandy said it was Heather Wood of the Young Tradition who told her about the auditions. "When Judy Dyble left," says Wood, "Steve Sparkes, who was part of the Witchseason set-up, asked if I would be interested in joining. It wasn't even put as strongly as that. I was with the Young Tradition and I had no desire to leave, so I said, "Why don't you ask Sandy?" The rest is history. I don't think I was the only one who suggested her, though. Also, I met the Witchseason crew through Anthea Joseph, who used to run the Troubadour. Anth and I were friends; Anth may have had a hand in Sandy going along." Karl Dallas says he also put her name in the frame. (pictured left: ad for Sandy Denny's second appearance with Fairport Convention, 2 June 1968. Courtesy Faber)
In the meantime, Joe Boyd was in America with the Incredible String Band and was famously concerned "she'd eat them for breakfast" when he heard about Sandy joining Fairport. "I went "Wow." I was thrilled but I was also slightly alarmed. I think at least some of them knew about Sandy because I know I had talked to them about her. They used to come over to my flat and the test pressing of Sandy's record with the Strawbs was lying around, and I used to play it a lot to people and say, "Listen to this song." It's quite possible I played it to them but I picked out a lot of stuff I would want them to hear because they were so open to it. So it's one of those things that are in the mists of history. I only have the headlines. Sandy certainly knew about them from me but the fact of the matter is that I was out of town and had nothing directly to do with it. I had misgivings beforehand but once it happened it was clear that it was just great."
Sandy had been no shrinking violet at the auditions. "When she met Fairport," says Linda Thompson, "it was like, "You first. I want to hear something." And for a girl in those days it was absolutely unheard of. They asked her to join that day. I don't think she would have auditioned for them unless she knew something about them."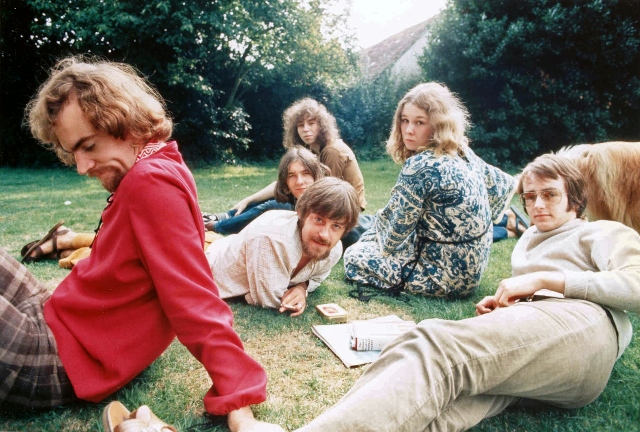 Sandy sang "You Never Wanted Me", which became part of Fairport's repertoire for a few months. "We all just knew," says Hutchings. "I don't think we even discussed it. One song and she was in if she wanted to join." Richard Thompson adds: "She said, 'I want to hear something you do,' which was fair enough, and we did Tim Buckley's "Morning Glory". I don't remember her saying, "Can I let you know in a couple of days?" or anything like that." Iain Matthews has a slightly different take on proceedings: "I'm not so sure she auditioned! It was more a rehearsal. There were lots of nods of approval and positive murmurings. Our voices went together OK and in she came." (pictured right: Sandy Denny with Fairport Convention, Summer 1969 at Farley Chamberlayne during rehearsals for the Liege & Lief album © Eric Hayes. Courtesy Faber)
Even today, it's obvious that Judy Dyble still feels hurt at the way she was dismissed from Fairport Convention. "I'm sure that because Sandy had no history with them," says Dyble, "she was accepted on a more equal footing. And she had a more forceful personality than me. I did meet Sandy at her flat at once. I felt I had to somehow, and it was very strange – I gave her a recipe for mead.
"I just wish they had had a really terrible singer between me and her. I'll always be compared to her. For a brief while Sandy sang several of the songs that I sang with Fairport. I had thought of them as "my" songs, but I was more jealous because she sang them so well."
Sandy's first gig with Fairport Convention was on Saturday 20 May at Middle Earth – remarkably, less than a week after the auditions. She also travelled with the band to Portsmouth Guildhall in the week and may have got up onstage with them. Kingsley Abbott remembers that even at the first Middle Earth gig she was already well integrated into the group and not just providing back-up to Ian's leads but singing her featured songs. Her audition song, "You Never Wanted Me", was included in her first Peel Session as a member of Fairport, which was recorded on 28 May and broadcast on 2 June. Fairport's debut album, Fairport Convention, was released on 1 June, but the session featured only one of its tracks, "I Don't Know Where I Stand". For the first time, but certainly not the last, a Fairport Convention album was released which featured a line-up that had already changed.
I've Always Kept a Unicorn: The Biography of Sandy Denny (Faber & Faber) by Mick Houghton is published on 5 March
Joe Boyd was concerned 'she'd eat them for breakfast' when he heard about Sandy joining Fairport Convention
Explore topics
Share this article