Fatoumata Diawara, Roundhouse review - Malian magic on show |

reviews, news & interviews
Fatoumata Diawara, Roundhouse review - Malian magic on show
Fatoumata Diawara, Roundhouse review - Malian magic on show
Mali songbird with a modern touch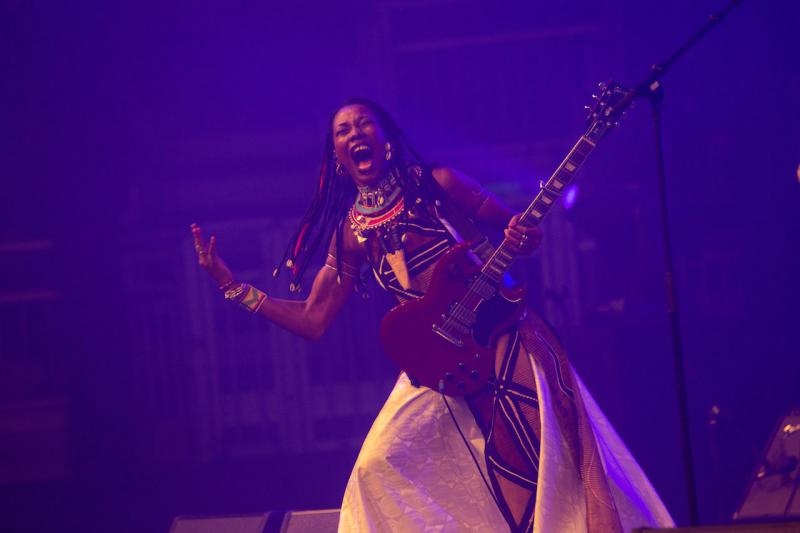 Fatoumata in full swing
Fatoumata Diawara knows how to please: with a winning and innocent smile, she wins the audience over in a matter of seconds. She has a vocal style all of her own: in her first song, "Don Do", a quiet and meditative prelude to the boisterous show that follows, she seduces with sensual textures and a slight rasp unique among West African women singers, and which owes as much to jazz and gospel as to the traditions of her musically-rich country.
After the first of a number of slightly predictable but heartfelt intros, in which she promises to give us an Africa beyond the clichés of poverty and mass migration, Fatoumata launches into the first of a series of sizzling songs, characterised by the pentatonic scale of Bambara music, a style very different from the Manding sound of Salif Keita, and made much more popular by her mentor the Wassoulou 'songbird' Oumou Sangaré. In "Timbuktu", Fatoumata cries out with great compassion for the children of Timbuktu, for whom education has been forbidden by the Islamists who would make culture one-dimensional and without music.
When Malian music first hit Europe and the USA in the 1980s and 90s, most of the performers stuck to traditional forms. Salif Keita was the first singer to marry Malian instruments with the showy pyrotechnics of the rock guitar. There had been 'foreign' influences before, not least a love affair with all things Afro-Cuban, going back to the 1940s, but the rock influence was new, and many found the flash of an electric guitar inappropriate. Later, Salif returned to a more traditional combination of ngonis, balafons and acoustic guitars, and made a tremendous collection of more rootsy albums.
Fatoumata navigates a difficult, but clearly audience-grabbing territory between traditional Bambara rhythms and scales, and the more explosive virtuosity of rock. When she soloes on her electric guitar, with masses of reverb and a delicately-used wah-wah pedal, there are echoes of Hendrix. Her body language and facial expressions seem borrowed from white rock clichés, in contrast with her very elegant moves on the more traditional material. Her lead guitarist Yacouba Koné supports with the sweet tremolo-laden sound characteristic of West Africa, but also launches into wild rock-style solos – all of which go down a storm with the London audience.
There isn't moment when Fatoumata lets go: she relishes the show and her mischievous almost child-like sense of fun is contagious, the audience lap it up. Fatoumata has worked as a film actress, and she loves playing a part – in this case the party-animal-cum-sorceress, brandishing sacred wands, shimmying to-and-fro across the stage, whirling like a dervish, her long braids wildly swinging around. She is of the generation of Malian musicians who have tuned into rock and pop, watched a whole lot of videos, and cut loose from the sometimes constraining hold of tradition, rather than being uneasily caught in a kind of cultural limbo. No small praise to Damon Albarn, who with his project Africa Express has done wonders for musicians in Africa, Mali in particular. He has involved Fatoumata in the project, and joined her on stage at the Roundhouse, displaying touching respect for his friend and her musicians, as well as joining in with his trademark melodica.
None of her Malian predecessors, Salif Keita, Oumou Sangaré, Kassemady Diabaté, for all their brilliance and emotional power as singers and musicians, have created the kind of show Fatoumata delivers. At its worst -and only occasionally - it teeters on the edge of Africa lite, but that works, right? And the sound quality and mix was at times muddy, Sékou Bah's bass guitar sometimes a kind of mush. There were, to my ears at least, a few too many moments when the music felt generic and unsubtle, the jollity and relentlessly energy performance a little predictable, but there was no question that the audience were roused to fever pitch: dedicated work-horse and passionate communicator that she is, Fatoumata, an infectious smile breaking into a beatific grin, got everyone singing, clapping and dancing. As Malian singer and griot Kassemady once told me, "we sing to give people courage!" Fatoumata Diawara and her band offered that kind of joyful healing in spades, at a time when courage is probably what we need most.
she relishes the show and her mischievous almost child-like sense of fun is contagious
rating
Explore topics
Share this article