Hot Chip, Brixton O2 Academy |

reviews, news & interviews
Hot Chip, Brixton O2 Academy
Hot Chip, Brixton O2 Academy
Badly dressed and no charisma, but grooviness galore
Saturday, 27 February 2010
Hot Chip: winter of disco intent
The past might be a foreign country but sometimes they don't do things so differently there. Two decades ago I found myself backstage at Wembley Arena discussing music with one of MC Hammer's rubber-limbed dancers, nicknamed No Bones. Who was his favourite band? A bunch of geeky white Brits called Depeche Mode, who, I discovered, were a huge influence on the Detroit Techno scene. Twenty years on it is payback time.
Detroit Techno is now a huge influence on another group of geeky white Brits, Hot Chip.
Their fourth album, One Life Stand, draws heavily on Derrick May's turbo-charged orchestrated electronic beats, as well as the chimes and cascades of Chicago House. Throw some pure pop sensibility and a fondness for experimentation into the mix and you've got the makings of one heck of a gig.

What this extraordinarily badly dressed quintet lack in onstage charisma they more than made up for in commitment, scurrying around swapping instruments between songs. They are a decidedly democratic outfit. Shock-haired guitarist Al Doyle does the polite "Good evening, Brixton" honours, bespectacled Alexis Taylor does most of the singing. Taylor looks so weedy even people who get sand kicked in their face would probably kick sand in his face, but his high-pitched vocals have a powerfully infectious soulful quality.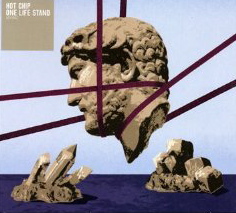 It did not take long for even the packed circle to get on their feet. As quick as the stewards made one section sit down another was up again. They would have had more success getting an octopus tucked neatly into a string bag. "Thieves in the Night", the opening track from the new album, was an instant floor-filler, with more than a nod to Kraftwerk in the super soaraway synths and a splash of early Spandau Ballet electronica too. The CD sleeve, incidentally, all classical severed head and Peter Saville-esque design, is also very Spandau. Somehow though, I can't see any of Hot Chip ending up in EastEnders.

If One Life Stand is not necessarily their strongest release it is certainly their most sentimental, with the title track singing the praises of monogamy and "Brothers", sung by the bear-like Joe Goddard, celebrating the bonds of siblinghood/friendship ("I would give my life for my brothers"). Reproduced live, it also underlined the breadth of their musical ambition and their skill in adding flesh to a style of music that has a tendency towards the clinical. "I Feel Better", a carnivalesque semi-tribute to Moroder/Summer's "I Feel Love", featured an appearance by Fimber Bravo on steel pans, while post-industrial drum legend Charles Hayward, who played on the album and on a 2009 collaboration with Taylor and others, entitled About, provided delicate backing vocals onstage.

There was a well-received spirit of adventure in the new material, but it was the old faithfuls that ratcheted up the atmosphere. "Over and Over" ("like a monkey with a miniature cymbal") raised the proverbial roof, while an encore of "Ready for the Floor" was a euphoric declaration that it was party time in SW9. There might be a few more ballads smuggled into the mix these days, but this is still clearly Hot Chip's winter of disco intent.

I don't know what happened to No Bones after Hammertime finally stopped. But if his joints haven't seized up after his years of popping his body behind the man in the baggy harem pants I like to think that should he have been in Brixton last night he'd have been up on his toes warming to Hot Chip's grooves.

Below: Hot Chip perform "Arrest Yourself".