The Indigo Girls, Facebook Live review - lightening the blues |

reviews, news & interviews
The Indigo Girls, Facebook Live review - lightening the blues
The Indigo Girls, Facebook Live review - lightening the blues
Keeping it close to home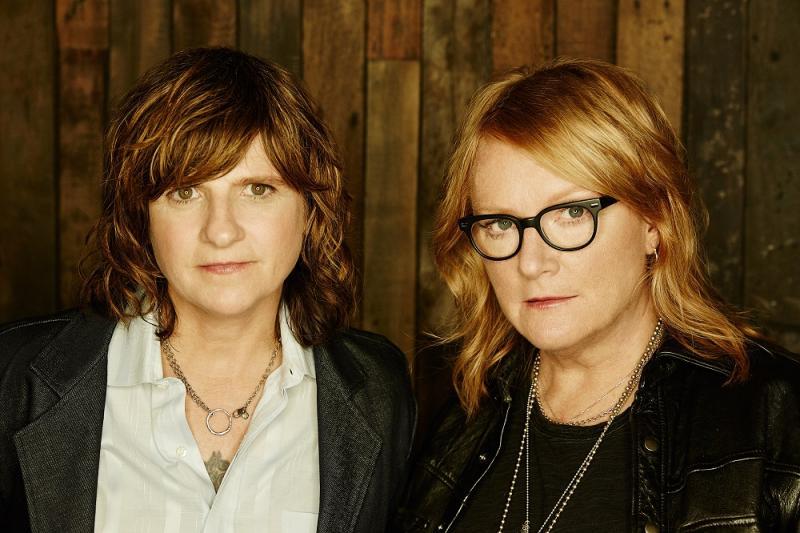 Indigo Girls Amy Ray and Emily Saliers: the whole wide world is watching
Like all other performers, the Indigo Girls were forced to make the "heart-breaking decision" to cancel their spring tour. And in that moment, "we knew we wanted to play a free livestream show," Amy Ray and Emily Saliers said in a statement. "People are feeling scared, isolated, uncertain, and unmoored.
For the public good, we all have to do our part not to gather in person, but we can still play
music
, and we are really looking forward to connecting with you on Facebook and playing a low-key, homegrown set of songs and talking to people directly through Q&A."
We in Britain are now, it seems to me, in "the phoney war" period of this viral world war. In 1939, the bands played on and our parents and grandparents danced – and continued to do so throughout the blitz, ducking into air raid shelters if the sirens went of. My mother, who grew up in Liverpool, becoming a nurse, tea-danced her way through it all with her younger sister, Phyllis. It's how they met their "fellas" – my father, an Atlantic convoy man, was headquartered in the city. And when he got to New York, there were the jazz clubs of Greenwich Village to explore, along with whatever wonderful hospitality the Americans extended to the "Limeys". Carpe diem.
This time the band is silenced, and any dancing has to be done with whoever's available, or round a handbag. There can be no hospitality. The isolation won't be too splendid for we are social creatures and need to come together – and what better way to do so than via a virtual concert?
There was a good deal of excitement around the Indigos' online gig, but many viewers – including me – missed the welcome chat and opening song, as the link at first provided only a wobbly image and electronic babble. Then it all came together and, at its peak, with "Closer to Fine", 62,000 people from around the world were watching. At which point it all froze. "You're so good you broke Facebook!" someone commented, before sound and vision returned for a final few moment of song.
'Everyone's asking if you're six-feet apart!' an off-camera voice intruded, before emerging with a retractable rulerA slice of down-home Americana, from their living room to ours – and to kitchens, porches, gardens and cars, depending on where you were at the time. It was 6pm EST, which meant it was lunchtime on the west coast and10pm in London, a four-hour gap until our clocks change. In Sydney they were watching over morning coffee. We were in a global world shrunk and wired beyond Marshall McLuhan's wildest imaginings – but in the darkest of times, powerless against a hidden enemy that seems so primitive.
The Indigos were coming to us live from an Atlanta, Georgia, the city where they grew up and went to school and where they first came together to make music They sat on blue plastic chairs in front of a comfy-looking sofa and someone somewhere worried they were too close together. "Everyone's asking if you're six-feet apart!" an off-camera voice intruded, before emerging with a retractable ruler. Amy and Emily, laughed, shifted a few inches. "If I'm coughing," said Emily, as she was handed a glass of water, "it's not because I'm sick it's because of the pollen in Atlanta."
Amy switched between guitar and mandolin, Emily between guitar and electric banjo; oft-times they both played their trusty Martins, Emily picking out lead. Songs included "Land of Canaan", "Galileo", "Nothing to Hide," and "Get Out the Map", at which point Trina Foster Bruner commented, "Singing' and dancin' in the kitchen… helps me get through the cancellation of a major road trip." Roxanne from Omaha said it was "the first time I've taken a deep breath this week". The Indigos were clearly delighted.
They answered questions: Did singing in harmony come naturally? Emily said she grew up singing in choirs, so it did. Amy had to learn. They made their weaknesses into strengths. Had being mothers changed them as songwriters? They weren't sure about that, but Amy said the loss of her father a week before the birth of her daughter changed the way she looked at things. Emily thought motherhood had made her more empathetic. What was the first song they sang live together? "'The Junkie's Lament' by James Taylor. I don't think we even understood what it was about," said Amy. "We didn't but we loved it," added Emily.
There was some chat about translating songs from studio to stage, often with fewer resources available. When they're able to hit the road again, the Indigos will be going out with a band, the better to recreate the songs and sounds of their "sonically broad" new album, Look Long, due for release in late May.
There were requests ("We'll sing anything"), which resulted in Amy riffling through her fat collection of words and music. She laid pages on the floor and they sang Elton John's "Mona Lisas and Mad Hatters".
"Friends are scrolling by and logging on – the community is seeing each other," they noted, pleased at this global coming together, 90 minutes or so of healing when everyone could forget that c-word and celebrate another one, creativity. The Indigos worried aloud about the arts community that's "struggling economically" and said they were trying to do what they could, in their heads and their hearts, to "bring joy".
The audience throughout averaged 35,000 but as it hovered around 50,000, the Girls said it was their biggest ever, except for the time they supported the Grateful Dead when Jerry Garcia was still playing his earthly guitar before reflecting: "When we played everyone was probably still in the parking lot".
They launched into their final songs with a "shout-to all the medics and first responders, people working in homeless shelters, prisons and care homes." And they reminded everyone of the importance of doing the right thing.
"We want to end on a joyful note. Thanks for tuning in. Thank y'all for staying at home and staying put. It's really important. Tell everyone you know that's tempted to go to bars or to the beach," said Amy. "Thank you and good luck and we're thinking of all the less fortunate folks," added Emily.