Interview: 10 Questions for Norah Jones |

reviews, news & interviews
Interview: 10 Questions for Norah Jones
Interview: 10 Questions for Norah Jones
After 40m record sales, the jazz-pop singer-songwriter is taking a left turn with Danger Mouse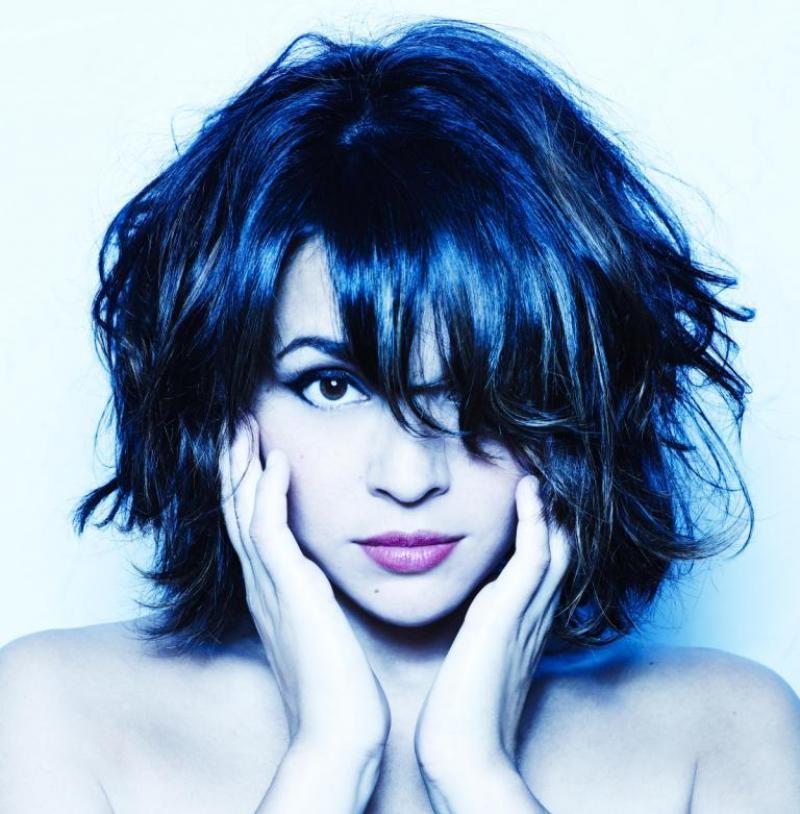 Norah Jones: a little broken hearted
Norah Jones is back. New haircut, new sound, new producer. The first of these, while very nice, needn't concern us too much. The second, meanwhile, is largely a result of the presence of the third, the ubiquitous Brian "Danger Mouse" Burton, who is working so hard these days I'm starting to suspect there might actually be two of him: Danger and Mouse.
The daughter of legendary Indian musician Ravi Shankar and US concert promoter Sue Jones, Geethali Norah Jones Shankar was born in Brooklyn and raised in Texas. She emerged - seemingly fully formed - in 2002 with Come Away With Me, one of those ridiculously successful records the qualities of which have long since been reduced to a shortlist of mind-blowing stats: seven Grammys, 20m album sales - big numbers for such a small record. Although her debut was a smooth, easy-on-the-ear exercise in spare jazz-pop, from the very start there was a honky-tonk ache in Jones's voice and a certain distracted look in her eye that suggested she might one day follow a more varied career path.
Watch Jones perform "Come Away With Me"
And she has. Kind of. Now 33, Jones has certainly put some distance between herself and the jazz-lite Diana Krall market. The Fall in 2009 recast her as a more contemporary beast, a trajectory that has continued – more successfully – on her new album. While still careful to mind its manners, Little Broken Hearts allows far more of the crackle and static of real life to enter her music. At times she puts her shoulder behind some pleasingly meaty grooves; at others the whole thing falls close to silence. Throughout Jones takes a few more chances and pushes her voice in new directions.
As the title baldly states, Little Broken Hearts is one of those records which reads like a 12-step programme for the terminally unlucky in love. Inspired by the end of Jones's relationship with her (mysteriously unnamed) "fiction-writer" ex, the album opens with her "folding my hand" on the fragile "Good Morning". She spends the next 45 minutes rifling through the entire emotional pack. Jones doesn't wallow (much), thankfully. Instead, the songs work through the different stages of a break up: sorrow, anger, vengeance, self-flagellation, optimism and dark humour, garnished with a refreshing twist of couldn't-give-a-fuck chutzpah which might just bode well for her continued creative exploits. In London promoting the album, she spoke to theartsdesk earlier this week.
GRAEME THOMSON: People are already calling this a heartbreak record...
NORAH JONES: Well, you can sum things up in a nutshell. It's easy to say that this record is all about heartbreak and the different feelings and phases you go through with something like that: sadness, revenge, anger, I miss you, I hate you, remembering the good times as well as the shitty ones. All that. It's supposed to tell a bit of a story. I don't think we intended that until we realised that it was all connected, so we kept going in that direction. But songs come from a spark. Anything can spark an interesting thought that can turn into a song. Sometimes it takes you away from autobiography, sometimes not. It doesn't really matter.
Is it hard to write with a broken heart?
It's probably easier.
They always say happy songs are the hardest to write
I think so.
What is it about Danger Mouse (pictured above) that makes people flock to work with him. I mean, what does he actually do?
A lot! We collaborated on all the songwriting – the songs are very much me and him, we wrote them together side by side, even the lyrics. Our friendship dates back to the Rome record, which we made many years before it came out. We started it in the summer of 2008, and I met him then. The whole point of this record was to work with Brian and I knew that was going to make a big difference. I knew I wasn't going to make the same record I'd made before. I was pretty open when I went into it, I didn't know exactly what we would get because he's got a broad range. It was fun figuring it out and throwing stuff at the wall. We're pretty close friends so it was comfortable and a fun process.
Does knowing you're going to be collaborating with someone at that level change the way you approach the work?
It's the first time I've gone into the studio with no songs. We just wrote together and played a bunch of instruments ourselves and built tracks and songs ourselves – and bought a band in at the end. I've never written like that before. It would have been daunting if I hadn't known Brian so well and wasn't very comfortable with him and trusting of him – I wouldn't want to do that with just anybody. But yes, there were days when I thought, Ugh, I can't finish this, and he didn't have anything either, but he's wonderful to be with because he'd say: 'Well, that's OK, let's move on, we can come back to it tomorrow.' And I was like [slaps forehead]: 'Oh yeah, we can do that! It's not brain surgery! No big deal!' It was fun and easy.
I was always self conscious when I was writing. Now I've realised you don't have to record it, but at least write it down
I always think it must be quite a strange experience writing songs with other people
I've never really written with anybody that I don't know well. Maybe once or twice, but usually they are my friends. You don't want to be in a situation where you're afraid to show somebody something because you are embarrassed or there's no chemistry. In the beginning I was always self conscious when I was writing, even by myself. Now I've realised that if you go too far you can take it off – you don't have to record it, but at least write it down.
Come Away With Me was such a huge record, and your first. Did it take a while for you to feel you'd escaped from its shadow?
Not really. It was very intense, but I think I was smart enough to know at the time that it was money in the bank: 'You can do what you want now, so do it.' I was a baby, and although I had no idea what I wanted, I was actually doing it the way I wanted to do it. That record had an interesting history. We went into the studio with a certain producer but it was so far from the original demos, which everyone had fallen in love with, that the label ended up rejecting it. We had to go back in the studio with Arif [Mardin], and I was so traumatised that I was having to remake it that I insisted on using my band, who we had used on the demos. We took the best of the demos, the best of the rejected session, and we rounded it out with Arif and my own band. It definitely was complicated, and I learned from that.
Did you have to develop strategies to cope with fame?
It was weird at first, but I don't generally get recognised that often, which is wonderful. I don't wear disguises or anything, I just don't get recognised that much. It's just how it happened. The cover on my first record (see picture above) looked like me. It just doesn't look like me when I'm out at the bar.
What do you sacrifice for your art?
I think of my career and my life as the same thing.... kind of. [Pauses] Well, they are and they aren't. My music is not all consuming, although when you're on tour and doing 10 interviews a day it can be. There's always a little bit of disconnect when you're away. You stop responding to text messages and emails the way you normally might when you're home. On tour it becomes your life and you need to be surrounded by people you like – you really don't want to be on tour with people you don't like. You need an environment where you have people you can live with, who you enjoy and love and can be your best friend, even if it's just "road" best friends. You definitely need to create that – or at least I do. You try to recreate normality as much as you can on days off. I take my dog on the road, we're already talking about going to an amusement park – we'll keep it fun.
Do you ever think: one day I'll get to where I want to be?
No. I think I am what I'd like to be as an artist, but I would like to keep going. That's when you get stale, when you don't want to try anything new. I'm happy where I am and with where I've been and what I've done, but I don't want to keep doing the same things over and over again. I don't have any grand plans, but I do think each record is kind of a progression to the next thing. I think they've all led into each other in a good way.
Little Broken Hearts is released on Monday
Follow @GraemeAThomson on Twitter
Watch the video for Norah Jones's new single "Happy Pills"
The whole point of the record was to work with Brian. I knew that was going to change everything
Explore topics
Share this article