The Jesus and Mary Chain, Barrowland, Glasgow review - Scottish siblings still the loudest gang in town |

reviews, news & interviews
The Jesus and Mary Chain, Barrowland, Glasgow review - Scottish siblings still the loudest gang in town
The Jesus and Mary Chain, Barrowland, Glasgow review - Scottish siblings still the loudest gang in town
The East Kilbride brothers at their most thrilling when blasting out more obscure material
Tuesday, 16 November 2021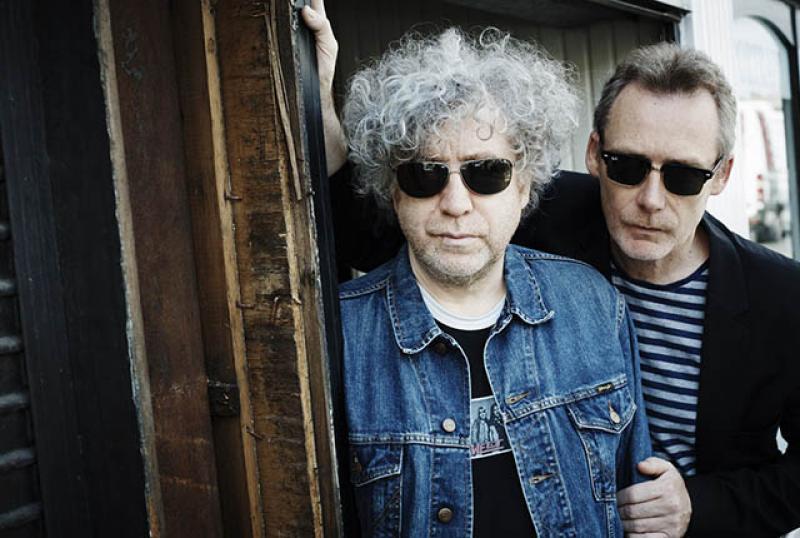 The Reid brothers in cheerful mood
There is unquestionably a more mellow side to the Jesus and Mary Chain these days, even when reviving their most ferocious glories from the past. Prior to launching this two-halved set, comprising their 1987 classic Darklands to begin with and a mixture of singles, B-sides and obscurities for after, vocalist Jim Reid took time out to politely explain the format.
He even mentioned that the fivesome would be having a cup of tea between the two portions, suggesting a surprising tranquillity. Yet the following 90 minutes was, at its best, a bracing, jarring reminder of the power of the East Kilbride band, and the decibel-raising damage that they can do. That they still achieved such disruption while hardly resorting to any material from their Psychocandy days was an enjoyable bonus, letting some lesser known tracks shine.
First though, came Darklands. Surprisingly, this proved to be the weaker portion of the evening. A personal preference here, but album run-throughs can often come across tepid, lacking the excitement or fervour caused by not knowing what's on the horizon. Here we knew exactly what was coming, and though the record itself is still superb, a gig loses something when directly translating it to stage. The title track came across a little too pristine, while the overtly poppy "Happy When It Rains" felt lacking actual menace here, merely a shout-a-long chant for the Glasgow crowd.
A typically dark-clad Reid, offering muffled thank yous throughout, displayed a voice in good nick, while his brother William remained off to his side, frizzy hair occasionally spotlighted as red lights bathed the stage. There was more to admire in the lesser known tracks from the record, from the sweet pop core nesting underneath "Down on Me" to the affecting strum on the closing "About You", but it did feel slightly like simply confirming a fact already known – that Darklands is a great rock album.
However when the group re-emerged for the second half, it took barely 30 seconds of the fizzing "Happy Place" to sense an upturn. They weren't kidding about delving into the more obscure, for a smattering of B-sides to tracks from their less acclaimed albums, such as 1998's Munki. Here they sounded revitalised, dark-hearted and dangerously sexy though, with the fuzzed-up squall of "Moe Tucker", the powerful drone of "Everything's Alright When You're Down" and, most of all, a "Kill Surf City" that sounded like a violent explosion in a confined space, all absolutely pummelling over the Barrowland floor.
Reid shifted himself at times, placing his back to the crowd, shorning those earlier niceties and reverting to disdain. He wasn't really, of course, and was back to thanking all in attendance shortly thereafter. There was still time to fit in a brief encore capped by a terrific "Never Understand", that blend of pure 60s pop and ear-bleeding distortion that remains one of the greatest singles any band has ever created.
The Reids themselves may be more sedate these days, but as the closing din of feedback indicated the music itself will always retains its beauty through the sheer virulence created.