Korea On Stage, OVO Arena Wembley review - a symphony of lights, beats and empowerment |

reviews, news & interviews
Korea On Stage, OVO Arena Wembley review - a symphony of lights, beats and empowerment
Korea On Stage, OVO Arena Wembley review - a symphony of lights, beats and empowerment
K-Music extravaganza delivers rock anthems and electropop bangers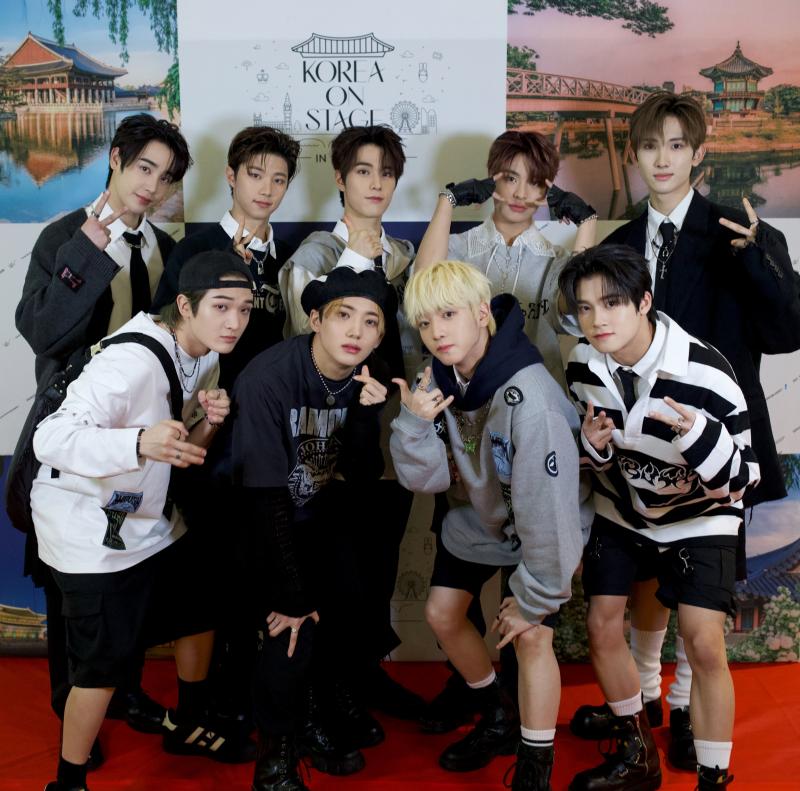 Head-nodding beats and boundless energy: xikers
Choruses rocked, choreo popped, and thousands of light sticks danced in unison, as an incredible lineup of nine acts lit up this fourth edition of Korea On Stage, celebrating 140 years of UK-Korea relations.
The evening commenced with the beautifully clear timbre of the traditional Korean stringed instrument, the gayageum, played by Yageum Yageum, who adroitly fused the ancient and the modern in her opening medley of songs by BTS, FIFTY FIFTY, NewJeans and IVE. Seated centre stage, her nimble-fingered playing, beatific smile and lightly worn virtuosity radiated a sense of joy which set the tone for the entire evening.
As the newest K-pop group of the evening, BOYNEXTDOOR exuded a youthful charm and enthusiasm. Standouts from their set included the bubbly "One and Only" and the melancholic ballad "Crying".
From the singalong chorus of "DO or DIE" and the head-nodding beats and stacked-up vocal harmonies of "Tricky House", to the striking chorus hook of "HOMEBOY" and the eclectic sound-world of "ROCKSTAR", xikers brought boundless energy levels.
After dusting down a tribute to Queen with a cover of "We Will Rock You", XDINARY HEROES delivered a revitalising blast of K-Rock, from the incessant stomp of "Freakin' Bad" to the passionate defiance of "Pluto". A hugely impressive set from rapper Lee Young Ji saw her deliver a delicious slice of self-empowerment with "Not Sorry", all about living life on your own terms, plus two songs on which she appears as a guest artist, "Fighting" by BooSeokSoon (the three-piece sub-unit of Seventeen) and "Smoke" (with Dynamic Duo).
With their distinctively retro sound, indie rock band JANNABI presented a trio of tracks from their 2019 album, Legend, including the anthemic title track, the warm glow of "Together!", the sweet yet salutary tale of unrequited love, "For Lovers Who Hesitate", plus the wistfully contemplative "Summer". JANNABI were then joined by special guest, UK singer-songwriter, BIMM alumnus and rising star, Henry Moodie, for an entirely apposite cover of "Hey Jude", with The Beatles being one of JANNABI's most important artistic touchstones. Moodie then performed an impressive brace of his own songs, the poignant "Pick Up the Phone" and "Drunk Text", which mined the timeless theme of loving someone from afar.
P1Harmony's set featured the rock/hip-hop mash-up of "Look At Me Now", the infectious energy of "Back Down", plus EDM banger "Follow Me". From their latest mini album Harmony: All In, released earlier this year, the incredibly potent bass synth line and euphoric chorus of "Jump" affected you at a molecular level.
STAYC's highly anticipated set took us on a musical journey that began with the vibrant electropop earworm "Run2U" (which also features one of the great pre-choruses in K-pop) and ended with a well-received cover of The Spice Girls' "Wannabe". The unapologetically shiny pop of the sextet's "BUBBLE" and "POPPY" also proved massive crowd pleasers. With so many other girl groups that London K-pop fans would love to see, it was perhaps surprising that STAYC was the sole female group to perform on the night.
Billboard charting headliners ATEEZ, who performed a sold-out show at The O2 earlier this year, nearly took the roof off the OVO Arena Wembley thanks to a pulsating five-song set – "Pirate King", "Say My Name", "Bouncy", "Eternal Sunshine" and "Guerilla" – which combined stagecraft, incredible choreo and dramatic arrangements to powerful effect. And there was just enough time to squeeze in a touching 'Happy Birthday' for bandleader and captain, Hongjoong.
Hosted by actress Gong Seung-yeon and promoted by the leading K-pop touring agency MyMusicTaste, in partnership with South Korean television network KBS, the joie de vivre of the evening's music-making succeeded in lifting the soul.