Manu Dibango & the Soul Makossa Gang, Ronnie Scott's |

reviews, news & interviews
Manu Dibango & the Soul Makossa Gang, Ronnie Scott's
Manu Dibango & the Soul Makossa Gang, Ronnie Scott's
Legendary Cameroonian star gives fitful account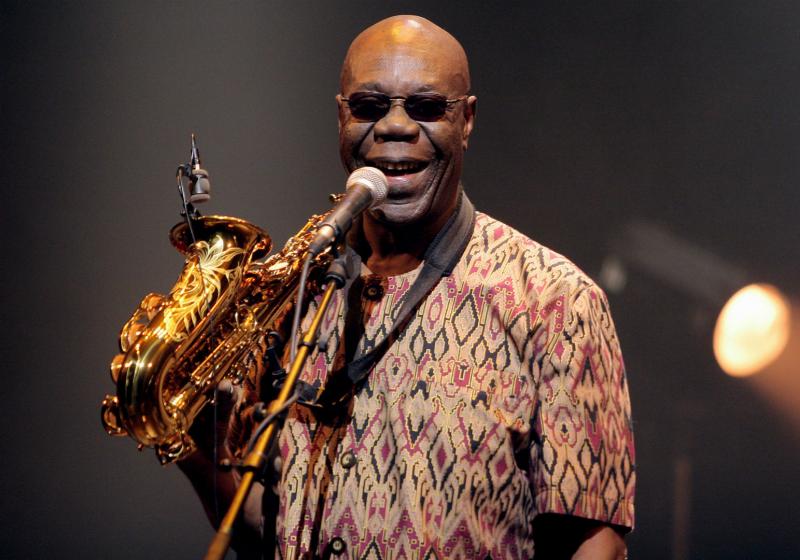 Dibango: Ronnie's roof stays firmly on
It's a nice dilemma. Cameroonian saxophonist and band leader Manu Dibango, who has a Ronnie's residency ending tonight, helped create the disco sound with his 1972 single "Soul Makossa". Since then he has ranged over the extended Afro-soul-funk-jazz family of genres with insouciant ease, his showbusinesslike gift for a glitzy riff leading his influence into pop, too. So how to consolidate this influence? Having blazed so many trails, he seems content to enjoy their warm glow through the rear view mirror on the evidence of last night's pleasant but slightly underwhelming performance.
Though the stylistic language varies very widely from track to track, his songs tend to have a similar structure, with a leisurely build up to a climax that – at its best – is entrancingly, groovingly, hip-rollingly gorgeous. It took the band a few songs to hit their stride, but either side of the interval there were a couple of sensational pieces that built from nothing. "Bolingo City", the third song, a powerfully swinging funk ballad, was a superb ensemble performance, that worked because the players were inside one another's groove so intimately.
The band's sonic textures are always charming, with vocalist Isabel Gonzalez on a variety of blocks and shakers, and Dibango himself occasionally playing vibes alongside the regular line-up of guitars, keys and drums. Dibango is not above outrageous showmanship: the bird-like sax trills on "Full Up" could have been tasteless in less adept hands. Keyboardist Julien Agazar milked his instruments of their juciest and funkiest sounds throughout, though "Tshakou-Tshakou" – which also had some pealing Highlife guitar – was his highlight. The band closed the show with a version of "Soul Makossa", but it was an anaemic affair compared – as it inevitably would be – with the early recordings.
A reminder of how Dibango's influence has seeped through pop came in 2009, when he sued Sony, Warner and EMI over the use of the chant "mama-koo mama-sa maku ma-ku-sa" from "Soul Makossa" that Michael Jackson recycled in "Wanna Be Startin' Somethin'", and Rihanna revived again in "Don't Stop The Music". It's quite a legacy.
Last night's gig confirmed Dibango's range, but also the increasing sense that he is now treading water creatively. Both Dibango and the audience seemed content to tip their hat to a historical achievement. Though it clearly isn't a dance venue, sometimes you feel the Ronnie's management would need to deploy landmines to get the audience moving out of their seats, such is the aversion of too-polite crowds to demonstrative appreciation. It was never less than pleasant, but a gig that could have been a whirlwind didn't really rise above a warm breeze.