Neneh Cherry and the Thing, Village Underground |

reviews, news & interviews
Neneh Cherry and the Thing, Village Underground
Neneh Cherry and the Thing, Village Underground
Free jazz and punk rock have their happiest marriage to date with this great collaboration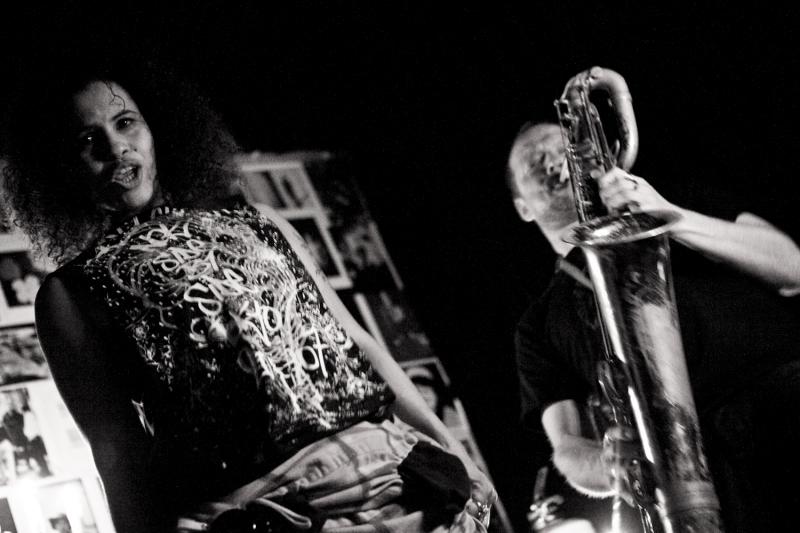 Neneh Cherry and saxophonist Mats Gustafsson
In the grim windowless warehouse that is the Village Underground, Eighties hip-hop-pop princess Neneh Cherry told us that her current return to all things jazzy and experiment was born just down the road in Acton. This is only interesting in the sense that her three collaborators, The Thing, actually come from Sweden where Cherry herself is also based.
After several minutes of competitive screaming from both Ms Cherry and Mats Gustafsson's baritone sax, a groove started to form from the primal free-jazz swamp and a song recognisable as Martina Topley-Bird's "Too Tough to Die" gradually unfurled. Following this explosive opening, the band settled down into one of the more accessible numbers from their debut album The Cherry Thing - Suicide's glitchy secular hymn to the subconscious "Dream Baby Dream". In some ways the way the band tackles this song sums up their whole aesthetic.
This is a band that is only restrained to increase the impact of firing on all cylinders
Ingebrigt Håker Flaten's double bass shadows Gustafsson's sax as they both play the song's core riff. At times the band are so quiet that Cherry can actually step away from the mike and still have her vocals heard at the back of this cavernous venue. But this is a band that is only restrained in order to increase the impact of when they're firing on all cylinders. Cherry revelled in the transcendent cacophony the three men generated, throwing her full cloud of hair about in a Bolan-like manner, and bouncing around the stage looking just as strikingly beautiful as she did 30 years ago fronting her first funk, punk jazz pop group, Rip, Rig + Panic.
Real fame, however, came a few years later with her first solo album Raw Like Sushi. There were a few shout-outs for this album's biggest hit, "Buffalo Stance", but they seemed strictly ironic: this Shoreditch crowd weren't stupid - they appreciated the uncompromising nature of this musical collaboration and they were therefore perfectly happy to be sonically assaulted for 90 minutes of hit-free super-challenging music. Generally speaking, I shared their enthusiasm, although there was a moment during the concert when Cherry stood to one side to rehydrate with a bottle of mineral water while The Thing did their dissonant thing by seemingly impersonating three road workers with drills. It wasn't funny and it wasn't clever, gentlemen. For as soon as the groove went we were left with free jazz free-falling, and the suspicion that no one in the audience was enjoying this wall-of-noise grandstanding quite as much as the musicians making it.
So it was something of a relief when, once again, the song took precedence as the monumental riff of the Stooges' "Dirt" slowly cranked into gear. You've either got to be stupid or supremely confident if you think covering "Dirt" is a good idea. It's a song that's already cast in stone; definitively represented on vinyl. Yet this band grabbed it by the throat, reined it in, and then walked it Godzilla-like back into town. This was one of those moments when the spirit of free jazz and the spirit of 1970s punk rock gelled perfectly. Cherry has really matured as a vocalist, holding back when necessary, screaming out when necessary. The slink and slide of her voice occasionally brought to mind Billie Holiday without ever actually sounding like one of the many female vocalists who deliberately try to emulate the jazz legend. It'll be very interesting to hear what Cherry's own new solo material is like when it's released next year. Because as compelling as her work with The Thing is, we could still do with another "Buffalo Stance".
Neney Cherry and The Thing play "Accordion"
Cherry revelled in the transcendent cacophony the three men generated, throwing her full cloud of hair about in a Bolan-like manner
rating
Share this article