Neneh Cherry, Brighton Festival 2019 review – beloved bohemian |

reviews, news & interviews
Neneh Cherry, Brighton Festival 2019 review – beloved bohemian
Neneh Cherry, Brighton Festival 2019 review – beloved bohemian
Buffalo Stance still firm in a present-tense set
Love and devotion: Neneh Cherry reunited with her public
Neneh Cherry's matchless bohemian life has perversely secured her pop position. The crowd tonight is maybe three-quarters female, and as unconcerned by a setlist almost wholly drawn from new album Broken Politics as Cherry is by the long lacuna in what you could hardly call a career.
From a Swedish commune childhood to an adolescence collaborating with the Slits, from helping start the Nineties with 1989's Raw Like Sushi to lending Massive Attack a room to make Blue Lines, from taking time to bring children into the world, ease parents out of it and grow a 29-year marriage to co-writer Cameron McVey, Cherry's immediate, urgent music is part of a much larger life. It arrives organically, when it's ready. This exemplary independence may be the extra ingredient in this crowd's fervent love. There's the easy intimacy of a proper night out, with phone-filming out and dancing in. It's a rapport Cherry quickly senses, redoubling the loose communality.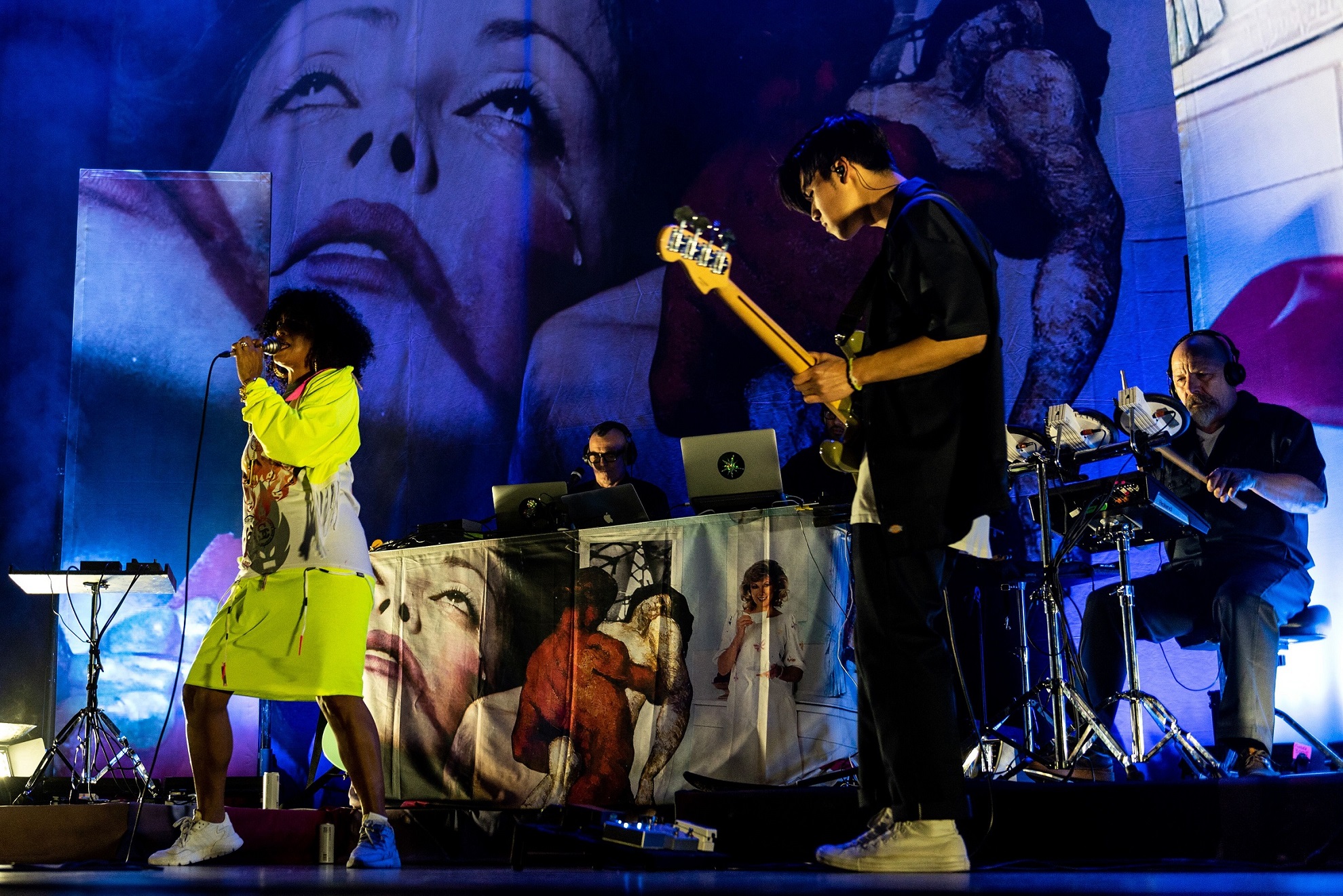 "Fallen Leaves" is an emotionally delicate start, with the sampled folktronica soundscape which Broken Politics' producer Kieran Hebden created in rustic Woodstock brought to life by a band including a harpist, and Brighton's Rosie Barnes unusually doubling on drums and vibes. Darkness falls between songs, to reveal Cherry in a slow-motion prowl through the implacable groove of "Shotgun Shack".
She pauses to consider her album's title, and "an era of mashup politics". "So I guess we got to find our own," she dauntlessly responds. "Right now, right here. Sharing this space together. Let's make some family vibes." A technical glitch and mention of Boris Johnson as possible PM later inspires a cheerily excoriating rap. "It's better to die for a noble cause," she concludes, "than to live and die a slave." As she hitches up her dress and limbos down, and rides her instrument-swapping, liquid swirl of a band, Cherry is calmly wild.
For the emotional dub-dance-pop of "Manchild", she improvises a turban-like headdress, more meaningfully unifying now than it was in 1989. It's a sigh of a tune, rueful and kind. "Look at the state you're in," Cherry the mother and grandmother murmurs.
Her jazz-minded inheritance from stepdad Don Cherry was clear even before her 2013 comeback album after 18 years with fearsome Swedish trio The Thing, doing her thing in active hostility to career maintenance. It's clinched when Neneh reverently introduces the sampled sax solo on "Natural Sun" by Cherry Sr's legendary, late bandleader Ornette Coleman, which yearns and aches heavenwards. Dub thunder follows.
Veteran artists should play more present-tense sets like this, and earn crowds this into it. The encore of hits is all the sweeter, as Cherry replaces Youssou N'Dour to duet with her younger self on "7 Seconds". "So you're wearing dancing shoes," she teases before "Buffalo Stance", a record which led a fresh sort of pop, turning its back on Eighties harshness for hip-hop pop hybrids, colour and grooves. Neneh Cherry's values and virtues, her past and her present, find happy, natural unity here.
Manchild is a sigh of a tune, rueful and kind
rating
Explore topics
Share this article