Ninja Tune XX, Ewer Street Carpark |

reviews, news & interviews
Ninja Tune XX, Ewer Street Carpark
Ninja Tune XX, Ewer Street Carpark
Dancing along the fine line between rave madness and overly considered aesthetics
The crowd in the damp tunnels dance to Coldcut
Its authenticity was helped no end by a torrential downpour leaking through the brickwork and creating puddles in various parts of the uneven floor – and by the rousing mix of hyperkinetic Nineties jungle beats cut up with seemingly humanly impossible dexterity over a dazzlingly crisp soundsystem by Japanese man-machine DJ Kentaro (pictured below) who was playing as we entered.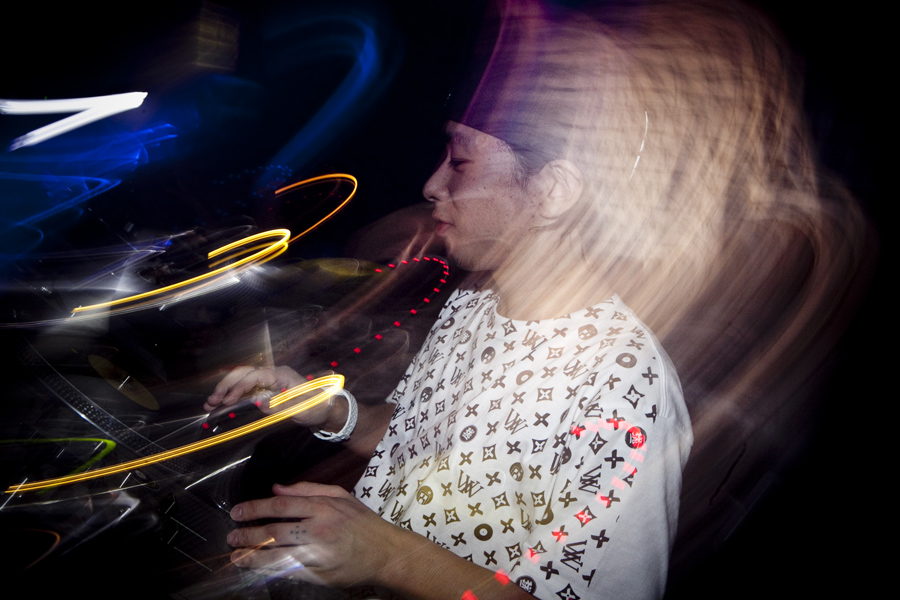 Rather less rough and ready was the preponderance of expensive specs on punters everywhere you looked, indicating a disproportionate number of designers in the crowd. But that's Ninja Tune for you – since its foundation by the duo of Matt Black and Jonathan Moore aka Coldcut, the label has walked a fine line between pirate radio/rave culture, far -out psychedelia and a sometimes overly polished modernist aesthetes' sensibility.
The tensions between these tendencies lead to all kinds of interesting – and less interesting – mutations. Around midnight, though, one could walk between the arches and discover Ninja Tune at its absolute best. From the high-gloss and deeply mindbending electronic space-funk of Eskmo, you could traverse through a chillout area where Funki Porcini's psychedelic films were showing, through the crowd grinning at the whimsical but madly inventive and hugely musical scratch DJing of Canadian maverick Kid Koala, and onto the heaving dancefloor full of people going mad for the philosopher-king of British rap Roots Manuva and his veteran reggae singer sideman Ricky Ranking (pictured below left).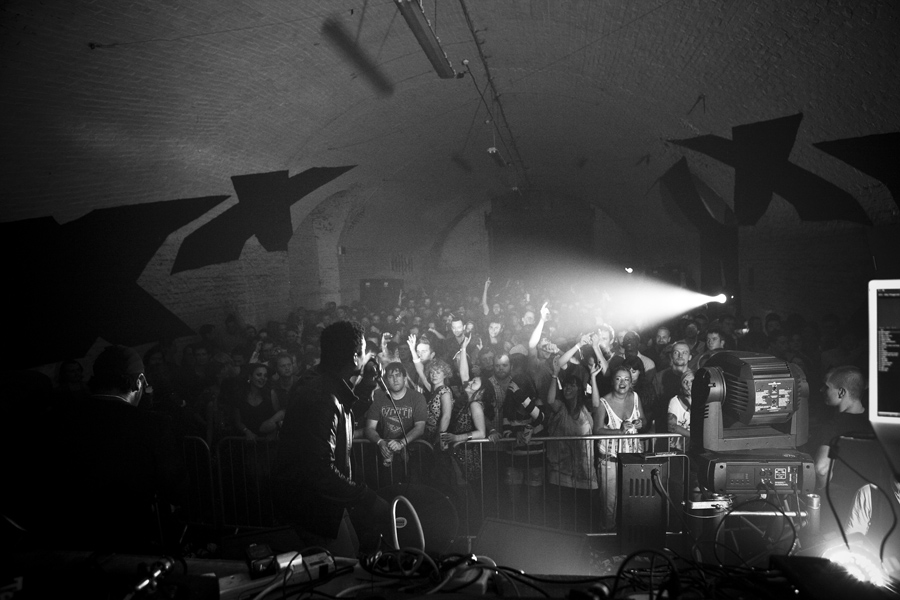 For sure, through most of the rest of the night, you could stumble upon less edifying spectacles: there was too much lazy jazz-funk and jazz-funk-flavoured hip hop played by DJs, and the sight of a 95 per cent white audience in south London dancing with questionable co-ordination to Jamaican dancehall tracks is never particularly pretty. But when later The Bug, aka Kevin Martin, and assorted vocalists delivered a dementedly mangled take on that same dancehall sound, and when young Sheffield livewire Toddla T crushed it together with hugely good natured house, rave and electro sounds, the Ninja Tune mentality of culture collision made far more sense.
And when Austrian keyboard prodigy Dorian Concept played his bug-eyed squelching funk solos over galloping electronic rhythms, the way the bespectacled designers, moody hip-hop heads and rave kids barely older than the Ninja Tune label itself let rip unselfconsciously on the dancefloor was all the proof needed that this was far more than a dry aesthetic experiment.
We found ourselves needing to drag our aching bones out to the nightbus at 3.30am, just as the ever-impressive Mark Pritchard was building momentum in an epic-sounding DJ set – and the party still seemed to be picking up momentum too. Ninja Tune might be two decades old, and there might be an air of theme-park gentrification about its legitimised recreation of the rave ethos, but it's a sprightly old ninja nonetheless; the kind of cross-generational energy at work in keeping such a huge party buzzing so well cannot be faked or "designed"; this was a natural phenomenon of British music in action.
Find the Ninja Tune XX compilations on Amazon
This wasn't an illicit rave as such, but its use of a previously derelict set of six railway arches in the middle of a recession went some way to recreating that old atmosphere
Share this article