Pressure Drop, Wellcome Collection |

reviews, news & interviews
Pressure Drop, Wellcome Collection
Pressure Drop, Wellcome Collection
Billy Bragg plays new songs in a gritty drama confronting the rise of far-right politics
Four podia occupy the Wellcome Collection's temporary gallery space. Three are stage sets: a living room, a pub and a funeral parlour, all recognisable as "typical" working class - in fact, the living room might have been based on Pauline Fowler's dog-eared front room. The fourth, placed further back, is where Billy Bragg will intercut the dramatic action with a new set of songs with his three-piece band, plus engage in a bit of ad-lib banter that will direct the audience back and forth across the promenade auditorium.

Linking up all four sets is a thick, ragged, blood-red strip that runs the length of the gallery walls, ripping apart the hessian backdrop. In this dimly lit space (designed by Tom Scutt), the glowering red hints at violence, of blood spilled. Blood and violence will make an appearance in the play, but since
Pressure Drop
sets out to explore the lives of three generations of a white working-class family - living somewhere in an unnamed east London borough -  it also brings up the notion of blood ties, and of ties torn asunder. And since this is also a play about English national identity, the horizontal red strip of the St George's Cross is inescapable.
Usually staging static exhibitions rather than plays and gigs, the Wellcome Collection's last exhibition,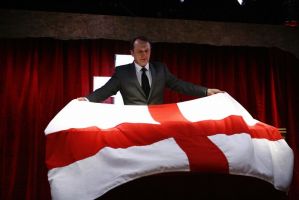 Identity: Eight Rooms, Nine Lives
, took on the knotty and all-encompassing theme of identity.
Pressure Drop
is the culmination of a series of talks and events around that ambitious project. Written and directed by Mick Gordon of
On Theatre
, the play's title comes from a classic reggae number by
Toots and the Maytels
, a favourite song of one of the characters. Ron (Pip Donaghy), recently deceased but regularly popping out of his coffin to reminisce with various family members, is a World War II veteran. His incongruous love of reggae was inspired by a Jamaican colleague who took a bullet in the leg in order to save Ron's life. Ron tells his younger son that he wishes he'd been born black - they have all the best music and dance moves etc. At that point you don't know whether to laugh or wince, but still, it's clear that things are less than tolerant with the next generation down, the ones that seem to have been hardest hit by recession and mass immigration: Ron's eldest son Jack
(pictured above right)
, played with quiet hang-dog expressiveness by Michael Gould, is wondering whether to stand as a BNP councillor.
Meanwhile, Jack's best friend Tony - a mouthy, cockney hard-nut played with impressive comic brio as well as outright menace by David Kennedy - urges him to stand. Tony's even got the leaflets printed up. But though Jack's wife Jacqui (Susan Vidler) is also hesitant, neither she nor her husband can adequately articulate their misgivings. Jack merely insists that none of it is about race - talking movingly about how the white working class has been cast aside and forgotten, outdone by "foreign workers with PhDs" - while Jacqui mutters something about the neighbours and it all being "a bit extreme". But both appear to be drifting along on the apparently unstoppable tide of hate politics, made helpless by their own despair.
Though the BNP is never actually named, references to the current political battles in Bragg's native borough of Barking are all too pointed. Bragg
(pictured below)
is still a Labour Party activist, currently campaigning in the borough against the growing BNP vote, despite now living in Devon. So we naturally see something of Bragg in the character of Jon, Ron's younger son. Jon escaped his own background, not by upping sticks to Devon, but by going to New York and making serious money on Wall Street. Educated and liberal, he uses words like "luminous" and "parochial", words that would seem utterly out of place in the mouths of most of the other characters. What's more, they jar on a deeper level too: the former is used to describe Jacqui, who is Jack's wife but Jon's serious first love (he is the unknown father of her son)  - so already there's quite a bit of interesting sibling tension - and the second when he is dismissive about his home town.
But it's clear that both Gordon and Bragg want to steer clear of simple didacticism. At one point, during a particularly threatening confrontation
(main picture)
Jon calls Tony a Nazi, but as brutal as Tony is, he is still given a fairly sympathetic role: we learn that his son was killed only a year earlier, while fighting in Afghanistan, and his funeral procession is remembered bitterly for the Muslim boy who called out the words "baby killer". There are no clear saints or sinners.
But though different shades of grey are most welcome - out-and-out demonisation does little to engage as thoughtful drama - I wonder at the play's perspective that things are now worse than they've ever been on the race-relations, anti-immigration front. After all, when Ron was the age that Jack is now, it was the National Front that was making all the noise, and it wasn't long before there were race riots on the street. Those certainly weren't the halcyon days of ethnic tolerance and harmony that the play seems so keen to reminisce about; we plainly know that the sense of white working class grievance about "outsiders" is not new.
But what's probably different is that the once liberal middle classes are now prepared not only to listen to these disgruntled voices - to a point - but to talk in less than glowing terms about mass immigration; their talk is no longer all of "diversity" and "cultural enrichment", which seems achingly patronising in hindsight. Hence a play, that, while attacking racism and far-right politics, is comfortable engaging in a certain ambivalence - at least as far as characterisation goes, ie for all their intolerance and hostility, it is no longer the white working classes that we must blame, but their circumstances.
I've said little of Bragg's tuneful, folky accompaniments: as always Bragg's lyrics are impassioned, and are sung with passion. On a technical note, the songs help maintain pace, as the audience migrate from one end of the space to the other. For all my quibbles, this is a strong, well-acted drama, at times very moving, ultimately hopeful and above all, enjoyable. As Bragg himself would say: you ain't gonna change the world with a few songs - or a play - so you might as well be entertained. And this gritty drama is thoroughly entertaining.
Share this article