Reissue CDs Weekly: African Head Charge |

reviews, news & interviews
Reissue CDs Weekly: African Head Charge
Reissue CDs Weekly: African Head Charge
Adrian Sherwood's influential reggae-inspired albums resurface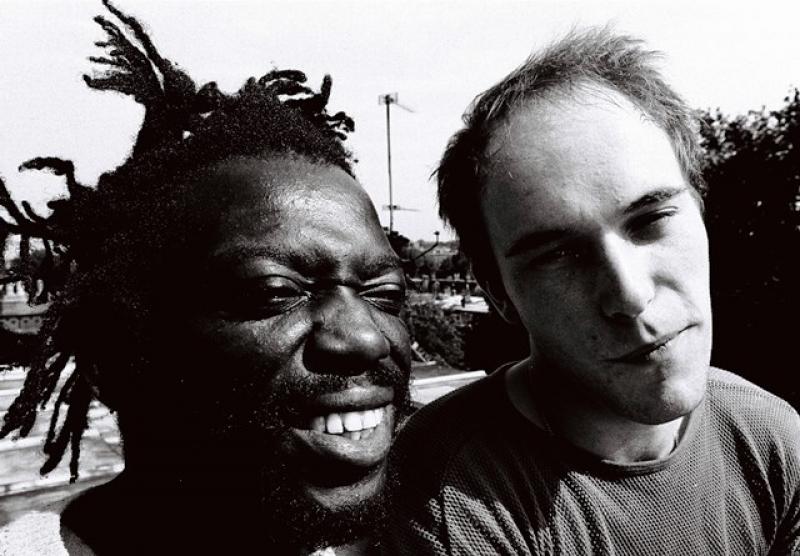 Heads together: Bonjo Iyabinghi Noah (left) and Adrian Sherwood united as African Head Charge
Of all the idiosyncratic artists coming through the door opened by punk, Adrian Sherwood remains one of the most singular. Reggae had been given a new platform and Sherwood, though he has never done anything remotely musically akin to punk rock, comfortably found a place alongside boundary-crossing post-punk individualists like The Pop Group and Public Image Ltd. The former's Mark Stewart and the latter's Jah Wobble went on to record with Sherwood's On-U Sound label.
Although Sherwood would deconstruct and then reassemble hip-hop with Tackhead and similarly explore various forms of electronic dance music, reggae was his first love. On-U Sound confirmed this by issuing a string of albums credited to African Head Charge, whose constants were Sherwood and percussionist Bonjo Iyabinghi Noah. The first four are reissued as vinyl-only editions: My Life in a Hole in the Ground (1981), Environmental Studies (1982), Drastic Season (1983) and Off the Beaten Track (1986).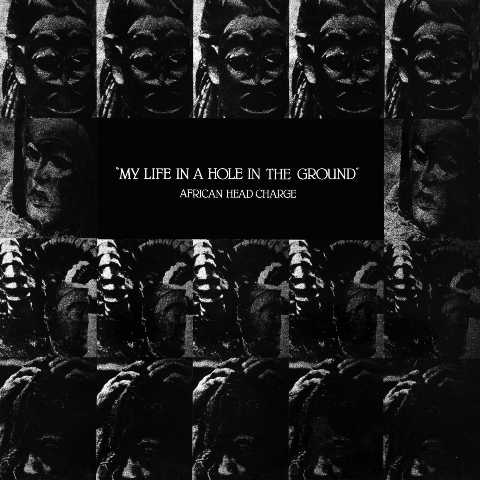 Bonjo Iyabinghi Noah was born Burnell Ralston Anderson and his adopted middle name suggests much of where My Life in a Hole in the Ground and Environmental Studies were coming from. He had played with Nyabinghi percussionists in Jamaica before hooking up with Sherwood, and both albums play out like a union of Count Ossie's benchmark 1973 roots triple album Grounation (the seminal Nyabinghi set: Noah studied under Count Ossie) and the dub side of Augustus Pablo. Sun Ra's fragmented approach to brass was also in the African Head Charge mix.
My Life in a Hole in the Ground's "Stebani's Theme" could be a Jamaican Nyabinghi recording as such, but the album was not strictly about reggae. Its title nodded to David Byrne and Brian Eno's Jon Hassell-inspired album My Life in the Bush of Ghosts and, like that trio's works, aspired to marry music from a specific place to styles from elsewhere while using cutting-edge recording technology. In these terms, as bricolage music, African Head Charge was a success and still sound fresh, a quality which led David Lynch to use My Life's ominous "Far Away Chant" in Wild at Heart. The follow-up, Environmental Studies, was less free-from, less percussion-focused and made greater use of tape loops.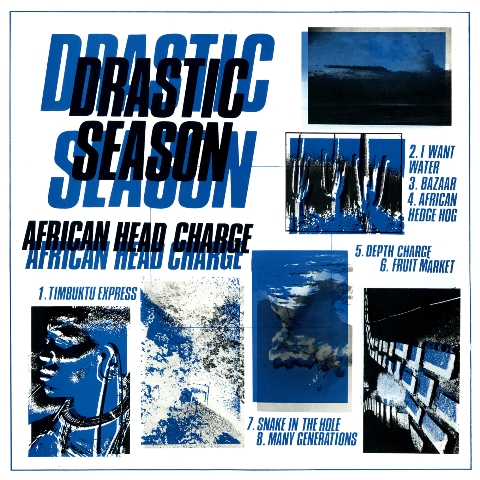 With 1983's Drastic Season, Noah and Sherwood headed off into uncharted territory. The album had a similar feel to Can's "E.F.S." (Ethnological Forgery Series) recordings and fused dub, slippery bass guitar, jazz brass and nascent electronica to create a music bearing no relation to prevailing trends.
After a three-year gap, Off the Beaten Track arrived. Jah Wobble was now on board and the album featured programming and sampling. The found sounds digitally reproduced and processed included the voice of Albert Einstein, barking dogs, breaking glass and violin loops. With a more pronounced groove than before, this was the African Head Charge album with mainstream dance floor potential. Listen to Beats International's Norman Cook-devised 1990 hit single "Dub Be Good to Me" after Off the Beaten Track and the inspiration is obvious. Damon Albarn has repeatedly mined this seam of Sherwood's, before and after he was the opening act on a 2003 Blur tour.
Each of the four reissues comes with a download card and good liner notes. The remastering might cause owners of original albums a jolt as the rejigged sound is much-more bass-focused than any of the first pressings. The reissues sell for £20 apiece, while originals in decent shape fetch around £17. These are not strictly essential purchases, but the quartet is important to the development of British music so their reappearance is welcome.
The found sounds digitally reproduced and processed included the voice of Albert Einstein, barking dogs, breaking glass and violin loops
Share this article