Reissue CDs Weekly: A R Kane, Crime and the City Solution, ABBA, Demis Roussos |

reviews, news & interviews
Reissue CDs Weekly: A.R. Kane, Crime and the City Solution, ABBA, Demis Roussos
Reissue CDs Weekly: A.R. Kane, Crime and the City Solution, ABBA, Demis Roussos
Late Eighties enigmas, Berlin-birthed darkness, an audio-visual feast of Scandi pop and the early adventures of a Greek megastar
Sunday, 30 September 2012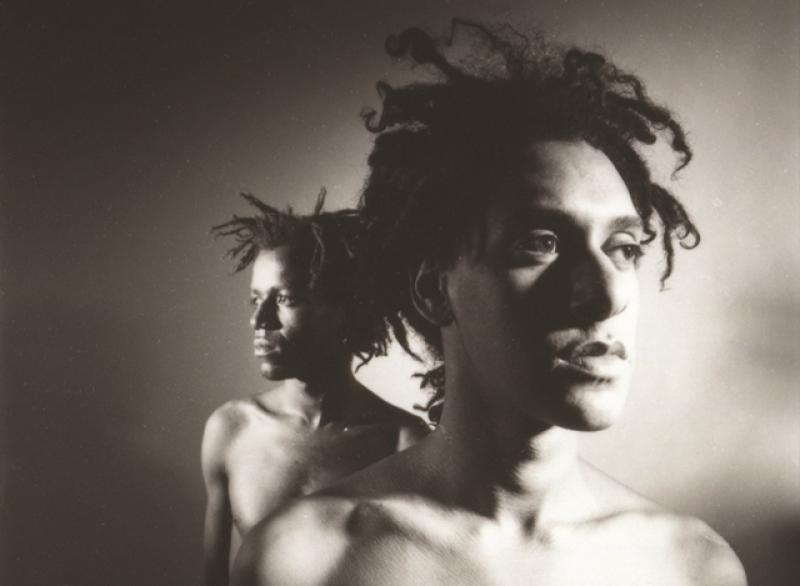 A.R. Kane: Alex Ayuli (left) and Rudy Tambala (right) ponder their dreamy eroticism
A.R. Kane: Complete Singles Collection
Joe Muggs
In my early teens, circa 1988, certain records would appear on The Chart Show indie chart countdown on a Saturday morning, records that hinted disquietingly at something far beyond the standard categories of rock, dance, indie and the rest. "Birthday" by The Sugarcubes, for example, or "You Made me Realise" by My Bloody Valentine. Perhaps the one that haunted me most, though, was "Baby Milk Snatcher" by A.R. Kane, a narcotic fog of blurred guitars, dub echoes and an insistent, insinuating vocal that obeyed only its own idiosyncratic rules of tuning.
A.R. Kane, the elegantly dreadlocked duo of Rudy Tambala and Alex Ayuli, were full of mystery, hints and intrigue – their artwork and lyrics full of dreamy eroticism, their sound constantly slipping away from easy categorisation. This collection perfectly demonstrates their evolution from swathes of Jesus and Mary Chain guitar noise in the mid-eighties, through the dubby derangement of "Baby Milk Snatcher Era" and a flirtation with house grooves which followed, to more confidently realised but still enigmatic grooves recorded for David Byrne's Luaka Bop label in the Nineties.
As an album it's confusing, even sometimes frustrating. Because it's a collection of all the tracks on their single releases, B-sides and all, there are sometimes several versions of the same song clustered together. Unusually, almost every remix or alternate version is listenable in its own right, but this doesn't make for great pacing.
The very nature of the duo's experimentalism also means that there are sudden shifts between sounds; unlike on their very coherent albums, this can lead to a bit of a seasick experience. Nonetheless there are untold lost gems here, from the disorienting jangle of "Sado-Masochism is a Must" to the gorgeous off-beam slickness of "Sea Like a Child" – which suggests very strongly that the under-appreciated Luaka Bop phase may be worth a re-assessment. An alternate universe history lesson.
Crime and the City Solution: An Introduction To - A History of Crime Berlin 1987-1991
Kieron Tyler
Although Crime and the City Solution were intertwined with The Birthday Party, whose drummer Mick Harvey and guitarist Rowland S. Howard joined them in 1985, they were always the vision of Simon Bonney, who formed the band in Sydney in 1977. Initially, they split in 1979 but Bonney picked up the story in 1985 with Harvey and Howard. This meat of this compilation – the tracks were chosen by Bonney - covers 1988-1990 when the band were living in Berlin after the departure of Howard and the arrival of Einstürzende Neubauten's Alexander Hacke in the line up ("The Adversary" – familiar from Wim Wenders' Until the End of the World - is drawn from a live album issued in 1993). These dark performances exhibit the defeated air of a songwriter resigned to break up, squalor and forced surrender of their will. The comp peaks with the "The Last Dictator", a suite concluding with, as Bonney is quoted as saying in Chris Bohn's liner notes, "the destruction of the world". Bonney has recently reformed the band.
ABBA: The Essential Collection
Kieron Tyler
Christmas isn't far off and catalogues are beginning to be dusted off. ABBA's early contribution to the seasonal flood is this attractive 2CD/DVD book-bound set hung around their singles. There have been endless ABBA reissues, so the interest here is in what's said anew. In focusing on the singles in (mainly) chronological order, the CDs offer an unvarnished documentary of their evolution from a band addressing the Euro pop market without sacrificing their own voice, to one fascinated with dance music and the Bee Gees ("Dancing Queen" sparkles more-and-more as the years pass) to the sophisticated quartet they became post 1978. The visuals fill out the picture. Most of the 30 promos are directed by Lasse Halström and are generally functional, often studio-based affairs (with echoes of the Itailan director Mario Bava's style) which place the emphasis on the band's personalities and splendid dress sense. Seen sequentially, the videos unwittingly document Frida's on-again, off-again relationship with perming her hair. Spanish-language videos and one assembled for Japan demonstrate their global appeal. A fine, one-stop showcase for this important pop band.
Demis Roussos: On The Greek Side Of My Mind
Graham Rickson
"Come with me and have no fear… on the Greek side of my mind." Backed by monks singing throaty plainchant, the young Demis Roussos beckons us into his intriguing musical universe. The sleeve art, Roussos's head at the centre of a swirling, psychedelic sun, articulates everything you need to know. Before achieving global fame in the late 1970s, Roussos had been a member of the Greek prog-rock ensemble Aphrodite's Child, along with a keyboard player named Vangelis Papathanassiou. This - his first - solo album was released in 1971, not long before the band split. Roussos' expressive tenor is a beguiling instrument, soaring over an eclectic set list encompassing the blatantly commercial likes of "Mountains Beyond" and the offbeat "Lord of the Flies". Extravagant production values knit the songs together; parping synth textures enliven "We Shall Dance" and the string and brass arrangements are effective throughout. This is a great album full stop, not a novelty item. The related sleeve art reproduced in the booklet is highly amusing, not least in comparing Roussos' grumpy demeanour with his upbeat vocals.
Watch the video for "Green Hazed Daze", from A. R. Kane's Complete Singles Collection
A.R. Kane's 'Baby Milk Snatcher' was a narcotic fog of blurred guitars, dub echoes and an insistent, insinuating vocal
Share this article