Rush, O2 Arena |

reviews, news & interviews
Rush, O2 Arena
Rush, O2 Arena
Canadian power-rock trio turn back the clock on their Time Machine tour
Geddy Lee: Like a character from 'Lord of the Rings'
Explosions, 40ft flames, light shows and back projections. It may have been at the Dome but at times it felt more like being in a music video. A mini-film opened the concert. Rush circa 1973 were boys called Rash, and they'd play only when professor Alex Lifeson operated his music machine. The contraption also had a button marked "Time Machine". When pressed this catapulted the band, on stage, back and forth through their 37-year career. Every time the trio played songs from a different era, screens announced the year. Hours later, when we shot forward to the song "2112", several thousand middle-aged men started jumping up and down and shouting "Oi".
Forged in the twin crucibles of Seventies progressive and hard rock, Rush exist outside of trends. Their natural demographic is the fans who grew up with them, their future the next generation of classic rockers. Last night's concert was part of the Time Machine tour, celebrating both the re-release of 1981's Moving Pictures album, and the power of Canadian air to arrest the ageing process.The three veterans played for three hours like a gang of 16-year-olds who've just discovered guitars. And the crowd digested it with the appetite of teenagers who've just realised how much those guitars annoy their parents.
Amid the time-machine dials, old Wurlitzers and sausage machine on stage, Lee, Lifeson and Peart stretched the sound of a rock trio as far as any act currently active, including Muse. Their music incorporated the complexity of jazz, the volume of metal and a variety of rhythms including reggae. During Neil Peart's jaw-dropping drum solo those rhythms were extended to bossa nova and swing.
The audience of black T-shirt-clad parents, denim-wearing rockers with sautéed hair and teenagers with permanent looks of awe seemed to know the set even before it was playedThe set was in two parts separated by an interval. The band were, in effect, their own support act. They played the classics, indulged some favourites of the band, introduced two new tracks and aired the whole of 1981's Moving Pictures, like Queens of the Stone Age did with their debut album at the Roundhouse last week.
Guitarist Alex Lifeson looked like he was there to sell insurance but he still sounded like one of North America's hottest gunslingers. Neil Peart, aka "The Professor", powered from the back and, incredibly for a man of almost 60, displayed the stamina of a Kenyan long-distance runner. The night belonged, however, to Geddy Lee, who was looking more like a character from Lord of the Rings than usual. Despite barely talking to the audience, every inch of the vast O2 arena seemed filled with his presence. His bass lines burbled like a fusion of Jon Entwhistle from The Who and Stanley Clarke. And his helium voice, criticised over the years, seemed somehow thicker and warmer live.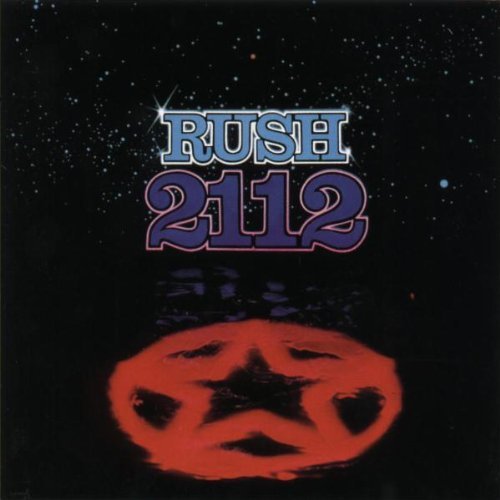 Many of the audience of black T-shirt-clad parents, denim-wearing rockers with sautéed hair and teenagers with permanent looks of awe seemed to know the set even before it was played. Standing for most of the three hours they looked comfortable singing along, tapping feet and banging the odd head. But predictably it was the classics that really got the room shaking. "The Spirit of Radio", "Freewill" and "Tom Sawyer" all brought a tingle to the spine. "Closer to the Heart", with its beautiful new acoustic intro, brought a tear to the eye, and "2112" (pictured right), whosesolo was reproduced note for note, almost brought the house down.
On the more discerning Rush forums no doubt they will be discussing the unexpected success of "The Camera Eye", the reggae reworking of "Working Man" and the unexpected heaviness of the new material – the wild, violent "BU2B"sounded like it could have been played by a bunch of 25-year-olds. Maybe they will also be grumbling about the acoustics – imperfect as arenas always are - or trading iPhone-recorded versions of the videos projected behind the band.
They won't be complaining, however, that their heroes have lost any of their magic. Few musicians keep going like Rush. Maybe it's because they are so mild-mannered. Or maybe it's because of their somewhat mystical approach to music-making. When they played "Time Stands Still", those old enough to have heard them in the Seventies and Eighties must have been thinking, boy does it ever. Rock fans have always insisted that their music is a way of life. Outsiders assume they'll outgrow their industrial chords. But for Rush and their fans, the sentiment hasn't wavered: they are, apparently, going to rock until they die.
Rush perform "Closer to the Heart" with the cast from Canadian comedy Trailer Park Boys
Lee, Lifeson and Peart stretched the sound of a rock trio further than any act currently active
Share this article
Subscribe to theartsdesk.com
Thank you for continuing to read our work on theartsdesk.com. For unlimited access to every article in its entirety, including our archive of more than 10,000 pieces, we're asking for £3.95 per month or £30 per year. We feel it's a very good deal, and hope you do too.
To take an annual subscription now simply click here.
And if you're looking for that extra gift for a friend or family member, why not treat them to a theartsdesk.com gift subscription?