theartsdesk at Forgotten Fields 2015 |

reviews, news & interviews
theartsdesk at Forgotten Fields 2015
theartsdesk at Forgotten Fields 2015
New festival has much to sort out if it's to have a future
Basement Jaxx headline Friday night
A person with any sense of outdoor adventure can enjoy a camping trip with friends, especially when the skies are clear blue and blazing, the booze is decent and flowing, and the barbecue is tasty and sauced. Thus was the case with my trip to Eridge Park, in the northern reaches of Sussex, for a new festival from the team behind the Lake District's successful, decade-old Kendal Calling. How much the festival itself contributed to the good times, however, is debatable.
A person with any sense of outdoor adventure can enjoy a camping trip with friends, especially when the skies are clear blue and blazing, the booze is decent and flowing, and the barbecue is tasty and sauced. Thus was the case with my trip to Eridge Park, in the northern reaches of Sussex, for a new festival from the team behind the Lake District's successful, decade-old Kendal Calling. How much the festival itself contributed to the good times, however, is debatable.
On Sunday, before leaving the site, I took a verbal poll of tens of attendees, asking them to score the festival on the usual five star review scale. It came out approximately head-to-head between 2/5 and 3/5, with the caveat that most had enjoyed themselves due to excellent weather and good company. All, however, had complaints of one sort or another. Perhaps Kendal Calling taking place only a week before stretched Forgotten Fields' organization beyond its creators' abilities…
The first thing that Forgotten Fields forgot was almost any signage to their festival, thus, on Friday afternoon, the A26 and A267, on either side of Eridge Park, were full of cars trawling up and down seeking any hint of an entrance. Someone had placed a big, and somewhat angry-looking, cardboard sign on their drive shouting, "THIS IS NOT THE ENTRANCE TO THE FESTIVAL!" We were among those circulating the back roads of rural Sussex but eventually, after phoning someone on-site, my partner-in-crime and I found the only two festival signs either of us saw all day, which were at the site entrance.
We eventually found our pack of friends – six adults and three children. They had intended to pitch up in the advertised family camping but it soon appeared that designation of specific areas had descended into a shambles. Grumbles were also heard about hours-long queues to an overloaded campervan field. And about the main festival arena – where all the food stalls were – not yet being open as evening approached. There were other moans too, but who wants to read a whingeing list of campsite fails? Better to focus on the positive. Mostly, everyone was busy getting stuck into wine, cider, and beer, sat on cool boxes and fold-up chairs, chatting eagerly as barbecues sizzled, their children cavorting about, shrieking in the setting sun. It's a weird line, organization at festivals. You don't want too much of it. The old countercultural ones, decades ago, had almost none, surviving on an anarchistic community spirit. But let's not kid ourselves Forgotten Fields is a hippy entity. It was very 21st Century, a 4,000-capacity commercial event aimed at modern families.
The site took the form of a long strip with venues, bars, fairground rides and shops running down it, and the Main Stage at one end. Apart from a rubble-strewn gravel road running through the middle, it was easy on the eye, especially the children's area, a tree-dotted grassland of mini-tightropes, diablo and hula-hooping. Forgotten Fields had, however, also forgotten to provide any films for the cinema tent (wherefore Wall-E, Indiana Jones and Aliens?) but everything else seemed present, notably the Horizons, Gypsy and House Party marquees.
When we wandered onsite, Public Service Broadcasting were playing. The daytime did not suit their space travel-themed multimedia show, which is far better in a more confined, darkened venue. Happily, no crowd can resist "Go!", their catchiest tune, and toddlers on shoulders were punching the air by its final chorus. The highlight of the night, however, and indeed the whole festival, were headliners Basement Jaxx (crowd reaction, pictured above right). The London producer-DJ duo presented a carnival of Afro-Latin-tinted dance music from across their seven albums, a stream of guest performers lathering the whole thing in showbiz colour and charisma, from the main two singers (main picture), one of whom supported herself on a crutch throughout, to a male MC, a lithe female dancer, and others besides. At the start of their set the sound was sludgy but slowly grew better and they attacked tunes such as "Romeo" and "Bingo Bango", eventually going ballistic with the Gary Numan-sampling noisiness of "Where's Your Head At?" The stage was then invaded by a gorilla-costumed armada. Basement Jaxx don't ram their dance music home with pile-driving electronic force. They are friendlier, more organic, with full band and percussion. Theirs was a party for all and the family crowd lapped it up.
Afterwards, suitably buzzed up, we checked out the three main into-the-night venues, all of which closed at two am. The clubbiest in feel was House Party but its name was a complete misnomer. DJ Megatune's selection of wedding disco hits – from Michael Jackson to Guns'n'Roses – only kept us ramped'n'giggling because we were on a roll. His name should have been a clue. The set was neither classy nor vibrant, but the night was cold, the venue was toasty, and the indie disco and gypsy tent were even less tempting.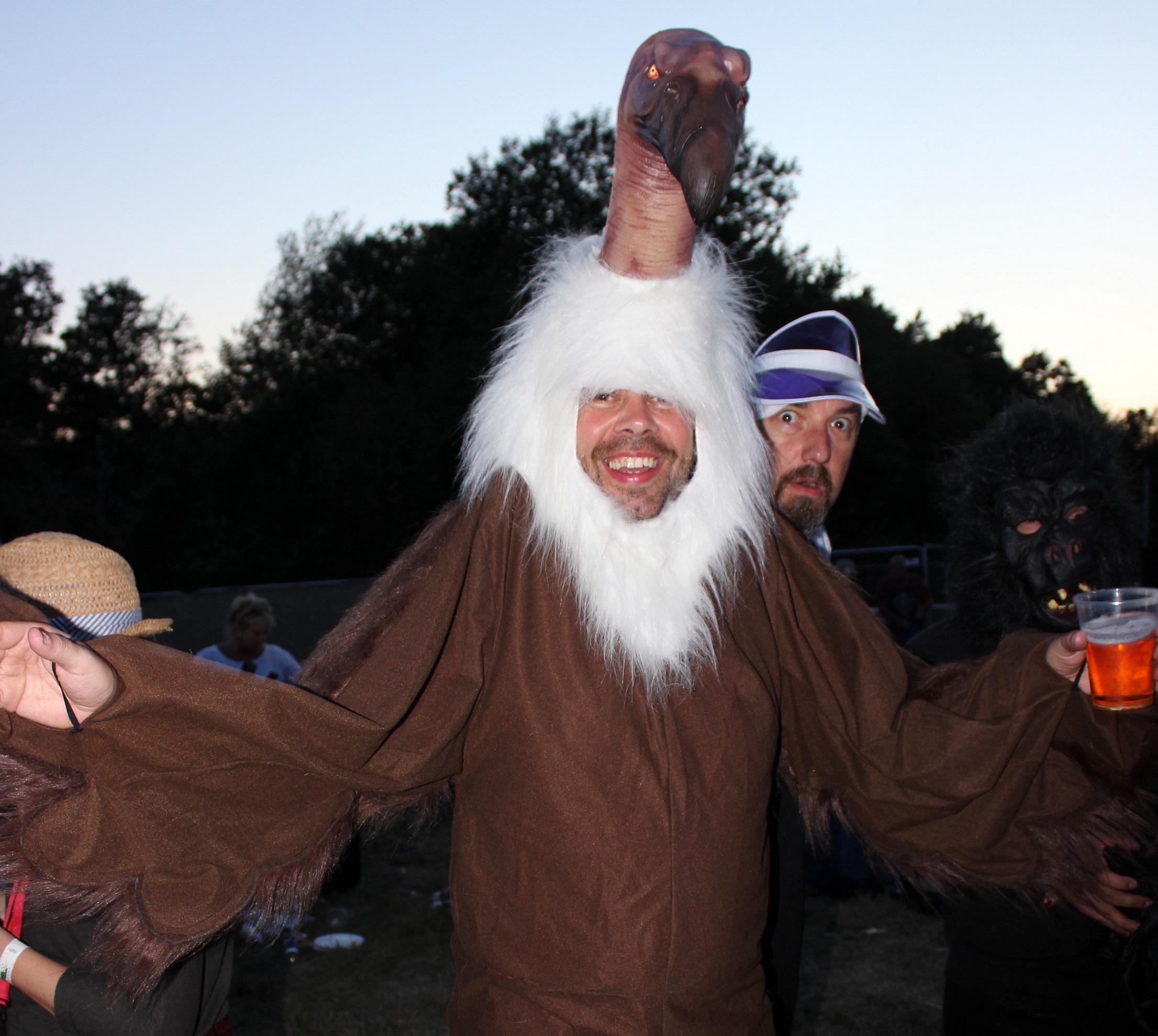 Afterwards, with nowhere to sit about and chat, we simply took chairs and placed them on a campsite fire route. We were made welcome by a posse of nearby ladies in their thirties, Brighton mums away from their kids, who sampled our wares and did us the honour of blathering until three-thirty when the chill of the night started to invade our bones and we retreated to bed.
The next day, Saturday, after the elongated process of rising, wet wipe washing, shaving with a water bottle and compact mirror, frying eggs, brewing tea, waffling about last night, etc, we headed onsite. This time I was determined to watch some of the lesser known acts on the bill. In the Horizons marquee we wore four songs from Realms, a band so obscure I cannot find them online however many variations of their name I Google. They consisted of a blond woman in a white shiny mini-dress with a fur-lined hem playing guitar and a bloke in a Hawaiian shirt playing drums. She had a cutesy girl voice and their songs were akin to Wolf Alice's let's-pretend-to-be-the-Cocteau Twins numbers. They were not especially intriguing and too moody for a sunny afternoon.
Next up, on the Main stage, was 19-year-old Lancastrian singer-songwriter Molly Warburton and her band. She was a likeable enough presence with a big soul voice fronting a folk-rockin' sound, including a cover of "Girls Just Want To Have Fun", but most British towns have bands of a similar calibre circulating their pubs. Fortunately, the sun blasting down put everyone in good cheer and lent a positivity to proceedings. The Forgotten Fields crowd were affable sorts. We sat about on the grass, allowing cider to cuddle our minds. A bearded man on something indescribably stronger, wearing an afro wig and flowery green mini-dress ensemble, cut wild shapes nearby, mostly ignoring the rhythms from the stage.
The next act were called Wooden Arms. They were appalling. A Norwich band based around a piano, a cello and a violin, their Mumfords-meets-Keane sound was shocking in its complete lack of, well, anything. Their music made me want to assault people with a machete. Instead I repeatedly mimed blowing my head off with a pistol. Happily the psychedelic dancing man in a dress went one better – he spread his legs, wee'd himself and collapsed in a heap. A few moments later he rose again and was greeted with the biggest cheer. We do not need more bands who imagine that making their music as palatable as possible is a good thing. And Wooden Arms are only a small part of a very large problem.
As a result of the uninspiring acts I'd seen, I went and sat in the children's area and drank rum for hours. This was much more fun. I also ate chips in chilli mayonnaise. I won't self-aggrandize further by farting on about one of the best bits of the festival, which was the rest of the afternoon, barbecuing, drinking, chatting in camping chairs, occasionally wandering onsite to find out if there was anything interesting going on (there wasn't until British Sea Power who friends appreciated but I missed). Eventually, systems revitalised, we caught the end of The Horrors whose punk-ish rock-noir attack was fiery but left the crowd relatively unmoved. Children continued eating chocolate-sauce covered churros and their parents enjoyed jovial exchanges as if at a village fete. This was partly as a result of the weedy volume.
Then came Super Furry Animals, dressed in white boiler suits, their frontman Gruff Rhys initially wearing a giant Daft Punk-ish helmet. They have never been one of "my bands" but they have a reputation as a great live act. Maybe they sometimes are – but not tonight. It was like listening to an underpowered Primal Scream busk through their haziest Sixties-alike material, all Beatles and Beach Boys motifs, but with a dirge-like, sapping quality rather than joy and energy. My friends quickly tired of them but I kept insisting we stayed as, "They'll get better soon." Perhaps they did but we never found out as an hour later they were still bubbling along without any real bounce or contagiousness and we drifted away.
Over in House Party we caught the end of Nasty Habits, a Hackney outfit who combined grime, dubstep and hip hop styles with a ballsy brass section. They looked like they might have been a blast but we only saw the climactic numbers. Over at Gypsy Disco Bristolian festival stompers Ushti Baba claimed to play "gypsy jungle turbo folkstep". They have their heart in the right place but never quite pushed things to that invigorating description. By now it had grown bloody cold again so the only place to go, apart from the tepid indie disco – Sum 41, anyone? – was back to House Party.
"Fatpoppadaddy's Classic" was playing. This turned out to be a male DJ but later research unearths the following from Fatpoppadaddy's site: "We are a company with over 16 years experience in event promotion and production within the nightlife industry and beyond. Our aim is always to provide the best customer experience we can by approaching every aspect of the job with professionalism and consistency." Jesus! Who booked them? Sounds like a recipe for piffle. And it was. Just like the night before it was a beyond-predictable selection that kicks off with Michael Jackson-Bob Marley-Stevie Wonder. It was so boring I wanted to weep in frustration at the night's unfulfilled potential. A friend called it the "No Surprises Disco" as there wasn't a single tune everyone hadn't heard 567 times before. It showcased no imagination whatsoever. An apologist might claim it was family-friendly fare, but that would be seriously selling short the festival-going family. At Camp Bestival last weekend hundreds, from teens to grandparents, had it to everything from dubstep to old rave records into the wee hours.
As we walked away from this execrable excuse for festival night entertainment, there were no beats at all anywhere onsite. We reached our tents to hear Fatpoppadaddy's Classic playing fucking "Wonderwall" and then, the utter bastard, "Dancing In the Moonlight" by Toploader. House Party made the average student disco look like an evening at Cafe OTO.
We tried to sit about chatting but there were no spaces onsite where you could sprawl about on rugs or knackered old armchairs, under cover, and just waffle. So we go back and go to sleep.
I'd do the whole thing again, but that assessment is based on the time I had hanging out with my friends under the ceaseless sun, and you don't need a festival for that. More than ever, festivals need to fill a specific niche, they need to provide something unique. Among much else, Forgotten Fields forgot that too.