theartsdesk on Vinyl 35: Christmas 2017 Special with Pink Floyd, Mariah Carey, ELO, Madness and more |

reviews, news & interviews
theartsdesk on Vinyl 35: Christmas 2017 Special with Pink Floyd, Mariah Carey, ELO, Madness and more
theartsdesk on Vinyl 35: Christmas 2017 Special with Pink Floyd, Mariah Carey, ELO, Madness and more
Yuletide with the best monthly record reviews out there
Wednesday, 13 December 2017
I don't want a lot for Christmas, there's just one thing I need...
The music business is about to disappear on holiday wholesale and we won't see hide nor hair of it until mid-January. There's just time for one last 2017 vinyl celebration. Regular readers should be warned that theartsdesk on Vinyl becomes rather easy-going at this time of year – must be all the Baileys – and prone to making allowances for the odd sliver of cheese and office-party silliness.
It's a
Christmas
special where, like Christmas itself, truly good music mingles more freely with the "fun" stuff, and music that might just make a good present. Have a top one. Enjoy yourself too much. Give your turntable a good work-out. And turn it up!
VINYL OF THE MONTH
The Mystery of the Bulgarian Voices featuring Lisa Gerrard Pora Sotunda (Prophecy)
An alternative carol or, indeed, once the season of goodwill passes, an alternative hymn, for there is something ecclesiastical about the work of the unit originally known as the Bulgarian State Radio & Television Female Vocal Choir. Their 1975 album, Le Mystère des Voix Bulgares, more widely released by 4AD Records a decade later, has long been a touchstone of otherworldly, unexpectedly modernist European folk music, paid tribute to by everyone from Kate Bush to Drake. They return with a new album, Boocheemish, in 2018 but, in the mean time, this 7" is a juicy appetiser. It's less gothic than the old stuff, and more obviously melodic, with a light smattering of tribal percussion to add to its appeal. In fact, it's catchy. Former Dead Can Dancer and Gladiator soundtracker Lisa Gerrard, who's on board, may have something to do with this or she may not; either way it's a sweetly upbeat choral outing.
Madness Full House: The Very Best of Madness (Union Square Music/BMG)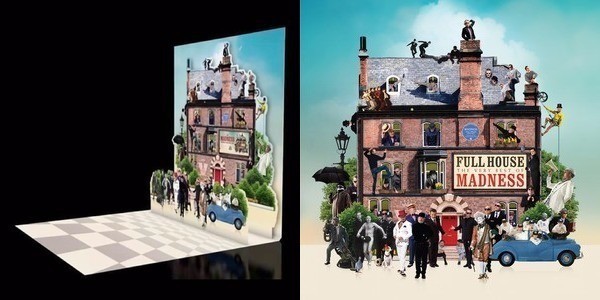 Madness aren't doing one of their regular Christmas jaunts around the country this year but for vinyl enthusiasts there's a big, fat collection. It arrives on four records in inner sleeves covered in career-spanning black and white photos (as well as one side of song details). The gatefold opens to a pop-up version of the house-centric cover art. It contains all the well-known hits from their golden early Eighties run, "Baggy Trousers", "House of Fun", "Embarrassment" and so on, all 24-carat pop. They're followed by a melancholic period as the band try and escape their funfair image ("Yesterday's Men", "One Better Day", etc), followed by a run of more recent material, much of which - "NW5", "Forever Young", "Mr Apples", etc – has become beloved among fans. For sure, it'd be great to see an alt-Madness collection. Early cuts such as "In The Middle of the Night" and "Disappear" are a match for any classic single, and they missed a trick leaving out 2012's superb "Death of a Rude Boy", but this is mostly a straightforward singles chronology, plus two songs from the Our House musical. A friend of mine says he doesn't like Madness because they're too cheerful. They're not, though. Theirs is just a very English songwriting idiom, where moods are expressed via upbeat tangential wit, rather than blunt emoting. Other friends are put off by their geezer-ish following, and it's true that when you see Madness in concert, beer-bellied ageing male skinheads are having a ball, but where's the harm in that? When I saw avant-electronic dude Nicolas Jaar in concert, the place was full of trend-hyped bell-ends, but that doesn't make his music any less fascinating. Madness can stand the knocks. They are elder kingpins of pop and Full House is a fine representation of their wares.
Gregory Porter Nat "King" Cole & Me (Blue Note)
It's a common delusion among a certain type of weathered, devoted musician that those who just keep ploughing away, ceaselessly playing solid sets in bars and clubs, will eventually make it. The truth, however, is that once you're past 30 years old, it's almost certainly not going to happen. There are, however, exceptions to that rule, your Seasick Steves and your Sleaford Mods and your Gregory Porters and the like. In truth, the jazz world is a more forgiving one, allowing prowess to sneak through into pop, regardless of age, and Porter, who was a circuit musician in New York for years, has become a beloved figure for his authoritative, avuncular vocal style. Nat "King" Cole & Me is sort of a Christmas album. It concludes with "The Christmas Song" (the "chestnuts roasting on an open fire" one), but what's really Christmassy about it is Porter's easy affinity with a singer who died over 50 years ago, and who represents a pre-Sixties ideal of classy conservatism, post-World War Two suburbia, open fires and cocktail hours. That's what makes his collection of standards on blue vinyl seem so seasonal.
Pink Floyd The Delicate Sound of Thunder + A Collection of Great Dance Songs (Pink Floyd)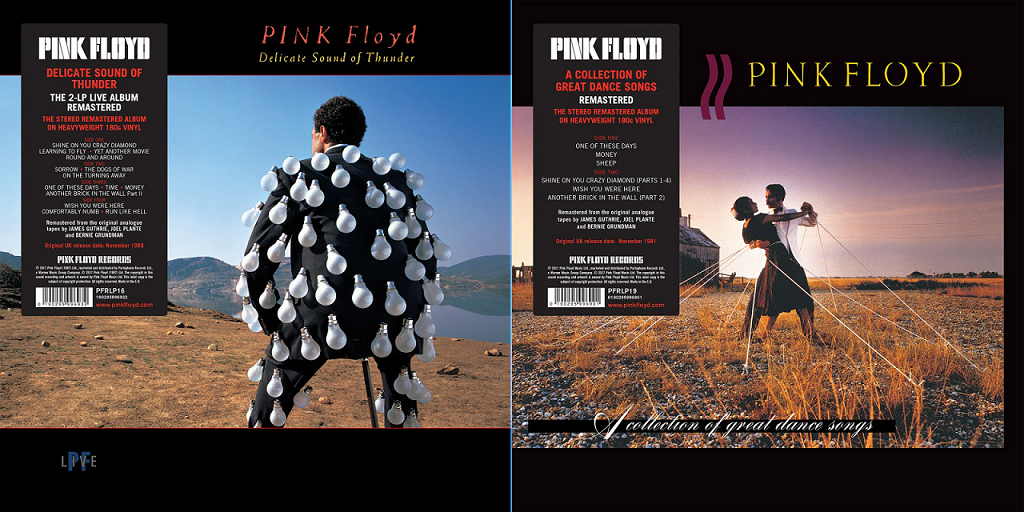 A couple of Floyd collections, one live, and both tastily remastered from analogue by regular Floyd studio engineers James Guthrie, Joel Plante and Bernie Grundman. Both in picture inner sleeves, The Delicate Sound of Thunder comes as a gatefold double and was recorded during a series of New York dates in summer 1988. Dave Gilmour's Floyd, victorious over ex-member Roger Waters' attempts to derail them, were in celebratory mode on this tour, indulging themselves in rock'n'roll antics, but what comes through more particularly in the music is an Eighties yuppie slap bass funkiness incongruously wandering into Floyd's carefully crafted majesty. Floyd, after all, were usually the first to mock their lack of club-friendly grooves, as on the ironically titled A Collection of Great Dance Songs from 1981. And yet, and yet, the latter album is also a sonic statement that Floyd were club-friendly, but in the wibbly stoned manner of 1990s electronica, especially on the wafting pulse of opener "One of These Days". Floyd aficionados prize this album for its very slightly alternative versions of "Money", "Shine On You Crazy Diamond" and "Another Brick in the Wall" but for the rest of us, it's simply a juicy compilation featuring some of their greatest moments.
Sly5thAve The Invisible Man: An Orchestral Tribute to Dr Dre (Tru Thoughts)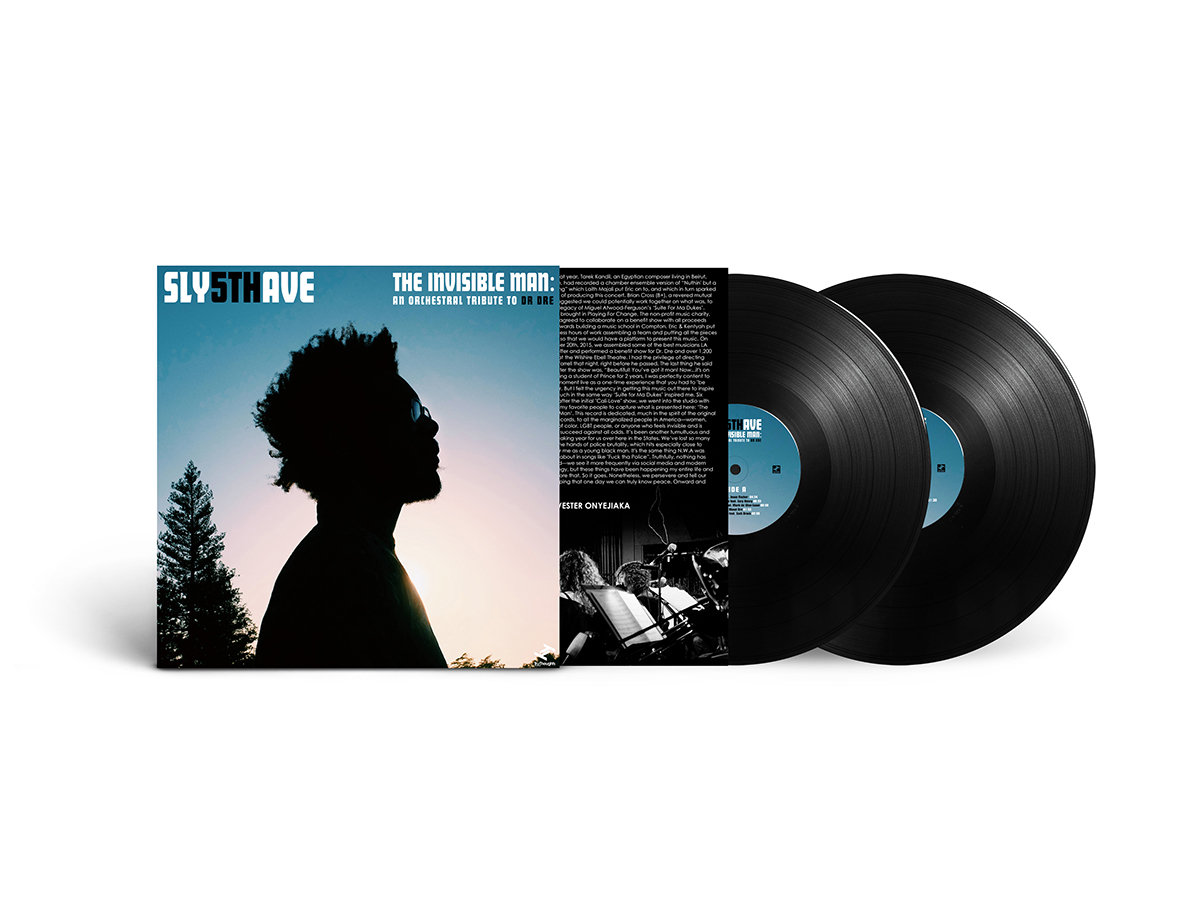 Following their success with the Hot 8 Brass Band, especially that cover of "Sexual Healing", Tru Thoughts Records turn to yet more skilfully collated reimagined versions of well-known tunes. The Invisible Man, on double in photo/info inner sleeves, is a rare creature, in that it bridges hip hop-flavoured songs familiar to people under 30 with a sonic template – early Seventies blaxploitation-era orchestral soul – that has wider, older retro appeal. Check out the ultra-slick wah-wah organ groove from New York's Cory Henry on 2Pac's "California Love", for instance; it's pure old-school jam styling. Sly5thAve is Texan jazz saxophonist Sylvester Onyejiaka and his album is clever, easy-going and audacious. It's mostly instrumental, although very occasional tracks, such as The Chronic's "Let Me Ride", have vocals, and it's also an album that will likely gain purchase throughout 2018, its sensual familiarity liable to lead to festival-friendly performances by its make in the summer.
Various Ultimate Dirty Dancing (RCA/Sony)
If Christmas is a grand time to get the cheese out, then this album is ripe for exhibition. Thirty years ago Dirty Dancing was the ultimate girls' night out movie, a feel-good, sexy holiday romance set in the early Sixties and full of choreographed set pieces and retro music ranging from Solomon Burke to The Ronettes. It starred the then rising hunk Patrick Swayze (who also sings "She's Like the Wind") alongside Jennifer Grey, an actress who never really made it, partly due to the psychological after-effects of a hideous, fatal car crash in Ireland. It remains a touchstone film for women, although this writer has never seen it (weirdly I did see the 2004 prequel, Dirty Dancing: Havana Nights, on a plane once… not recommended). This gatefold release, with a pop-up of Swayze holding Grey in the film's famous dancefloor lift, also contains the Oscar-winning stinker "(I've Had) the Time of My Life". I doubt there's a person reading this who doesn't know the film and its atmosphere of retro nostalgia soppiness, so perhaps one for the retro nostalgia soppy in your life.
Lost Horizons Ojalá (Bella Union)
Simon Raymonde, ex-Cocteau Twin and a man who's successfully cultivated a very individual roster on his Bella Union label, has not been personally active as a music-maker for a couple of decades but returns to the fray in partnership with drummer Richie Thomas, once of Eighties 4AD Records outfit Dif Juz. Ojalá is an album that sees little of either artist's post-punk sensibilities rise to the surface. Instead, it's a gently melancholic thing featuring a mass of guest vocalists, ranging from Ghostpoet, Tim Smith of Midlake and Marissa Nadler to rising unknowns, notably Hilang Child and Phil McDonnell. Think loosely of a sombre, jazz-tinged meeting of Kate Bush and Fleetwood Mac around a grand piano. Gorgeously cut to vinyl, it's not this writer's bag but is a rich dish, nonetheless, a suitable Christmas present for someone drawn to the moodier, more thoughtful backwaters beyond Florence Welch. Comes in double with art/info inner sleeves, and a die-cut outer sleeve that, if Ojalá becomes a cult success at some future date, will be worth lots of money due to its flimsy construction rendering it liable to breakage. Also, it's on zoetrope-effect vinyl in rich cosmic purples, rocky greens and dark sea navies.
Michael Jackson Scream (Glow-in-the Dark Collectable Edition) (Epic)
This one was originally created for Halloween, and contains Michael Jackson songs that its compilers presumably reckon have a sufficient amount of "threat". Of course, Michael Jackson's work, when compared to, say, Skinny Puppy, doesn't contain very much "threat", but it does mean we get a selection of his punchier tunes, a party set that includes "Thriller" (of course), the Teddy Riley-produced bouncer "Blood on the Dancefloor", The Jacksons' funk-rockin' 1984 single "Torture", the pop-metallin' "Dirty Diana" and the glitched-out title track, a curiously edgy duet with his sister Janet. The vinyl comes with the offer, "Shazam the code above for an immersive Scream experience", apparently an "augmented reality" exclusive. Comes on double, one glow-in-the-dark off-white and one glow-in-the-dark-blobbed dark blue, with a lyric/art image divider between them in a transparent plastic sleeve decorated with the singer's silhouetted eyes amid clouds and crows, the latter taking flight about the back cover. For non-MJ fan – yes, we exist – the music is as shiny plastic as ever, but less bland than usual.
Jóhann Jóhannsson IBM 1401, A User's Manual (4AD)
Before Jóhann Jóhannsson was an Oscar-nominated film composer and one of the leading lights of the modern classical boom, he was an Icelandic indie-electronic avant-garde-ist, much more likely to be found consulting with noise bands than Denis Villeneuve. His fourth album, IBM 1401, A User's Manual, originally released in 2006, is important in terms of his broadening sonic outlook, as well as being a compelling piece in its own right. Jóhannsson's father was Chief Maintenance Engineer of a room-sized IBM 1401 computer back in the Sixties and the album is based around recordings he and his friends made. The highlight is the vastly sad "The Sun's Gone Dim and the Sky's Turned Black" wherein the computer's vocoder voice – actually as it was being decommissioned in 1971 – sings against a backdrop of beautifully calibrated strings, which hits home somewhere between Ennio Morricone and Daft Punk (more the former). The rest of the album is usually gorgeous too, albeit theartsdesk on Vinyl could have done with more foregrounded computer business. On four sides of transparent vinyl, there's also an additional new recording on the final disc of "IBM 401 Processing Unit" and "The Sun's Gone Dim and the Sky's Turned Black", live with the City of Prague Philharmonic Orchestra. In some future age when we're all long dead, this album will stand as a testament to man's very earliest emotional interconnection with the robots who will then be running things. Comes in gatefold with art/info inner sleeves.
Jeff Lynne's ELO Wembley or Bust (Columbia)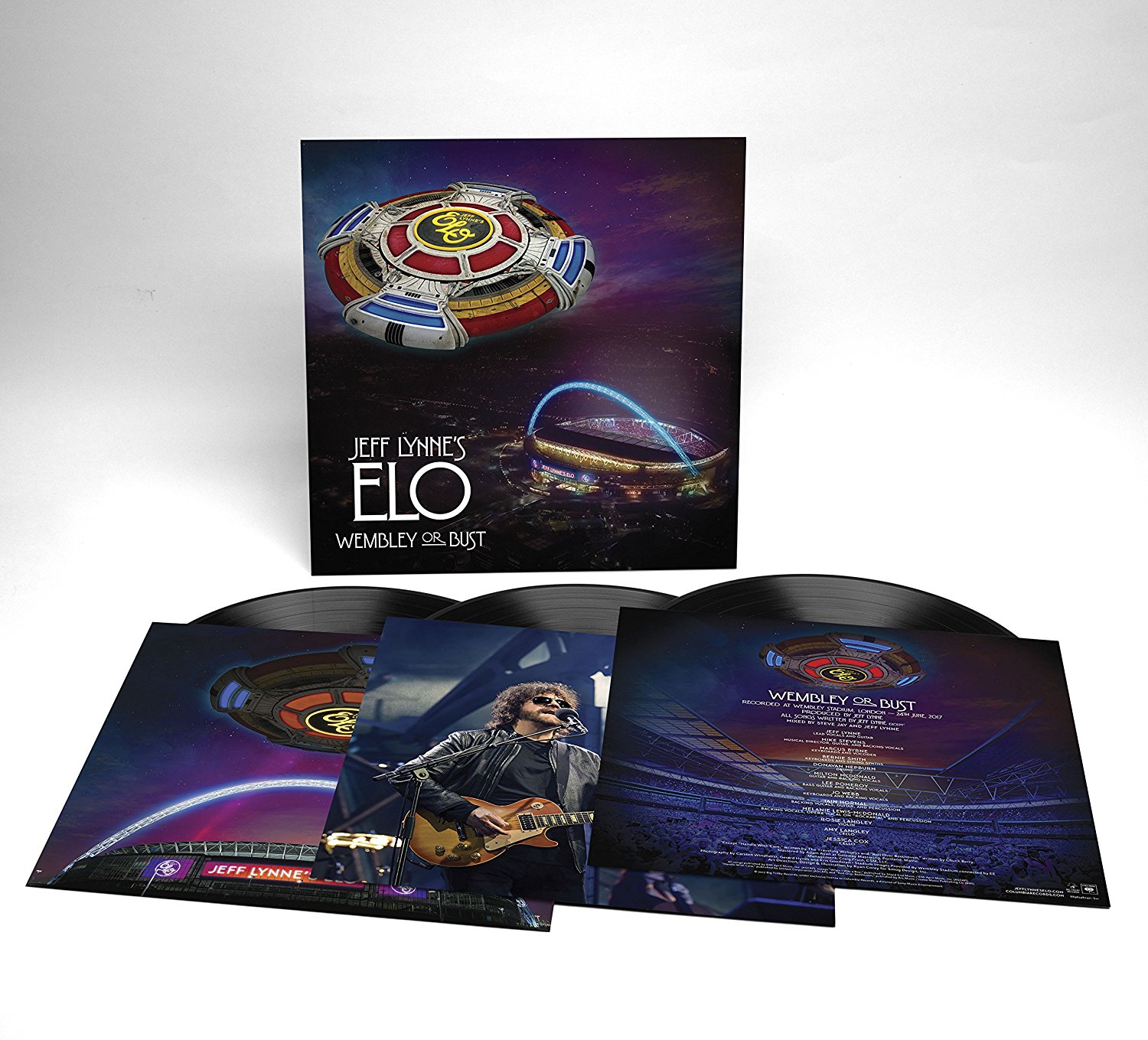 I saw Jeff Lynne's ELO at Glastonbury 2016 and the experience was flat as an East Anglian field. It looked great on telly and he delivered the songs almost exactly as they've sounded on radio for decades. In point of fact, too perfectly, clean as a whistle, no live buzz, with Lynne offering mumbled asides and a complete absence of charisma. He is, at heart, a studio bod, a pop composer rather than a rock'n'roller, with a tendency towards M.O.R. A year or two prior to that, after seeing ELO's songs used in Our Ladies of Perpetual Succour (Lee Hall's musical stage adaptation of Alan Warner's novel The Sopranos) I'd gone back to the source but was surprised how bland the production actually is. The great exception, of course, is "Don't Bring Me Down", which is a monster Beach Boys-flavoured, riffin' glam stomper, that sits well alongside the inarguable "Mr. Blue Sky" at the end of this double on gatefold with picture/info inner sleeves, a cheer-fuelled greatest hits set which will serve as a decent gift for a grandparent who wants to relive the jollier side of the BBC Radio 2 1970s.
Mariah Carey Butterfly (Sony)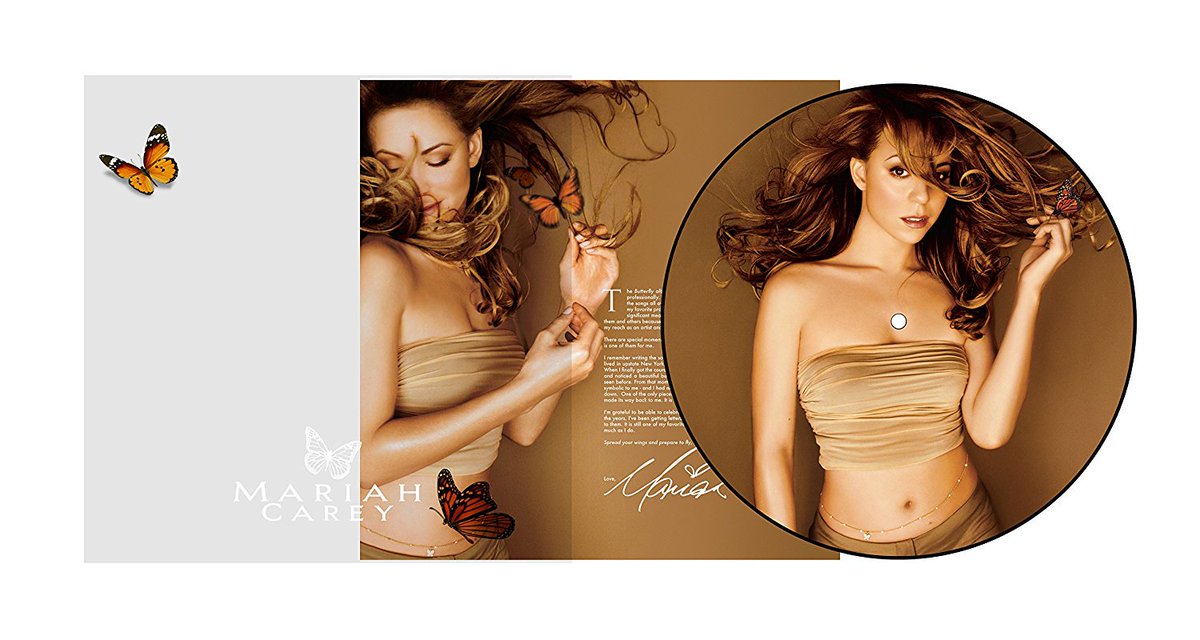 A 20th-anniversary limited edition picture disc of an album its maker considers a career turning point. At the time it was released, she was extricating herself from a marriage to Columbia/Sony boss Tommy Mottola, which included moving away from the squeaky clean middle-of-the-road R&B pop she'd been associated with. It also meant not going overboard with her melismatic singing style (which has forever been the bane of pop since). In practical terms, however, listened to two decades later, her "taking back control" mostly means a faint smattering of hip hop grooves on an in-the-background, not-really-listening urban American dinner party album. Not sure how limited edition it really is as the cover number on theartsdesk on Vinyl's is 03861. Comes with a photo/info backing card also containing a note from Mariah, all in a transparent butterfly-decorated plastic sleeve with sticker that says "Certified Undisputed Classics of Hip Hop and R&B by thisiscertified.com". The latter is an entity devoted to retro R&B and hip hop. It is surprisingly clean and decent-sounding for a picture disc.
Saxon Decade of the Eagle 1979-1988 (BMG)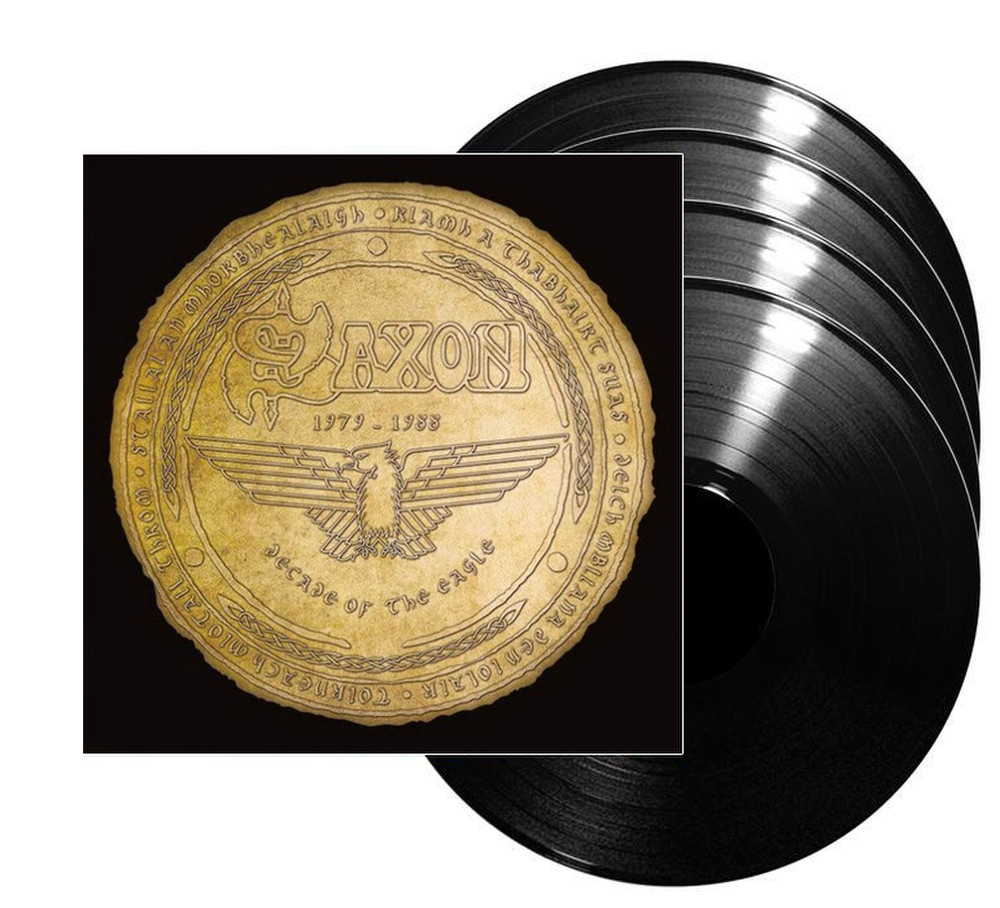 "DECADE OF THE EAGLE"!!!!!!!! Yes!!!! Not many bands would have the audacity but in the world of old-school heavy metal, why not? Saxon are a quintessential northern English rock outfit, metal to the core in terms of presentation and appearance, but, listening to this quadruple set in gatefold, what comes through is that they're basically a hard-chugging barroom blues outfit, like Motörhead (who were their close pals) but with songs that aren't as fast or as memorable. Nevertheless, this collection charts the band's original rise and wane, all the hits ("Wheels of Steel", "747 (Strangers in the Night", etc) and more, stompy riff-kickers such as "Denim and Leather" alongside later cuts such as "Rock'n'Roll Gyspy" which immediately anticipated Guns'n'Roses. The release charts the band's golden period, although they've come back strong in recent years, lead by vocalist Biff Byford and guitarist Paul Quinn. The former provides a booklet of liner notes and, for the true denim cut-off brigade, there's also a sew-on patch. Decade of the Eagle is unapologetic, unreconstructed Seventies rock, mutated and sped up for the next new decade, so buy it as a hefty stocking-filler for that uncle who has long hair, a motorbike and goes to Download every year.
Frankie Goes to Hollywood Welcome to the Pleasuredome (BMG)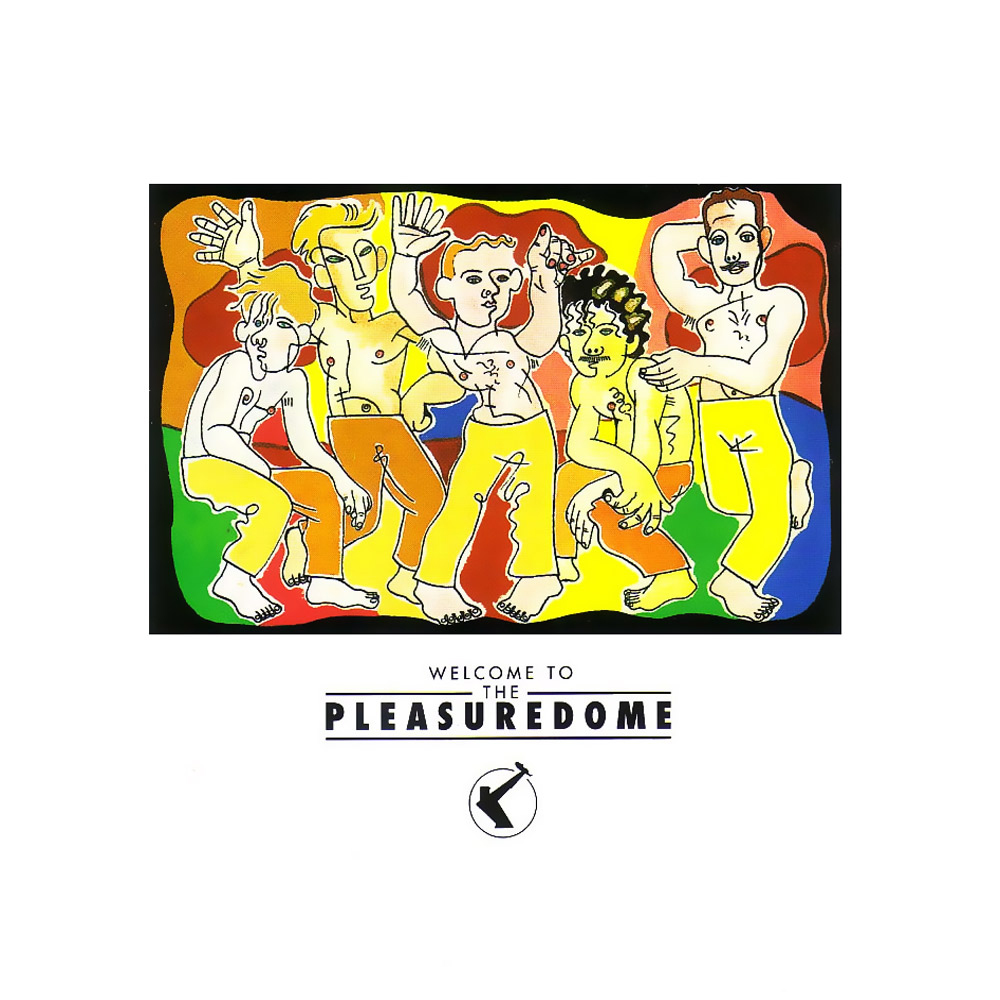 Frankie Goes to Hollywood ruled 1984, bestrode it like giants with multi-week chart-topper after multi-week chart-topper, their black-on-white "FRANKIE SAYS…" T-shirts owning the summer. However, their debut album gave the first indication that they wouldn't be ruling 1985 or any other year in quite the same way. Released that autumn, following the vast singles "Relax" and "Two Tribes", Welcome to the Pleasuredome contained one last mega-gem which, over three decades later, stands up as a masterpiece, the side-long take on the title track (replete with various intro sequences), a tune that DJ Ron Hardy used to drop at the Music Box in Chicago back in the mid-Eighties when house/techno were being defined. Other than that, and aside from the songs we all know (including Christmas staple, "The Power of Love" which is, in fact, only seasonal due to its video), it's interesting rather than good, an enjoyably hokey cover of Edwin Starr's classic "War" rubbing up against oddball originals such as the polished punk-funk of "Krisco Kisses". This time round it comes with an art print of the sleeve and a six-page 12" x 12" explanatory booklet broken down into headings The Times, The Key Players, The Songwriting, The Production, The Impact, and The Legacy. It's one for the Eighties veteran in your life.
Aretha Franklin with the Royal Philharmonic Orchestra A Brand New Me (Rhino)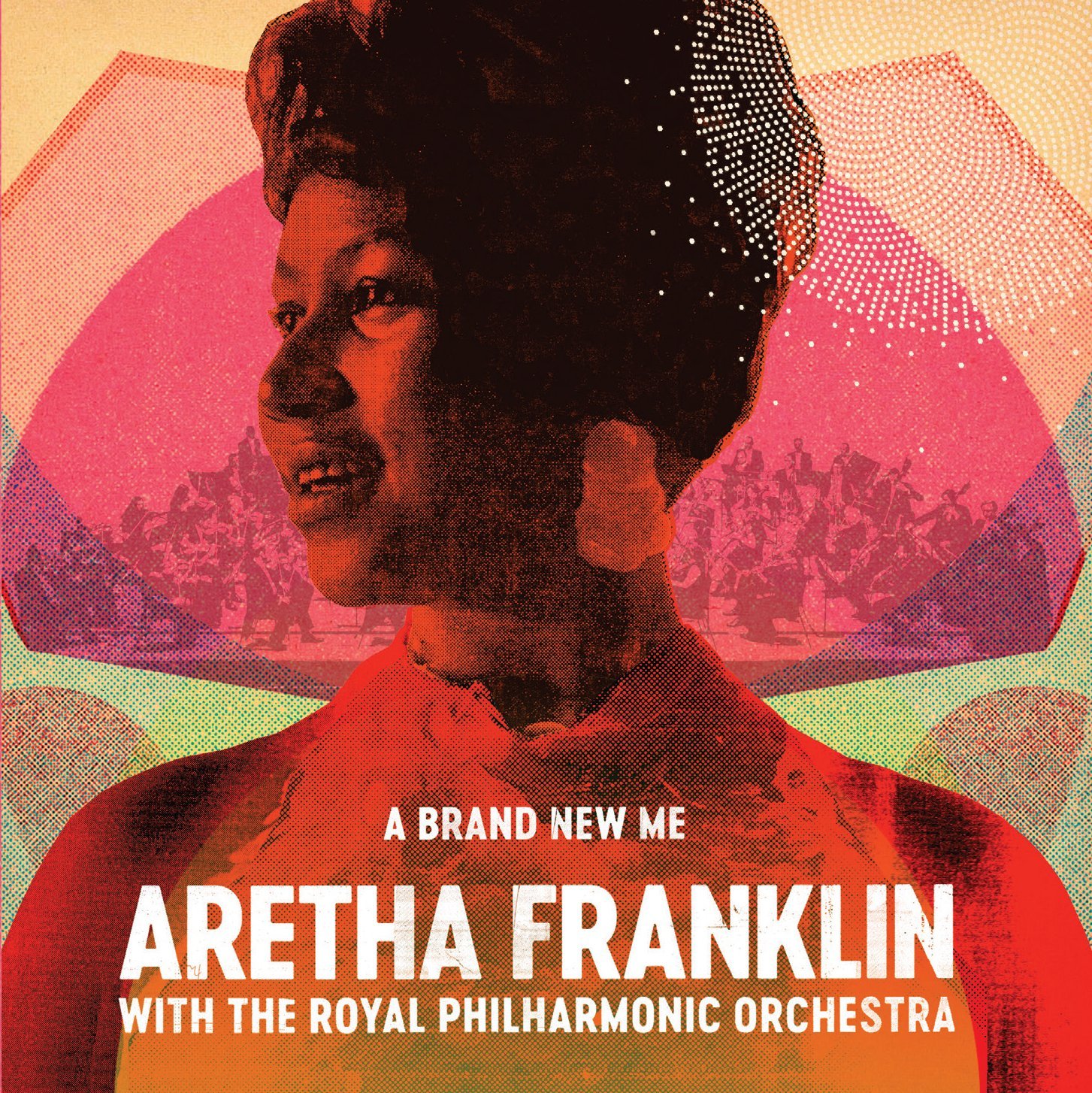 After their work on Elvis's back catalogue, including the recent Christmas album, the Royal Philharmonic Orchestra turn their attention to the first lady of soul. Those after the depth, raunch and sass that gave Aretha her reputation should look elsewhere, but anyone looking for a collection of tasteful new arrangements of her classics, for the older person's easy listening pleasure, well, here we go. Not for me, then, but since this is Christmas, I'm not going to throw hand grenades around: season of goodwill and all that. It'll go down a treat on hospital radio stations the country over.
ALSO WORTHY OF MENTION
The Lyman Woodward Organization Saturday Night Special (BBE): Time for some party albums to get things going. According to Paul Bradshaw's informed biographical essay on the gatefold sleeve of this double, Detroit keysman Lyman Woodward's various jazz-funkin' outfits, culminating in The Lyman Woodward Organization, would play some of the roughest joints in an increasingly rough city as the Seventies saw local money haemorrhage as the US car industry bled out. These clubs included places where people would actually be killed on a night out hence, perhaps, the name of his crate digger-friendly 1975 album. It may also be a reason why Woodward's stew of jazz, funk, disco and Latin, with emphasis on the former two, has something innately soothing deep within most of its grooves. It's not a frantic album, in other words, but has a considered virtuosity.
Goran Bregovic Three Letters From Sarajevo (Wrasse): Sarajevo music star Goran Bregovic is a multi-million seller in his part of Europe and his latest album combines heart-breaking string sequences with demented celebratory stomps for leaping around the room to in a mad sweat. Part of the album sees him work with a symphony orchestra to create haunted violin-led wonders such as "Christian Letter", but they are immediately in conjunction with percussion'n'brass party anthems featuring singers such as Rachid Taha, Riff Cohen and Asaf Avidan. These demand body movement. Such is the Balkan way and, arriving in photo/info inner sleeve, it's very hard to resist.
Various The Library Archive Compiled by Mr Thing and Chris Read (BBE): And the dancing can really start with this one. Publishers Boosey & Hawkes' recorded music library, Cavendish Music, was once used as a depository for tunes available for a fee to TV shows and the like, back in the Sixties and Seventies. Those old enough should imagine the chase music in programmes such as The Sweeney by way of a reference point. DJ doyens Mr Thing and Chris Read have sifted through the collection on our behalf to come up with four sides of bongo-crazed wah-wah and big brass funkiness composed by long forgotten names such as Dennis Farnon, Sam Fonteyn, John Scott and Pete Moore. On photo/info gatefold it's a heap of Hammond-laced retro instrumental kicks'n'giggles for both the turntablist geek and the drunk, dancin' lay-person.
Butcher Brown Live at Vagabond (Gearbox): Butcher Brown are having one hell of a jam on this album recorded downtown on East Broad Street on their home patch, Richmond, Virginia. However, it's rather too immersed in relentless fret-widdling guitar and jazzed out instrumental wanderings to truly count as a full-on party album. Mind you, those that were at the Vagabond that night, judging from the audience whoops, would likely say different. Despite band leader Devonne Harris (AKA DJ Harrison) being well-versed in hop hop's stripped back bounce, and having an album out on funky LA outlet Stones Throw Records, Butcher Brown are a little too involved in their own Weather Prophet-go-rock groove to allow room for any real dancefloor frolicking.
Yes Topographic Drama: Live Across America (Yes/Rhino): The very name Yes is enough to make this writer run for the hills. They are, after all, the archetypal prog rock horrors, with a background of line-up changes to give The Fall a run for their money. This live set was recorded across the States during February 2017, following the death of the band's longest-serving permanent member, bassist Chris Squire. Its main focus is a run-through of Yes's 1980 album Drama which was one of the band's more intriguing outings. Linchpin members Rick Wakeman and singer Jon Anderson had left and the remaining rhythm section drafted in The Buggles, Trevor Horn and Geoff Downes (of "Video Killed the Radio Star" fame) as replacements. The results were oddly poppy, vaguely anticipating Horn's brilliant reinvention of Yes as mega-pop-rockers on 90125 (and its huge hit "Owner of a Lonely Heart"). However, Topographic Drama also contains half of the awful Tales from Topographic Oceans, as well as a couple of other odds'n'ends, so let's not become too over-excited. Comes in book-style triple gatefold with 12" x 24" live photos insert.
Ross Blake Pretty en Rose – Original Soundtrack (Horse Arm): London musician Ross Blake, who's been involved with leftfield pop-rock bands acts such as Buttonhead, Poino and Robert Sotelo, provides a worthwhile soundtrack to French film-maker Angélique Bosio's film about the life of Fifi Chachnil, a Parisian fashion designer who majors in retro fluffy baby doll lingerie, often pink and veering into the kitsch. The music does too, with tracks such as "Karen Black" riding a cheesy Bontempi-style keyboard, but Blake is equally capable of more serious compositions such as the piano-led "Golden Spheres". This is album is clearly a sonic curio but, judging from its confidence, we'll be hearing more from its creator.
Ethan Gold Songs From a Toxic Apartment (Gold): Ethan Gold has had quite a life, both troubled and creatively vibrant. The son of Alan Ginsberg's poet pal Herbert Gold, his mother died in the same helicopter crash that killed iconic rock promoter Bill Graham in 1991. He's had his own share of problems via a head injury that drastically affected him for some time, but has also produced Elvis Perkins, worked on film soundtracks and had songs covered by John Grant, The Staves and others. His debut album, Songs From a Toxic Apartment, in picture gatefold, came out in the States in 2011 but now arrives here, and is packed with his very own variety of passionate grunge-folk, his underplayed vocal style only adding to the appeal of the whole.
Fujiya & Miyagi Transparent Things (Impossible Objects of Desire): A few years into the 21st century, circa 2003-2006, there was a boom in Brighton bands, synth-pop acts who cast their net wider than all the electro-clash stuff that had recently been popular, drawing from a wider range of influences, bands such as Chungking, Transformer and, most successful of the bunch, Fujiya & Miyagi, a quartet of blokes rather than a Japanese duo. Appropriately on transparent vinyl, indeed, appearing for the first time on vinyl, in a plain card inner sleeve within transparent plastic outer sleeve with band and title on, their second album is a calmly throbbing affair, kind of a mellow Krautrock Underworld with a wittier and whispery-er lyricist as frontman. They never seem to break a sweat but the album still emanates suave Motorik-pop class.
Lucas Oswald Whet (Cosmic Dreamer): Unfortunately this album drifts very near to exactly the sort of music theartsdesk on Vinyl especially doesn't like, pastel acoustica and baroque folk-pop with vulnerable doe-eyed bedsit emoting. There's the occasional song that rises above its oeuvre, such as "Starving", with its great line "I'm breaking plans with everyone/Grind my teeth down to the gums", but, for the most part, it won't be on our Yuletide turntable. However, once again, season of good will entails mention that Oswald is a member of longstanding Texan alt-indie sorts Shearwater, as well as working with Jesca Hoop, and his debut solo effort is also smeared with a haziness that sets it slightly apart from the mass of similar music. Comes in lyric inner sleeve.
theartsdesk on Vinyl will be back in late January 2018
We welcome any and all vinyl for review. Please hit thomash.green@theartsdesk.com for a postal address.
A hefty stocking-filler for that uncle who has long hair, a motorbike and goes to Download every year
Share this article