theartsdesk on Vinyl 53: U2, Moonlight Parade, Oasis, Stray Cats, Crass, Prefab Sprout and more |

reviews, news & interviews
theartsdesk on Vinyl 53: U2, Moonlight Parade, Oasis, Stray Cats, Crass, Prefab Sprout and more
theartsdesk on Vinyl 53: U2, Moonlight Parade, Oasis, Stray Cats, Crass, Prefab Sprout and more
Possibly the most extensive monthly vinyl reviews in the world
Monday, 30 September 2019
Glistening with listening promise
It's reckoned that this time next year vinyl sales will have overtaken CDs. It's still a small market and anyone who thinks vinyl will one day replace streaming is living on Planet Lah-lah. There's so much coming out even theartsdesk on Vinyl cannot review it all, but what we can do is devote 7500 words to what grabs our attention. We are not limited by genre or by new vs reissue.
It's reckoned that this time next year vinyl sales will have overtaken CDs. It's still a small market and anyone who thinks vinyl will one day replace streaming is living on Planet Lah-lah. There's so much coming out even theartsdesk on Vinyl cannot review it all, but what we can do is devote 7500 words to what grabs our attention. We are not limited by genre or by new vs reissue. We eat it all up and want more. So check below for the juice on what's out there. Dive on.
VINYL OF THE MONTH
Mambo Noir Trio Mambo Noir Trio (Oona)
If you see the name Matti Bye on anything, check it out. His 2017 album This Forgotten Land is one of the best albums of the last five years, a spooked solo piano odyssey, but there's much more to the Swedish composer, pianist and soundtrack don than that. For Mambo Noir Trio he joins with two fellow Swedes (and occasional members of psychedelic rock group Josefin Öhrn + The Liberation), Vilhem Bromander (double bass) and Dennis Egberth (drums and percussion). Together they make a very Twin Peaks-ish form of easy listening alt-jazz. Bye's piano is at its heart, along with subtle electronic fringing, but the echoing, rustically airy production by fellow film composer Anders af Klintberg is just as important. There is beauty here, but also strangeness. One track, "City" has a hectic rhythm section, ripe for dancing, but most of this debut album emanates an uncanny lounge ambiance, as if cocktail music of the late 1950s had been co-opted for a Sartre-esque afterlife waiting room.
Aldo Trembling Eyelids EP (Full Time Hobby) + Bananagun Do Yeah (Full Time Hobby)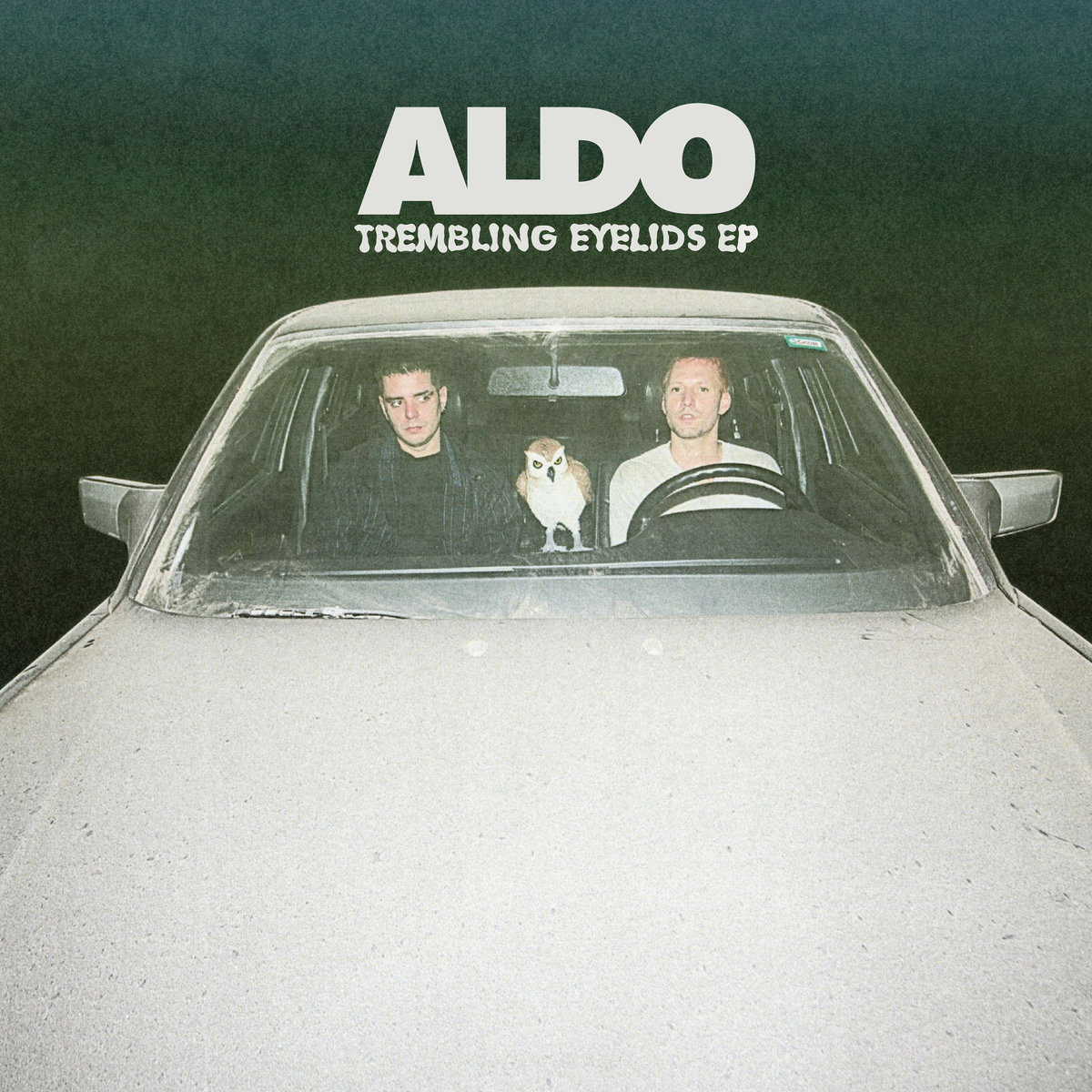 Two very different singles. São Paulo duo Aldo – their band titled for a once wayward uncle – are two brothers, Andrew and Mura Faria. Their music on this 12" is hard to categorize. Falsetto vocals ride over a post-punk bassline, à la Sink Ya Teeth, the whole thing immersed in a stew of synth-indie that determinedly drives forward. Some tunes, such as "Ghosts" are messier and punkier but others, such as "Papermaze" have a morose funk about them, and the title cut is even poppy – in an odd sort of way. Look forward to hearing more from these. Aussie outfit Bananagun are a much frothier proposition and their 7" leads with "Do Yeah" which simply and effectively mixes Latin easy listening of the Sergio Mendes variety with garage fuzz, without ever upping the pace to punkiness. On the flip is a song that appears to be called "Top Cat Crane in The Tiger's Mouth" which mixes a Sixties beat novelty pop feel with scratchier guitar leanings.
KT Tunstall Acoustic Extravaganza (Virgin)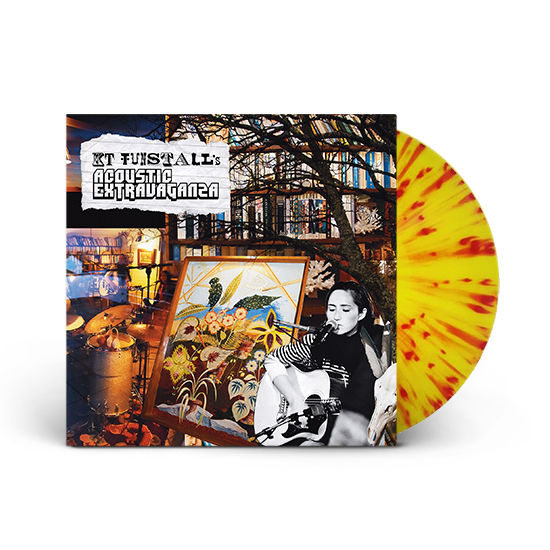 KT Tunstall is underestimated by many who might enjoy her output. I was once a member of the KT Tunstall-doubting masses whose nutshell perspective is "She's the one what did "Suddenly I See", innit?". But that (very catchy) song was a decade-and-a-half ago and she's had multiple hit albums since. What's more, go see her live and she's a hugely personable, entertaining and, best of all, has a sack full of memorable tunes. That was how I "discovered" her. Which brings us to Acoustic Extravaganza which came out way back at the start of her career in 2006 but is now available in a limited edition on vinyl that looks like someone's bled in the custard. Songs such as "Ashes" have emotional heft and are catchy too, while the likes of "Miniature Disaster" appear bashed out campfire throwaway but actually have more sticking power than that. Comes with 12" x 12" photo/info insert.
Stray Cats Runaway Boys Boxset (BMG)
It makes sense that at the start of the 1980s there was a rockabilly revival. At the time tribalism in popular music was at a peak in the period after punk. New York trio Stay Cats hit London at just the right time and had a golden couple of years, kicking off with the still excellent-sounding, gruff, bass-led "Runaway Boys". They even cracked America and sold millions but, having and average age of 21, soon blew it in a blaze of excess (and, in drummer Slim Jim Phantom's case marrying Swedish blonde bombshell Hollywood star Britt Ekland, twenty years his senior). The best of the music they left behind from that original incarnation is gathered here, the albums Stray Cats (1981), Gonna Ball (1981) and (the less commercially successful in the UK) Rant'n'Rave With the Stray Cats (1983). The first album is solid imitation-Fifties stuff, like a cleaned-up (but not too cleaned-up) Cramps, notably including a very Eighties song about Cold War politics called "Storm the Embassy". Gonna Ball has snappy guitar rave-ups such as "Little Miss Prissy" but also shows the band experimenting with retro bubblegum too, while Rant'n'Rave returns to their original style (aside from the effective ballad "I Won't Stand in Your Way"). The latter, listened to cold, without nostalgia, may be the best one. The albums appear in their original inner sleeves, together with a fourth disc of Rare Cuts that show Stray Cats at their rawest, reminding that part of their charm was the way their sound acknowledged punk had occurred, especially on a version of Eddie Cochran's "Somethin' Else" which gives Sid Vicious's a run for its money. There's also a substantial hardcover book of info interviews, even including in-depth material about their tattoos. Finally, a board game, Rumble In Brighton, is a rather sweet and original idea. Playing the original "Runaway Boys" next to the version here suggests that these albums are recorded from digital rather than the analogue source. Given the retro nature of the band, this is ironic. More unfortunately, it's takes some of the bass scuzz off the material. Otherwise, a tasty package
Scrimshire Listeners (Albert's Favourites) + Krokofant with Ståle Storløkken & Ingebrigt Håker Flaten Q (Rune Grammofone)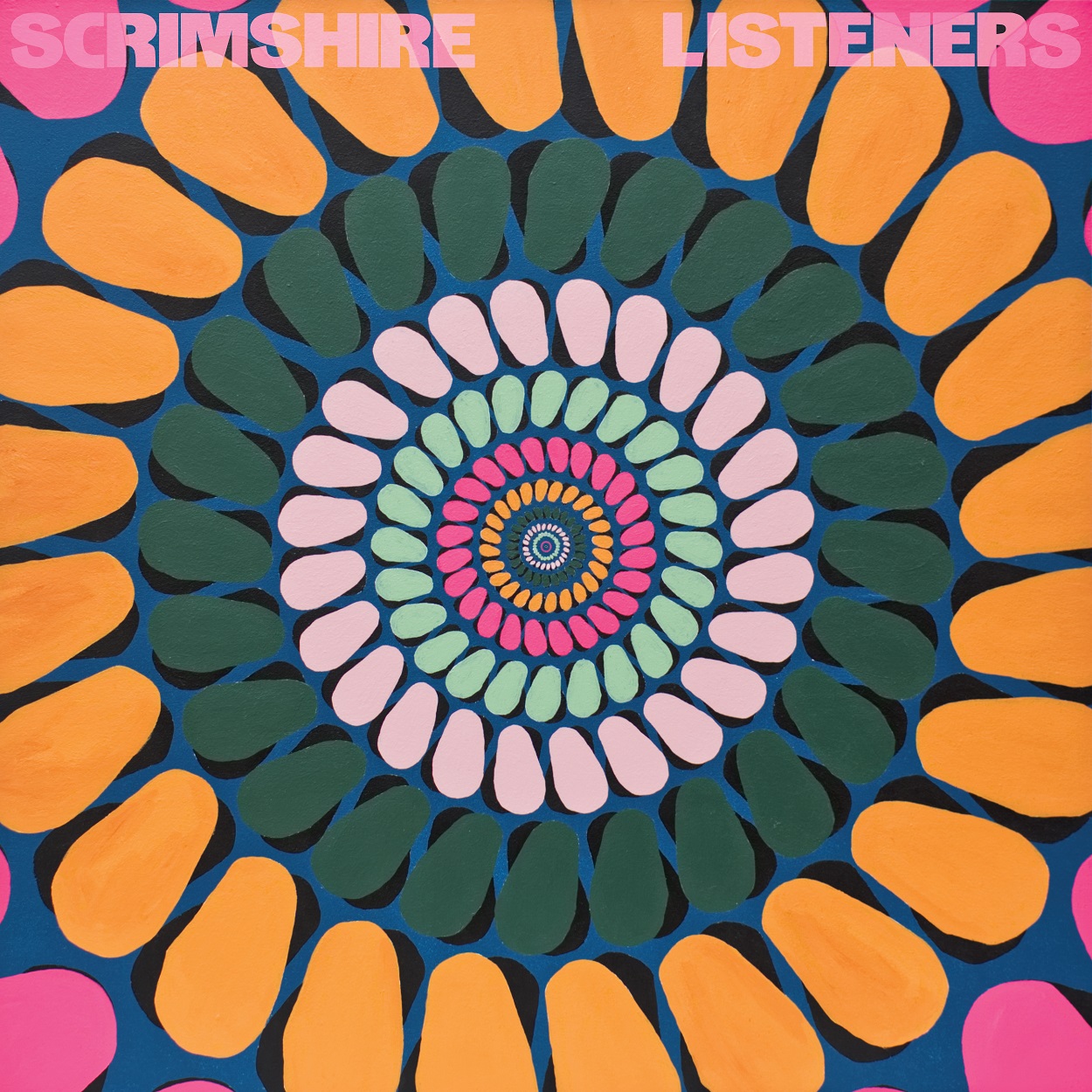 Over the last decade Adam Scrimshire has become best known for his role in helming the Albert's Favourites Record label, home to all manner of smart, laid back music riding the interface between jazz, soul and downtempo electronica grooves. His fourth album arrives to remind us that he is a talent in his own right. Featuring multiple guest appearances, including Joshua Idehen and Soothsayers, Scrimshire's music balances lush instrumental episodes – just check the trumpet solo at the end of "Won't Get Better" – with unforced vocal work-outs, usually soulful in tone. Highlights include the smooth hip hop of opener "Theme For Us", featuring the aforementioned Idehen, but the whole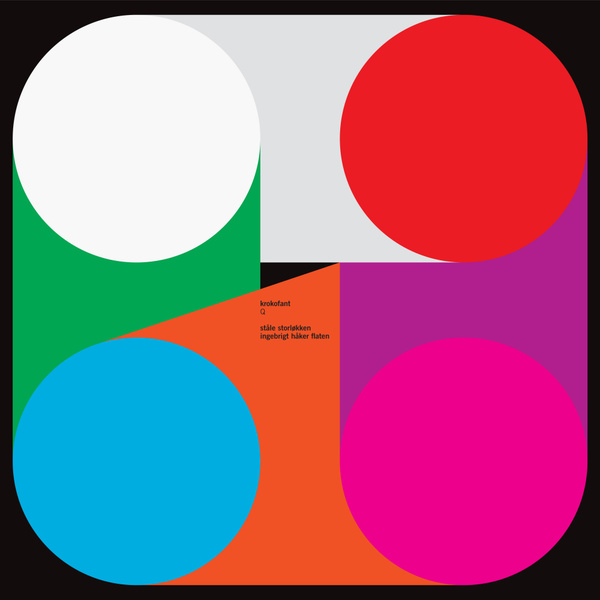 sweeps along with a gentle persuasiveness. For those who want a more demented take on jazz-flecked grooves, look no further than the latest from Rune Grammofon, the Norwegian label guaranteed never to offer anything straightforward. Nordic trio Krokofant, after three albums together, invite keyboard-player Ståle Storløkken and bassist Ingebrigt Håker Flaten on board so that the five of them can, frankly, go bananas. With no titles, just four "parts" the whole opens on an utterly frenetic piece that, riding Keith Moon-gone-jazz drums, pushes at the envelope, albeit with a surprisingly tuneful energy. From there, however, they wander everywhere, sounding like Dutch prog rockers Focus one moment and avant-free jazzers the next. A wild ride.
Prefab Sprout Swoon + From Langely Park to Memphis + Jordan: The Comeback + A Life of Surprises: The Best of Prefab Sprout (Kitchenware/Sony)
Prefab Sprout had a devoted following from the mid-Eighties onwards, for well over a decade. Not a bad run for a band so fey, enigmatic and literary. In fact, while their leader Paddy McAloon's music would, eventually, become a worthy successor to early Eighties ideas of "new pop" espoused by ABC, Scritti Politti et al (ie, sophisticated sheen and wry self-aware lyrics), their debut, 1984's Swoon is as much a strummed indie affair, spiced with curios such as "Ghost Town Blues". McAloon's words are offbeat, but really come into their own, clearly at the forefront, on the twee-funkin' pop of From Langley Park to Memphis (1988). This album boasts their bizarrely brilliant Top 10 hit "The King of Rock'n'Roll" alongside a host of preppy Brit meditations on America. The songwriting is skilled, but only if you can stand the airless, of-it's-time production. 1990's Jordan: The Comeback has much in common with Pet Shop Boys Behaviour of the same year, albeit not electro-pop, but songs such as "Jesse James" (especially the "Bolero" version) and "All the World Loves Lovers" have that same gorgeous, lost, longing melancholy. It should be noted that on the latter two albums, Wendy Smith's sweet vocals are the making of many songs. The Best of… dates from '92 and gathers what came before with a few new songs, including the student disco synth-pop of "If You Don't Love Me". All except From Langley Park to Memphis come on gatefold while Jordan: The Comeback and the Best Of… are doubles (NB. mine did not come with the tee-shirt pictured above but it is available).
Oasis Definitely Maybe (Big Brother)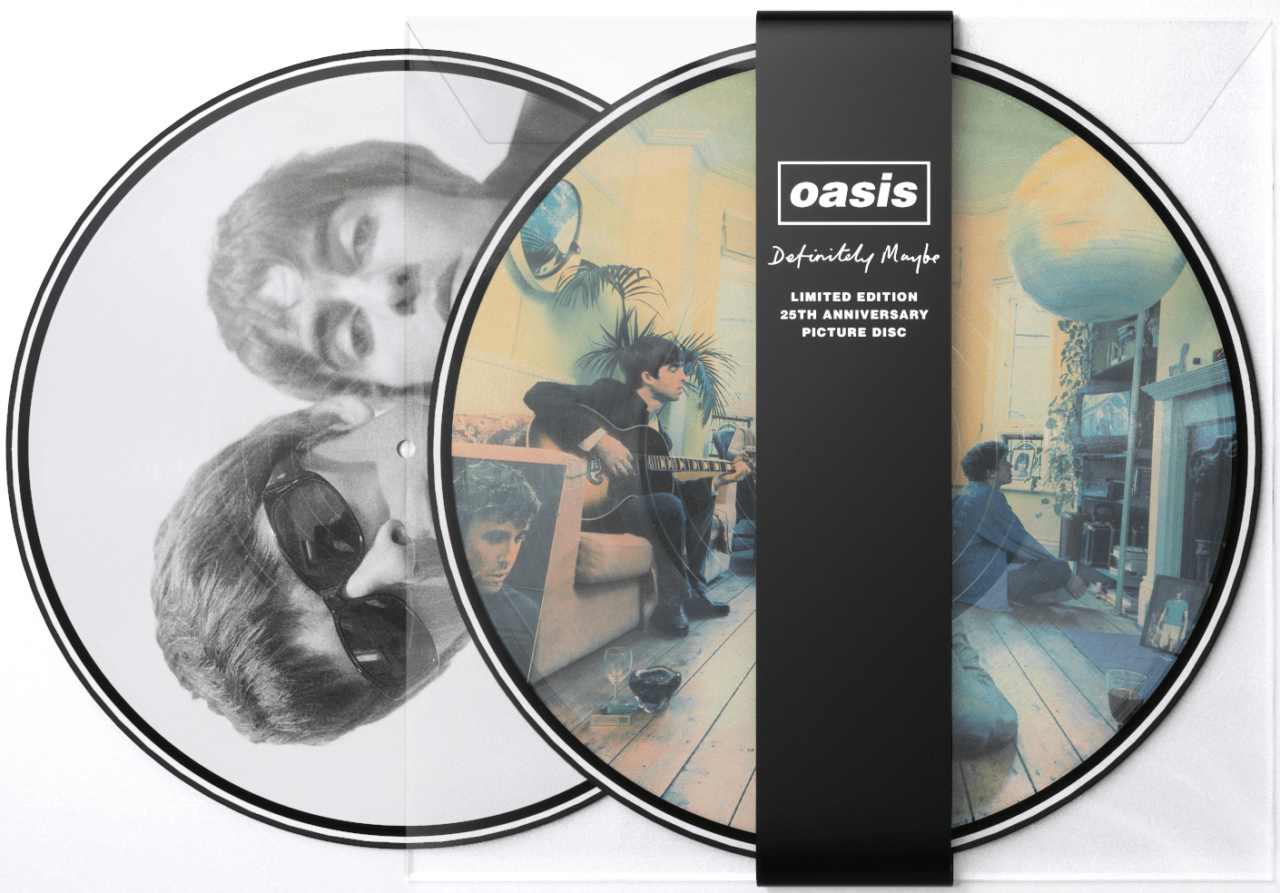 For those not keen on the way Liam Gallagher has recently been dirging down Oasis's many hits at his concerts, here comes the vinyl remedy. And it's a quarter of a century old! If you'll indulge me, I shall reminisce. Back in the mid-Nineties, I was a dance music zealot. Guitars had ended, as far as I was concerned. Oasis suddenly appeared, gobby as hell, retro and, to me, irrelevant, a kind of punky Happy Mondays (albeit not musically). Then I drove to France for a festival (Ozric Tentacles and the like!) with my mate Nixy. He insisted on playing Oasis all the way there. By the time we arrived I not only had to admit this Manchester band had something, but that it was BIG and that I liked it. But many of you realised that before I did. I still say, "Screw Britpop!", but Definitely Maybe has such chutzpah. It may contain a ridiculous Coca Cola commercial pastiche ("Shakemaker") and preposterous lyics everywhere, but theartsdesk on Vinyl would have to concur with all the clichés about it being a vital set of songs. "Live Forever", ""Supersonic" and "Rock'n'Roll Star" have long ago entered the pantheon of classic belters but there other well-loved numbers such as "Columbia" too, and the final ballsy trio of "Digsy's Diner", "Slide Away" and "Married With Children" bely the idea that albums fade out. There are two versions out there, both well-pressed to vinyl: a sleeved double on photo/info gatefold and silver vinyl, and a picture disc double in transparent plastic (pictured above). The latter gives no indication of song titles except on a the cardboard strap around it; then again, by now most who buy it will know exactly where every song is.
Emika Falling In Love With Sadness Remixes (Emika) + Paranoid London PL (Paranoid London) + Mike (agentX) Clark The Heat (No Speakers) + ANNA & Kittin Forever Ravers (Kompakt)
Anyone fancy some bangin' dance music? No? Tough. A couple of 12"s and an album have reached and all bear mentioning. First off, Berlin-based Czech-Brit underground synth-pop queen Emika has asked four producers to remix tracks from her last album. Leading with Pinch, who hits the EBM techno side of things rather than anything Bristol-sounding. Of the rest, Russian DJ-producer Julia Govor, Brummie Berliner Rebekah and veil-faced DJ Headless Horseman, the latter is the most interesting but least danceable, offering an opulent techno-pop rewrite. The others, all faceless techno crunch, make useful DJ tools. Paranoid London – a duo from guess where? - proved four years ago that there was a healthy appetite for crude, rude, geezer-led acid house, with all the rough edges left on and their debut album sold out on vinyl and was followed by a bunch of festival performances. They return with very much the same formula and a few special guests, notably Arthur Baker and Suicide's Alan Vega. It all sounds like 4.00 AM in a dusty strobe-lit cellar, the musical outline stark and robotic as voc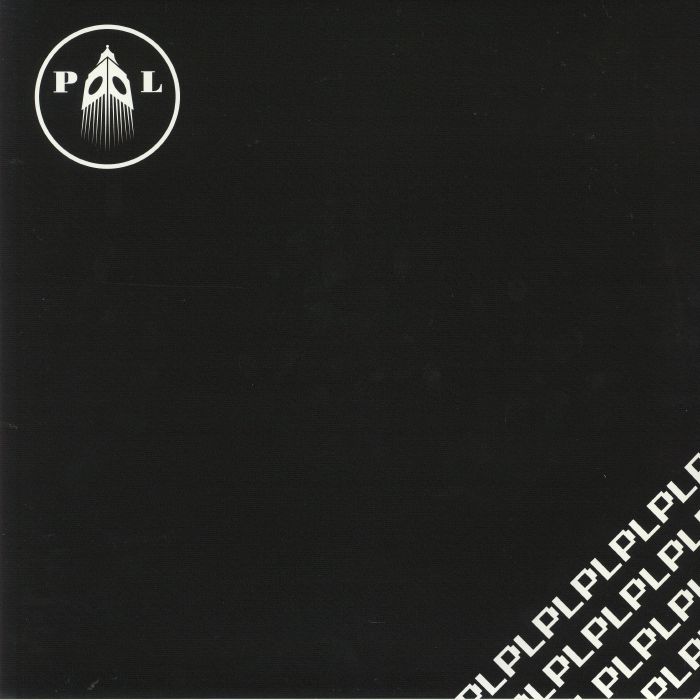 als, ranging from deadpan to gender-bending sexed up diva, cut through the forward march. Over four sides of vinyl, Paranoid London have returned to the source and replaced disco jivin' with something much tougher, Roland 303s a-go-go. Mike "Agent X" Clark has pedigree, having worked with Underground Resistance and Carl Craig and fronting Beatdown Sounds. His new 12" is a bomb of a techno tune. The original mix is simple, echoing and minimal but with power, partly drawn from the characterful sampled speech at its heart, which sounds like it's been pulled from a Seventies Blaxploitation flick. The El Provost Mix bit-crunches the song, adds buzz, a bit of Beltram flavour, while on the flip Ben Sims does his usual Nineties techno DJ tool bangin' and Peter Rocket flips things into the realms of electro-
breakbeat acid squidginess. For theartsdesk on Vinyl's DJ exploits, the original and Peter Rocket versions are the ones. How could I ever resist a tune called "Forever Ravers"? That it features Kittin (formely Miss Kittin) on vocals only makes things juicier. Produced with recently established Berlin-based Brazilian DJ ANNA, the A-side is a hammering Teutonic techno thing with Kittin repeatedly telling us that "we're fucking ravers" while the music emphatically bashes that home. ANNA's Raving in Space Mix on the flip is a druggier, driftier proposition although still very much for dancefloors. "Techno gender fluid/Dancing 'til we die"! Yes fucking please!
Various Beautiful Freaks: Waving Our Freak Flags High: When Music Was the Counterculture (TAD) + Creedance Clearwater Revival Live at Woodstock (Craft)
Some of us still live life as if music IS the counterculture but, no, we know, really, not any more: music is clicking LIKE on trite slivers of blandness that Post Malone's marketing people have stuck on his Instagram feed. Never mind. Countercultures exist, even musical ones, but they no longer have communal universality, binding us to something greater. TAD Records' compilation, however, casts its net deep into the LSD-soaked 1960s and digs up evidence of the surrealist uprising that rejecting imperical consumerist tedium in a tsunami of colour and, yes, wilful freakishness. Coming on double in sleeves that contain a long, tightly printed historical overview from Tim Harlow, the sounds on board are not just music but also outbursts from beat poet Allen Ginsberg, acid guru-showman-charlatan Timothy Leary and The Fugs attempting to levitate the Pentagon (they did things differently then!). The music ranges from psychedelic instrumentals such as Third Ear Band's "Earth" and Gong's shimmering head-trip "Fohat Digs Holes in Space", to haphazard strummed spumes such as David Peel and the Lower East Side's "Up Against the Wall", right through to the post-punk attack of Yoko Ono's "Why?". There's also early material by Hawkwind, The Bonzo Dog Doo Dah Band and The Incredible String Band - and things wouldn't be complete without Country Joe & The Fish's "The Fish Cheer & I-Feel-Like-I'm-Fixin'-to-Die rag". I was born for those times, frankly, but never mind... what's on Netflix? Movin' on, as the Sixties
explosion waned, one media-friendly peak for this countercultural stuff was Woodstock (although, societally, the counterculture bled on into the Seventies, Eighties and Nineties). The short of it is that the counterculture partly gifted us rock, a music quickly shorn of dangerous undertow. A case in point is this double Woodstock live set in photo/info gatefold by Creedance Clearwater Revival. This is an observation rather than a diss for it's a fine concert of loose-limbed, jammed blues-rock culminating in a blistering side-long version of "Suzie Q" that contains guitar dynamite. For fans it's been long-awaited as frontman John Fogerty wasn't pleased with their performance and withdrew it from both the Woodstock film and the album. Why? Who knows! The band's golden period hits are all here, ramped up (yes, including "Bad Moon Rising") as well as ripping version of "I Put a Spell on You". It's good time blues boogie but fiercely so, and listening to it makes you want that aforementioned good time! Comes on double in photo/info gatefold.
Crass Penis Envy + Christ - The Album + Yes Sir, I Will + Ten Notes on a Summer's Day (One Little Indian) + Penny Rimbaud Peace & War (One Little Indian)
Talking of counterculture, One Little Indian reissue the last four albums, originally released between 1981 and 1986, by punk's stern conscience, Crass, alongside a new single from key member Penny Rimbaud. With Penis Envy, Crass stepped sideways from their raging punk approach and created an album wherein Eve Libertine and Joy de Vivre gave air a mass of material dealing with women's perspectives and the treatment of women. As Jeffrey Lewis observed when he released his likeable 2007 Crass covers album, the band may have been fierce but, as Penis Envy shows, they could write sweet melodies, albeit set within a strangely compulsive, jagged percussive framework and with words designed to sting. It's more like their anarchist mantel-inheritors Chumbawumba than typical Crass. It comes in a transparent plastic sleeve containing Gee Vaucher's iconic artwork in giant fold-out poster form. For Christ – The Album they're back with the punk template, Steve Ignorant to the fore, but are playing with it, even sending up OI! music on "The Great Working Class Rip-Off". Shorn of any fat, it's a taut, wiry set that offers little let-up in its assault on society's flaws, though it is also seasoned with humour. The second disc is a live set from the 100 Club and showcases the band's energy and mischievousness. Christ comes in a black box with a brilliant black'n'white Gee Vaucher collage poster and a 28 page booklet, "A Series of Shock Slogans and Mindless Token Tantrums", which features lyrics, essays, thoughts, rants, snippets and ideas, all strewn willy-nilly. Yes, Sir, I Will came out in 1983 and is an apoplectic attack on Margaret Thatcher and the Tories in the wake of the Falklands War. In truth, the music suffers as a result of the rage but that's not the point, really, is it. This is a deluge of articulate fury, catharsis on plastic, rather than pop (aside from a solemn piano ballad sequence). In transparent plastic with a still shocking poster featuring Prince Charles talking to the severely burnt soldier, Simon Weston. Underneath is a quotation from The Sun newspaper: "Get well soon," the Prince said. And the heroic soldier replied, "Yes, sir, I will." Ten Notes on a Summer's Day is a ten minute, 45 RPM, side-long, avant-garde
piece, almost like free jazz in construction, the band's final poetic, darkly thoughtful, Situationist sign-off, with an instrumental version on the flip. Comes in lit-art inner sleeve. All the above albums have been remastered at Abbey Road to full strength and are presented as they were back in the Eighties. The Penny Rimbaud 7" is a different creature, although similar in spirit. Dating from a 2012 project when Rimbaud decided to record songs that had influenced him growing up, accompanied by just a cello and fretless bass. Only two songs were recorded, Bob Dylan's "Masters of War" and George Harrison's "Isn't It a Pity" then the whole thing was shelved and forgotten about. Recently disinterred, it's an effective double-header. Many leagues more straightforward than Crass, the songs become spoken-sung poetry pieces that are touchingly direct. Comes with a 7" x 7" art insert and note from Rimbaud. My advice is to not try and consume Crass in a single sitting. It's a bit much. Too dense. Dip in. Think on it.
The Souljazz Orchestra Chaos Theories (Stut)
Canadian collective The Souljazz Orchestra have been going for 15 years but the fire is very much still in their bellies. In fact, judging by this album and its predecessor, 2017's Under Burning Skies, they're only getting better and more intense. Led by one Pierre Chrétien, their combination of Afrobeat with brassy funk, tropicalia and, importantly, socio-political commentary uniquely hits the feet, the heart and the listener's sense of ire at a world being driven into divisive economic carnage by the greedy. Songs such as "Police the Police", "House of Cards" and "Slumlord" don't mince their words while "General Strike" steps into the shoes of The Specials at their best. In an alternative universe where the Kardashian family are of little interest, The Souljazz Orchestra would be superstars. They have the songs, the words and the attitude. And they're playing live at the Jazz Café in London on Wednesday 16th October 2019. That has to be a must.
U2 October + Pop (Island)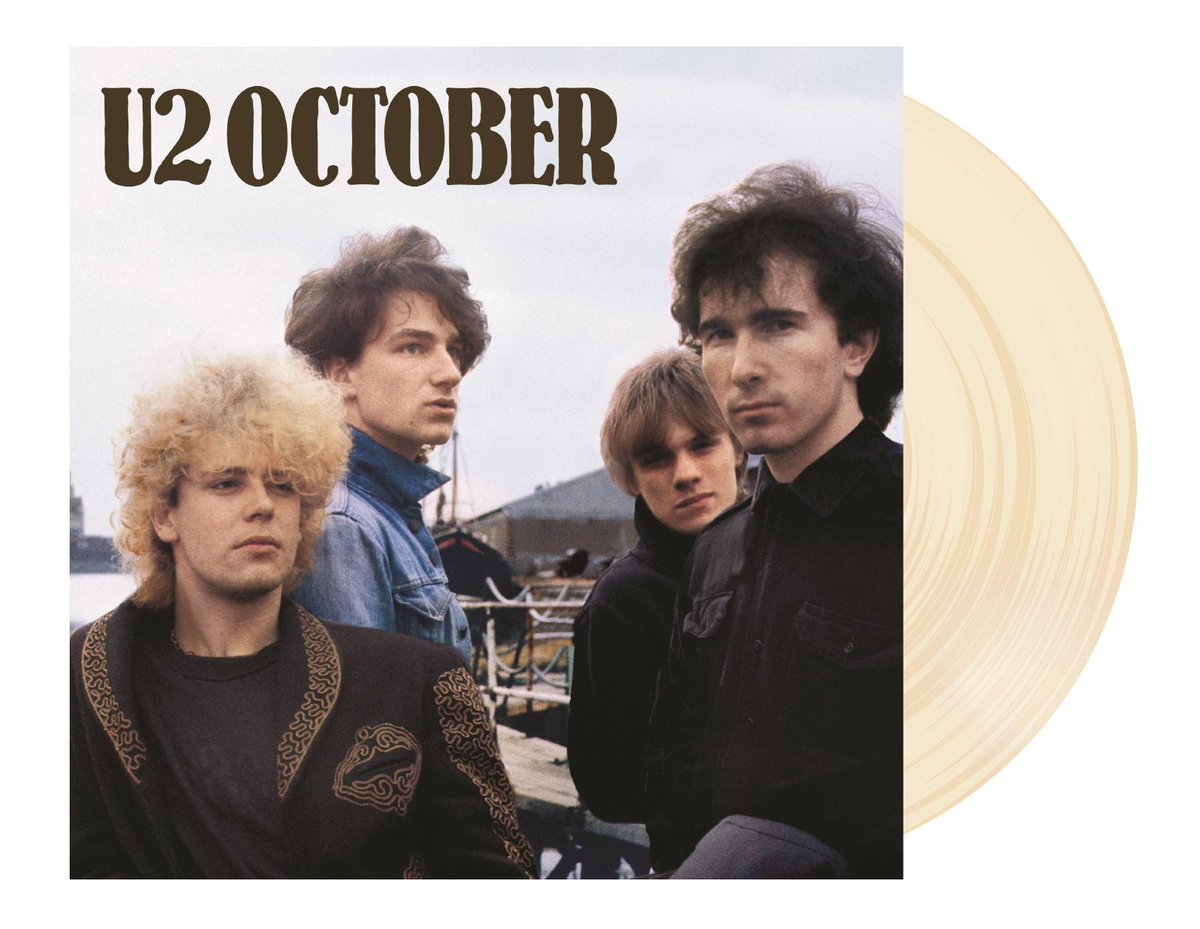 This is a tale of two U2s. The first is a band in their early twenties at the start of the Eighties, navigating the Year Zero spirit of post-punk which still casts long shadows over pop. Having done their first tour of America in the wake of their debut album, Boy, they're a band wondering whether their Christian beliefs are sustainable, given the temptations ahead. October, released in 1981, is sometimes said to derive from a period when U2 where suffering a crisis of confidence. It does not sound that way. It sounds exciting. Perhaps the God stuff has fired them up. Led from the front by the rhythm section – great chunks of drum passages to the fore – it only hints at the clanging guitar epics that would make them millionaires, but this is a band making exciting, sparse, new rock, as a song such as "I Threw A Brick Through a Window" clearly illustrates. October makes this U2 as successful as many other cult bands, with a low Top 40 UK hit single, their first, "Fire". This U2 overcomes their crisis. They will not feel the urge to hint so openly at their Christianity on record again. The second U2 are one of the biggest bands in the world. In their late thirties,
they've had a couple of grand critical successes deconstructing their sound and reacting to the electronic explosion of the 1990s (Achtung Baby and Zooropa), almost flicking the V's at their bombastic Celt-Americana crossover of the late-Eighties. With Pop, their 1997 album, however, with club producers Howie B, Flood and Steve Osbourne at their side, while they're certainly exploring the world of "beats", they're also perhaps starting to run out of steam with this whole post-modern malarkey. U2 now admit the album was as hurried, due to a tour, and in 2019 some tracks - such as the conflation of programmed drums and scorched guitars on "Mofo" - sound dated, akin to one of James Lavelle's noisier projects. It isn't supposed to sound natural – U2 have moved away from that – but while some tunes have weight (notably the single "Discoteque") this U2 don't sound in their comfort zone. Both albums are on coloured vinyl - orange (Pop) and clotted cream coloured (October) - on double in gatefold with lyric sheets.
Miriam Makeba Pata Pata (Strut)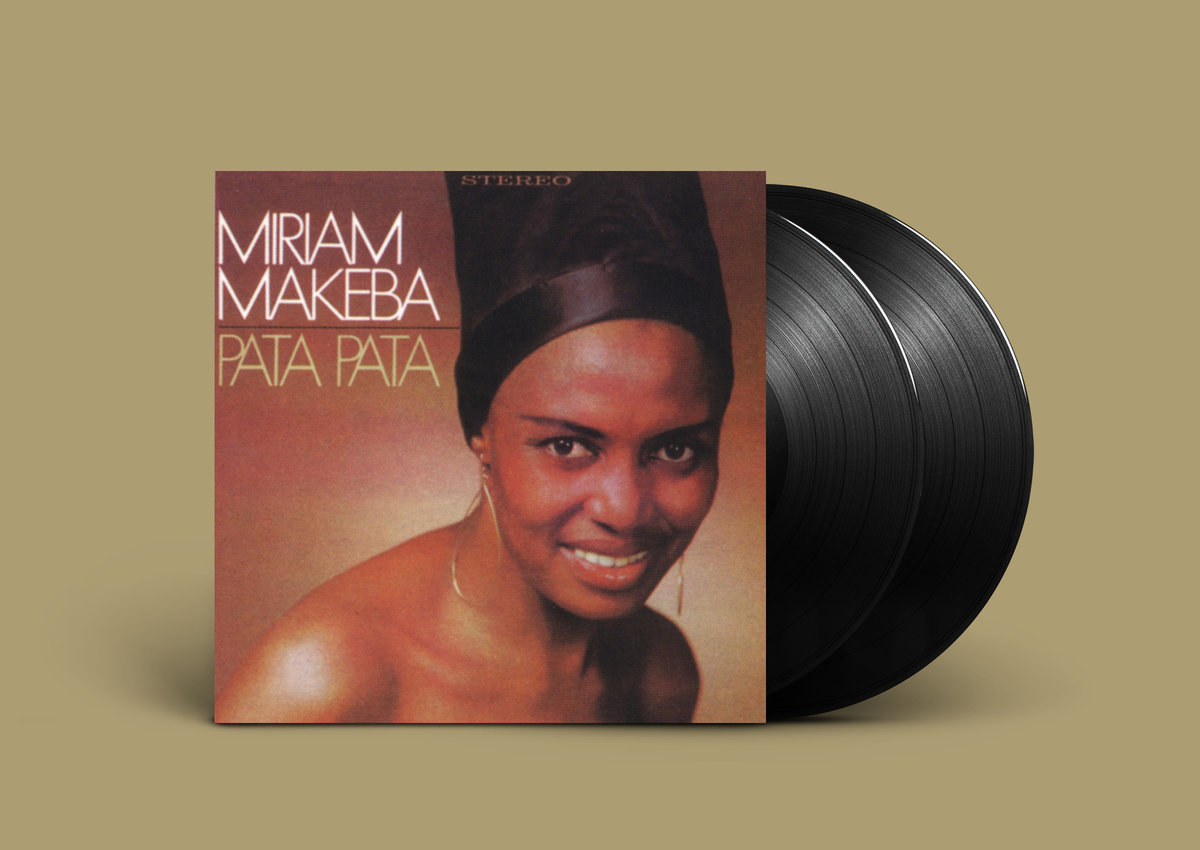 The late Miriam Makeba was an empress of South African music (and, indeed, what used to be called "world music") and the 1967 album Pata Pata and its title song hit were the making of her. This isn't to say she was an unknown quantity before that. Her musical ability had already taken her to Europe and America, but Pata Pata established her at a whole different level. Makeba was by that point based in New York and what the album brilliantly does is combine American jazz, soul and R&B styles with her own African heritage. A song such as the mighty "West Wind", later covered by Nina Simone, is pretty much a straight torch song, but elsewhere on numbers such as ""Jol'inkomo" and "Click Song Nuimber One" she brings her heritage alive in a context that makes it accessible to her audience (who wouldn't have had the access we do to such global flavours). Presented by Strut Records in both mono and stereo versions, one disc each, it's a dynamic album, revelling in musical possibility and plain, old-fashioned joie-de vivre. Comes with 12" x 12" insert full of background info and photos.
Salami Rose Joe Louis Zdenka 2080 (Brainfeeder) + Tony Njoku Your Psyche's Rainbow Panorama (Silent Kid) + Gawd Status Firmamentum (Tru Thoughts)
Three releases that explore various regions of warped listening electronica. The mouthful-named Salami Rose Joe Louis is on Flying Lotus's label so, naturally, there's some of that vibe in there. She's from Northern California and supported Toro Y Moi on tour earlier this year. Anyone remember "chillwave"? It was when a bunch of American bands, notably Toro Y Moi, Neon Indian and Washed Out, were lumped together because they made similar hazed, gloopy, downtempo electronica, about a decade ago. They've all moved on since and the term rightly forgotten. However, where they began is where SRJL is starting out. Her music wibbles about on plinking, blurred keyboards, all sounding underwater, her singing narcotic and breathy. And the whole thing is a sci-fi concept album imagining the earth in 60 years time. You wouldn't know that, listening to it, but as head-funky alt-
lounge wobble, it works a treat. British-Nigerian singer-producer Tony Njoku is a sonically unhinged version of early Frank Ocean. As loaded with doses of Kid A-era Radiohead as it is the outer fringers of R&B, Njoku's second album is downtempo freak-funk for the outernet. His voice is equally capable of falsetto beauty and jarring stridency, while behind him the music varies between glitched post-dubstep cacophony and Ninja Tune-ish alt-soul. Oh and Tim Exile's Listening Tree album also springs to mind, a landmark work that almost everyone ignored back in 2009. Anyone looking for an approachable way in, drop the needle on
the strange ballad "Confident". Finally, a collaboration between underground talents of British hip hop, MC Kebbie Conteh and producer Obiesie Adibuah, AKA Joker Starr and King Kashmere. Sometimes UK hip hop is aimed only at the connoisseur, a dense deluge of words over beats. This isn't the case with Firmamentum, which should appeal to aficionados but also welcomes in anyone who has an ear for innovative production. Kashmere sets out a murky, drummy soundtrack, splattered with uncanny noises and vocal samples within which Starr lays out tangled lyrics that mingle social commentary with conspiracy theories and out there science fiction notions. Comes on liquid gold vinyl.
The Cult Sonic Temple 30 Boxset (Beggars Banquet)
As its title indicates, Sonic Temple 30 is a boxset celebrating three decades since the release of The Cult's most successful album Stateside. Produced by Bob Rock, it's unashamedly a massive, retro, heavy rock album, but hosed in contemporary production polish, resulting in a truly gigantic sound. Songs such as "American Horse" can only get way with their vastness due to a sense of non-ironic commitment to ROCK. The Cult's story is a strange one, in that no-one could have predicted that the punky northern Brit goth-rock milieu from which they hailed might one day birth the stadium-fillin' behemoth which frontman Ian Astbury and guitarist Billy Duffy helm here. There's a new two LP version but the one theartsdesk on Vinyl has is a three record set replete with a cassette (!) of demos and a host of bumph such as a replica backstage pass and facsimiles of the album's original press releases. It's in a limited edition of 3000. The vinyl contains the album in all its fist-pumping loudness, giving it the wanna-be-Zep big'un, as well as including equally full-on live versions from Wembley, a seven-and-a-half minute Billy Idol-esque NYC Club Mix of their biggest US hit "Fire Woman", and a hippyish acoustic take on their Warhol star tribute "Edie (Ciao Baby)".
Moonlight Parade Out of Nothing (Southview)
For anyone awaiting a collision of Doves, New Order and the Stones Roses, with a heavy dose of 1980s Creation Records, then Worthing trio Moonlight Parade just might be the ticket. But this is no pastiche of the past; Moonlight Parade bring sturdy song-craft to their debut album. They go about their business with an ease of purpose, their music emanating unforced sweetness and a certain nostalgic longing. The appeal lies in the way frontman Ben Todd's plaintive vocals are balanced with unforced, effusive guitar pop. The song "Sometimes" is a case in point: the guitar and light orchestrated synth are driven forward by an in-yer-face bassline, a melodic, catchy wholeness achieved once the vocals arrive on top. It's classic indie, but in spirit, not of the buzzsaw guitar variety, and these 11 songs announce a fully formed talent.
Serge Pizzorno The S.L.P. (Columbia)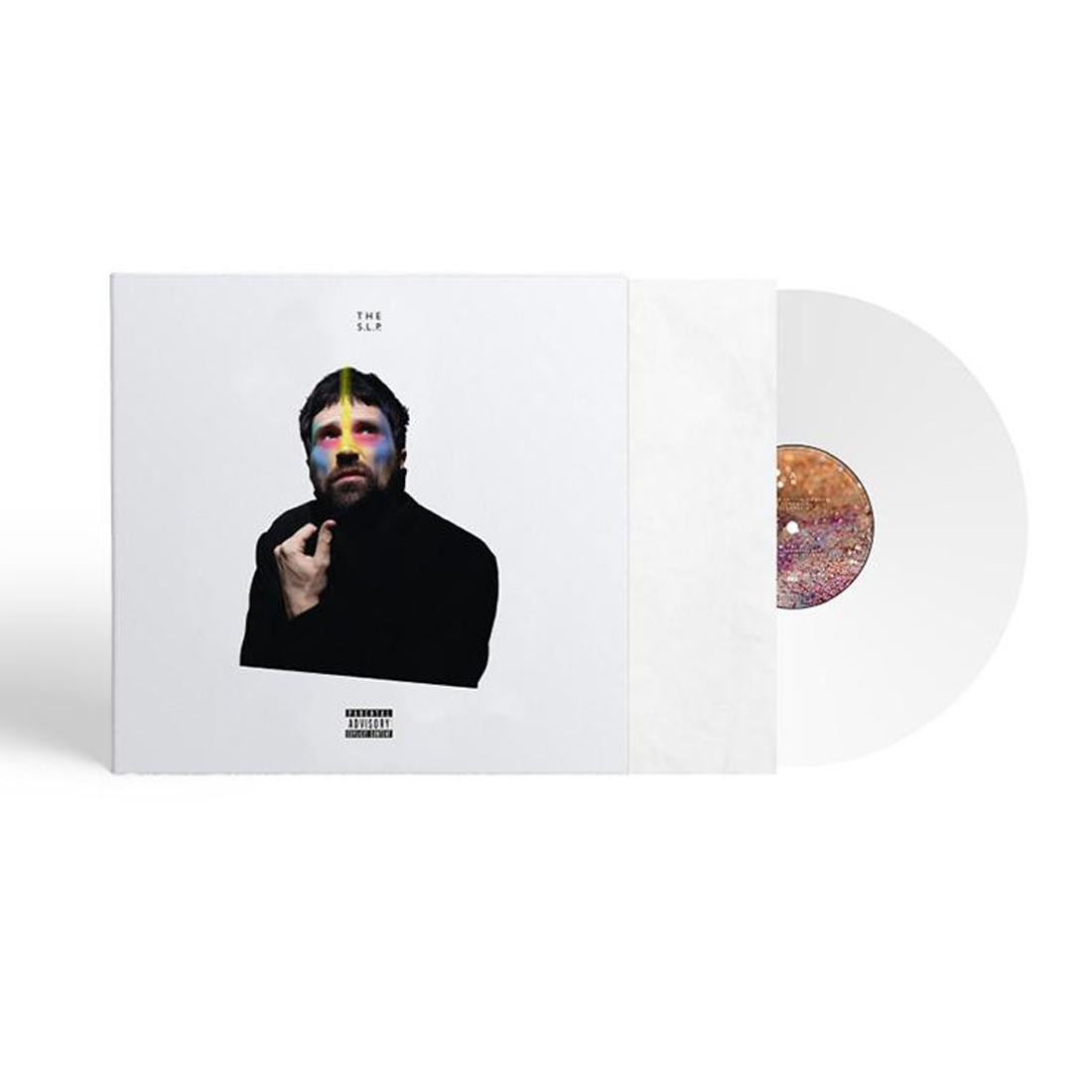 Him out Kasabian fires out a solo effort and it's really rather good. Then again, unlike 95% of my music journo peers (at least the ones who don't work for Q), I like Kasabian and have all their albums. Pizzorno's new material is lighter and more playful than his day job. Songs such as "Nobody Else" have a post-The 1975, post-Empire of the Sun pop charm, although there are solid hints of Kasabian on the baggy beats of tracks such "Meanwhile.. In Genova" and "Nobody Else" (the latter featuring a tasty turn from Little Simz). Coming on graphic art double gatefold and a gigantic poster of Serge's glittered face, it's a rounded set of pop-rock with little filler, from psychedelic baroque to glam guitar, all laced with 21st century production tics, Mine is cut to white vinyl in way that gives a lot of a toppy hiss, which is as shame as these are cracking tunes. Maybe buy it on plain black vinyl.
The Specials The Specials (Chysalis)
It's tricky for theartsdesk on Vinyl to have a non-partisan opinion about The Specials' 1979 debut album. My brain regards it as a set text, handed down before consciousness, always there, every song imprinted deep into my programming. It seems to have always been there and, unlike most albums of that time, to have never gone away, never had a spell where it was out of fashion, every song off it played to death. Which isn't to say I don't welcome it. My old copy is battered and scratched and the new edition is half-speed mastered at Abbey Road Studios on two 45 RPM discs, sounding better than my original ever did. From "A Message to You Rudy" to the lovely sad "You're Wondering Now", via the original studio version of the chart-topping live hit "Too Much Too Young", every song is a gem. The caustic attitude of punk tangles with the innovative musicality of band-leader Jerry Dammers, alongside a raw love of ska and socio-political anger at the tattered, skewed state of things (nothing new there!), all topped by Terry Hall's superbly deadpan, acerbic singing.
ALSO WORTHY OF MENTION
John Johanna Seven Metal Mountains (Faith & Industry): Recording lo-fi in the Norfolk backwoods, the second album from cult musician John Johanna is titled for a reference to the Ethiopian Church's Book of Enoch and lyrically the whole thing is laced with mysticism, with tracks such as "Standing at the Gates of Love" even boasting a West Indian lilt. Johanna's music aspires to spiritual uplift and cannily achieves it via music that's smudged with outsider rock's delight in distortion, even when there are Indian sounding string sequences ("Song of the Three"). It is, then, an album with roots gospel leanings but firmly grounded in the indie tradition, dipping into Krautrock and the like.
Wizard Rifle Wizard Rifle (Svart) + Mortem Ravnsvart (Peaceville): Two albums worshipping at the church of metal in very different ways. The more interesting of the pair is the debut from Wizard Rifle. This Portland, Oregon, duo, a singing drummer and a guitarist, make much more noise than that combination would suggest. Arriving with 12" x 12" art/lyric insert, these four lengthy songs deliver the fierce attack of metal but are also smeared with psychedelic ambition. As a first outing it's a decent assault that suggests their live shows are essential. However, for them to break wider than a very niche audience, they should push the psychedelic odyssey and proper tunes to see where it takes them. It's in them. Mortem, on the other hand, are all about death metal explosiveness. Arriving in lyric/info inner sleeve, Ravnsvart is the reunion of one of the original, blood-soaked, Eighties Norwegian death metal bands from the scene picked over in Jonas Åkerlund's disturbing recent film Lords of Chaos (Hellhammer from Mayhem is playing drums). Mortem's members went on to greater success in their chosen genre with the bands Arcturus and Thorns but reunited they muster a relentless battering racket – full growl on the vocals – but backed with a triumphant pomp in the melodies, which eventually reveals them as songsmiths with a gothic edge.
Sampa the Great The Return (Ninja Tune): First off, bonus points for titling a debut album The Return. Sampa the Great's appearance has created ripples in the hip hop community and Ninja Tune must hope that her solid reputation among her global peers translates to a wider following. Of Zambian origin but based in Australia, her music is smoothly produced by Alejandro "Silentjay" Abapo, and rides easy across the territory between hip hop and soul, not a million miles away from the neo-soul of Ledisi and the like. It's a double album on photo/info gatefold on semi-transparent candy-red vinyl and comes with a 12" x 12" x 12" 16 page art-photo/lyric booklet. Featuring guest appearances from a bunch of names but no big ones (Thando, Whosane, Mandarin Dreams, Krown, etc), it's closer to late night listening than the dancefloor but takes a different path from most, adopting a sound that was big about a decade ago and which may well be ready to return.
Simon Joyner Pocket Moon (BB*Island): Simon Joyner is the singer-songwriter's singer-songwriter, rated by greats such as Gillian Welch and called "my favourite lyricist of all time" by Conor Oberst. The late great John Peel even once played one of his albums end-to-end on air. Acoustic-led and American, the tone is pure Leonard Cohen, the music and delivery has something of Bob Dylan about it, but mingled with early Seventies Rolling Stones ballads. That's a fine combination and Joyner inhabits it with aplomb, his literary songwriting rich in imagery and narrative. He's been going since the early Nineties, an under the radar underdog, so it seems unlikely Pocket Moon will be the making of him, but to those in the know it'll be another treat. Comes in lyric gatefold.
Broen Do You See The Falling Leaves? (Bella Union): Second album from a Norwegian five-piece consisting of three guys and two women. They are adept at a very now take on alt-pop which mingles instrumental virtuosity, cerebral small ensemble composition, intelligent lyrics and a tuba. Frontwoman Marianna Røe often breaks into MCing thoughtfully about love and existential angst, but is as likely to offer sweet singing vocals. Arriving in lyric inner sleeve, the music has a skittering jazz quality but is also full of subtle hooks. The fact that one track, "Shut Down", sounds like the Isley Brothers "Summer Breeze" having it out with Thundercat tells you all you need to know.
Fairport Convention Farewell Farewell + Buzzcocks Live 1990 & 1992 + Dr Feelgood Live 1990 + Steve Hackett Live Nottingham 1990 + Asia Live: Central Studios 23rd June 1990 + Saxon 10 Years of Denim and Leather: Live 1990 (Demon): While all music is as much about personal taste as actual quality, this seems especially the case with concert recordings, where the rough edges and the business of catering to the artist's live audience of devotees, make them very much more likely to be pure fan fodder than the average studio album. Thus, while I have only dipped into these, my intolerance of Steve Hackett and, espcially, the godswaful Asia, make their albums unlistenable. Saxon is fun in places, as is Dr Feelgood, but there is no sense that these are exceptional concerts (such as The Who Live at Leeds, say), so the best moments for theartsdesk on Vinyl came from dipping into Buzzcocks and Fairport Convention. The latter is a farewell concert - although, of course, they've come back many times since! - so has a sense of occasion.
Lumingu Puati (Zorro) Mosese (BBE) + Eric Kol Today (BBE): Two more from the ever-reliable BBE's curation of Seventies/Eighties Nigerian record label Tabansi. First off is the only Tabansi album released by Congolese guitarist and band scene regular Lumingu Puati (AKA Lumingu Zorro). Call it rumba-soukous or energized highlife, call it what you want, but the tightly revolving euphoric African guitar patterns on these four cuts all burst with upward feeling, while the rhythm section keeps the whole thing tight, with female chorus vocals and brass stabs arriving where necessary. Big on the Champeta carnival sound system scene of the Caribbean coast apparently! Come with 12" x 12" photo/notes insert. The Eric Kol album is less to theartsdesk on Vinyl's tastes. Created in the early Eighties (I think), it's Tabansi responding to the local demand for Americanized post-disco sounds. On double at 45 RPM with info inner sleeve, anyone wanting a Afro take on soul-funk of the era will be pleased but, while ebullient numbers such as "Rain in My Heart" are full of zest, much of the album is packed with slowies. These are decently executed but not pressing my buttons.
Ashley Henry Beautiful Vinyl Hunter (Sony) + Oscar Jerome Live in Amsterdam (Caroline international): Two fresh slices from exponents of London's buzzing jazz scene. Pianist Ashley Henry's debut album is full of bounce – check out "Between the Lines" featuring great trumpet from Keyon Harrold. Mostly, though, while there are vocalists, beats, pop R&B moments and hip hop MCs, the album is a smooth-rolling outing. On four sides of vinyl in art/info inner sleeves on photo gatefold, it's an album that simmers with multiple influences, takes joy in them, and makes jazz approachable for many who might otherwise think twice. The Oscar Jerome album is less stylistically sprawling but is just as easily digestible. It is, in essence, a lively jazz-funk affair. Jerome plays guitar in the Afrobeat outfit KOKOROKO but this live material wanders far from that, embracing his take on the George Benson side of things, showcasing an artist with a suitcase of songs ripe'n'ready to make the leap to a major solo career. This doesn't look like a full release. Arriving in a transparent plastic wrap with a 12" x 12" card acting as both cover and all info, it appears more like a limited edition taster and buzz-creator.
Klone Le Grande Voyage (KScope): KScope are a label who head with determination in their own direction and have a hefty following as a result. Their output is not always for me, as they generally major in updated prog rock styles, but their utter disregard for the usual musical forms is always interesting. The eighth album from Klone, for instance, is often based on chugging riffs but what stands out more immediately is the epic, decorative production and the powerful Yes-style vocals of singer Yann Ligner. However, don't listen too carefully as all that earnest emoting doesn't lyrically add up to very much. Comes in lyric/info ijnner sleeve.
Afenginn Klingra (Cargo) + Félicia Atkinson The Flower and the Vessel (Shelter Press) + Various Wayne McGregor: Collaboration (Mercury KX): Three albums wherein modern classical fringes into alternative popular music, new age fare and experimental electronics. Félicia Atkinson has been firing out swathes of ambient explorations for over a decade from her French base. Her latest was recorded when she was pregnant and is flavoured, she says, by Ravel, Debussy and Satie. I can occasionally hear the latter in the piano patterns sunk into the hums, caws and creaks of her music. It could be (pretentiously) argued that the album also suggests the disconnect pregnancy can place between a woman and the world. Over four sides that arrive in pleasing card-art inner sleeves, Atkinson intrudes vocally in whispers from time to time, but it's really about the ongoing tone, culminating in the night-on-20 minute collaboration with Sunn O)))'s Stephen O'Malley. Lie on the Dead Sea with this in your headphones and the brain will slowly melt to warm fluid. Contemporary dance titan Wayne McGregor offers up a double gatefold set of pieces which he's commissioned over the last 25 years. These include Sir John Taverner's "Hymn of Adoration" – of which this is the first released recording - and works by Jon Hopkins and Max Richter. There are, then, giants of the field here, but also startling work by lesser known names such as the gradually building eminence of "Atomos XI' by A Winged Victory for the Sullen. Afenginn are a two decade-old Danish unit led by mandolin player Kim Rafael Nyberg and their seventh album, which comes in art/poetry gatefold, swirls expansively around piano motifs and new agey orchestral atmospherics which are a bit Enya for my tastes. It has a cinematic feel and might work as the music backing a peak moment in an HBO series, however, for theartsdesk on Vinyl, the most enjoyable of these three is Félicia Atkinson.
Killing Joke Malicious Damage – Live at the Astoria (Killing Joke): In art/info gatefold this double concert album from the metallic punks was recorded in October 2003 and shows that then, as now, age has not mellowed them. Recorded during a period when Youth, while still in the band, had stepped out of live commitments, his regular replacement Paul Raven is present instead. Given that this was one of Raven's last appearances with the band prior to the heart attack which killed him in 2007, it can be seen partly as a commemoration. Killing Joke present many musical faces to the world, depending what result they're after, and this version sees them embracing a particularly grungey, dirgey sound, especially during the first half of the set, nonetheless, moments of bite rise from the down-tuned squall, and it's quite a thing to hear frontman Jaz Coleman announce "Between now the next concert some of you will be dead" prior to an involving take on "The Death and Resurrection Show". Comes on arterial blood–coloured vinyl (of course) and my version came with a raging DVD of the concert - so yours might do too!
Kyla Brox Pain & Glory (Pigskin): Mancunian blueswoman Kyla Brox can run around the range of her chosen genre and does so gleefully on her latest album, which comes on double in info gatefold. Brox is happiest this time out hitting brass-fuelled, bar-friendly Memphis-style grooves such as "In the Morning" but she's also capable of piano-led jazzy ballads such as "Manchester Milan" or the the Clapton-esque blues-rock of "Devil's Bridge" (theartsdesk on Vinyl's favourite cut). The production and mastering are loud and clear to vinyl, ripe for BBC Radio 2, showcasing one the UK's under-sung talents. Comes with a 12" x 12" art/lyric insert.
Solid Bronze The Fruit Basket (Schnitzel) + The Ashton Jones Project Toast (Flash Town): Two slants on funk. The first is the debut album from New Jersey freakazoids Solid Bronze who follow in the heels of Funkadelic but with 21st century icing (check the Autotune on "The Invisible Man") and a sliver of alt-rock spirit in the production department. Guests include Michael Hampton of Funkadelic and Dana Colley of Morphine, which sheds light on where it's coming from, a tune such as "Mumbo Jumbo" being suitable both for sofa-bound stoners and dancefloor head-nodders. Comes in art/info gatefold. Hard working Suffolk funk outfit The Ashton Jones Project, on the other hand, play things straight, offering a sunshiney and enthused set that's in thrall to both classic James Brown funk and the more suburban 1980s Saturday night sounds of Imagination and Shakatak. Brassy and full of zest – and including the excellent title "Shelly, Get the Funk Out of Here" - it doesn't cut new ground but acts more as a bright advert for the band's well-regarded live show.
Jackson Browne Running on Empty (Elektra/Asylum): If you want to feel what it was like to be touring the US in the mid-Seventies, there are, of course, plenty of books, but you could also do worse than grab a copy of this 1977 long-player. While consisting of all new songs, it was recorded onstage, backstage, on the tour bus, and in his hotel room, but Browne is an A-grade songwriter so much of it bleeds imagery and flavour. It's all very, VERY Seventies and pre-punk, full of poor-millionaire-me solipsism, yet tracks such as "Cocaine", "Nothing But Time" and the melancholic likes of "The Load Out" and "The Road" speak clearly and autobiographically of the musician's life ("Ladies comes to see you if your name still rings a bell/They give you damn near nothing and they'll say they knew you well/So you tell 'em you remember that they know it's just a game/ And along the way their faces all begin to look the same"!). Despite its flaws Running on Empty is an endearing snapshot of a lost era and I can't help liking it much more than I probably should! Comes in lyric inner sleeve with an eight page photo booklet of musicians who need a shave and good haircut.
We welcome any and all vinyl for review. Please hit thomash.green@theartsdesk.com for a postal address.
Read more vinyl reviews on theartsdesk
As if cocktail music of the late 1950s had been co-opted for a Sartre-esque afterlife waiting room
Share this article