theASHtray: modern spies, Rwanda, and how to get ahead through shameless self-promotion |

reviews, news & interviews
theASHtray: modern spies, Rwanda, and how to get ahead through shameless self-promotion
theASHtray: modern spies, Rwanda, and how to get ahead through shameless self-promotion
Yeah butt, no butt: our columnist sifts through the fag-ends of the cultural week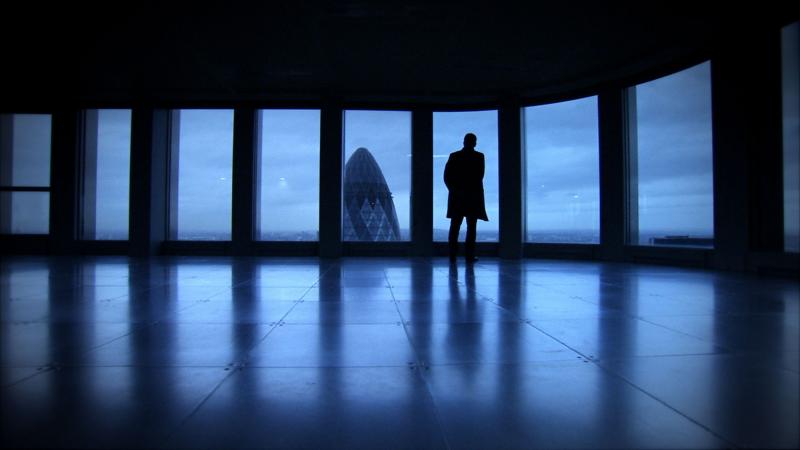 We've looked into it thoroughly, Sir, and I *think* we're ready to report that it's NOT a gherkin...
"If James Bond actually worked in MI6 today," said "Anna", "he'd spend a large amount of time behind a desk." Fair enough, since he'd also be about 110. And besides, the days of the Oxbridge "tap" having gone the way of Bernard Lee, most of 007's work has long been outsourced to Johnny Foreigner.
In the age of Homeland, Spooks, Rubicon, Tinker Tailor... (again), and Ben Macintyre, it seemed unlikely that much more needed to be said about the role (and/or importance) of spies in our world. But Peter Taylor's Modern Spies (BBC Two) deserves credit for being made at all – a first, apparently: serving British intelligence officers speaking to the cameras – and was actually quite revelatory.
These days, "5" and "6" advertise (ditto our American friends, in accordance with the most obvious stereotypes), but apart from the electronic gadgetry, actually the day-to-day tradecraft has changed surprisingly little: fake IDs, dead-letter drops, the honey trap, and all that. Even the enemies: the FBI says the Russians have just as many spies in the USA as they did in the Seventies – and only five years ago Russia was accused of backing a month-long cyber-invasion of Estonia.
The Chinese, meanwhile, hold all the design intel on American nuclear capabilities, and still the public sleeps easy, like the Montclair, VA, neighbours who said the "Murphy" family couldn't possibly be spies: "Just look at their hydrangeas!" The cock-ups, in general, were grimly amusing; but you can enjoy them at your leisure. The second half of Modern Spies is on at 9pm, Monday.
---
Another UK first, this week and next: a small but vigorous selection of contemporary paintings by eight Rwandan artists at the Charlie Dutton Gallery in London.
Though the scope of the Rwanda exhibition is admittedly limited, and the individual paintings – with exceptions, by Emmanuel Nkuranga, Tony Cyizanye and Innocent Nkuruinziza – fairly run-of-the-mill (none of the members of Kigali's Ivuka Arts studio is a product of Rwanda's graduate arts programme, because there isn't one), the point is well made that all of the artists represented are Rwandan born, bred and resident. This is an important string of qualifications all too often unmet (and unmentioned) by "regional" artists who trade on the issues implied by their names, styles and putative origins but who, one frequently finds, in reality live in middle-class comfort in the suburbs of Toronto or Rome.
There's an unavoidable amount of peace-and-harmony flannel in the exhibition catalogue, but that seems a small price to pay to show some support for the artistic catharsis of a slowly revitalising African country. And if you've never had a shufti at Rwandan art before, then surely that is reason enough to give Rwanda a go.
---
Just out, from TASCHEN, The Complete FUSE 1-20, From Invention to Antimatter: Twenty Years of FUSE (what a title!), by Neville Brody and Jon Wozencroft. TASCHEN are the Folio Society of all things bright and beautiful, and this lovely-looking beast does not disappoint, weighty and satisfying to hold in the hand, the spine levering out when you open it, so as not to crack: magnificent valour!
Founded in 1991 as "a counterblast against typographic formalism and the sterility of late-1980s commercial visual communication", the groundbreaking FUSE magazine naturally allied itself with the newly established democratising power of the PC. Contributors (directors of ad agencies and design eds of jazz mags [jazz music!], students, doctors, and a collector of rubber bands) submitted their editorial posters and new typefaces, which were despatched to readers on floppy discs, boxed in brown cardboard. The Complete compendium honours the format, almost, with an accompanying 10 posters and 24 new typefaces accessed online through a key-card.
The real gold is in Wozencroft's themed editorials – on codes, pornography, superstition, cities – some of which tend even unto the poetical. Detractors, though, will note the niff of leftism that pervades the whole project ("attempts to fix the status quo in an exploitary [sic] stasis through hypnosis", eg), and I have to say that, in my head at least, the design of the Garamond "O" does not constitute proof that "we do not believe in anything", nor is any amount of McLuhan-ite glibness going to disabuse me of the reactionary notion that fonts are related to "readability". I found it piquant, also, that the book – that supposedly moribund form of publishing – ends with a quiet coda to all the genre-bustingly computerised versions of FUSE that didn't make it into the 21st century.
---
Received, in the post: a copy of Adam Narkiewicz (AKA Akira the Don)'s most recent CD release, The Life Equation. Just because he thought I might like it. Also in the envelope, a signed copy of the sleeve-notes (the disc itself and associated paraphernalia being shrink-wrapped, of course), a personalised flier wishing – in dark-blue marker pen – "blessings" on Akira the Don's real name's namesake, and a lolly.
And you know what, it's really good! The music, I mean; not the lolly. Furious dance-pop-indie in which you can identify the gleeful influence of almost anything you've heard in the last 30 years (the album cover alone is Pink Floyd meets ABBA meets rock-opera…). You can listen to the bulk of it here – the generosity of Mr Don being apparently boundless – where you will also see that when he's not putting the pop into lollipop this Generation-YouTube renaissance man can be found doodling, remixing, and maintaining a tremendously lively blog. Behold!
Watch Akira the Don's "Nothing Lasts Forever"
In my head at least, the design of the Garamond 'O' does not constitute proof that 'we do not believe in anything'
Explore topics
Share this article