Tom Jones / The Shires, Greenwich Music Time Festival |

reviews, news & interviews
Tom Jones / The Shires, Greenwich Music Time Festival
Tom Jones / The Shires, Greenwich Music Time Festival
Welsh star's songs show their age, country pop duo's their youth in spirited alfresco show
Tom Jones - still a sex bomb
With its time and observatory, Greenwich is a fitting venue for record-breakers, and Sir Tom Jones, who sang at the Greenwich Music Time Festival last night, has some impressive vital statistics. The still-slim, still-dynamic figure in a black suit has sold 100 million records in a career of over 50 years, and on a good day, he can be Elvis Presley with a touch of Bryn Terfel.
Last night's show flagged a little towards the end, after a succession of slightly creaky R&B songs, though a couple of cobwebby numbers is an inevitable consequence of a 75-year-old plundering their full back catalogue. With their centre in quite a macho, brassy, hard-swinging R&B, Jones' arrangements encompass everything from the soporific croon "Green Green Grass of Home", via Elvis-style rock'n'roll, to soul, and country, with touches of continental chanson in the accordion, and New Orleans in the brass and sousaphone.
Jones can't thrust his hips in quite the serpentine way he did in 1989
Everything hits hard in Jones' eight-piece band. The piano strides, the Rhodes squeals, the trombone honks fiercely, and Jones himself still has a potent, rasping baritone. When this ensemble swells to a swinging, melodic chorus in his best-loved ballads like "Delilah" and "It's Not Unusual", the effect is still mesmerising. But without such a strong vocal melody, some of his back catalogue – such as "If I Only Knew" and "Thunderball", in particular – began to sound flat and relentless, especially when many are played consecutively, as happened in the second half of the show.
Somehow these songs, technical powerhouses as they may be, needed leavening from the insistent, bristling machismo of Jones' baritone and the battery of brass and percussion in the band. Backing singers? A more varied set order? Either way, it took a spirited performance of "Kiss" to lift the mood at the end of the show. Jones can't thrust his hips in quite the serpentine way he did in 1989, but the song still carries a sensual hit. It includes the now incredible line "You don't have to watch Dynasty to have an attitude", and there's no doubt that his repertoire is beginning to creak noticeably, but in the frankly gorgeous setting of the old naval college, beside the Thames, overlooking Canary Wharf, and with an audience who would mostly prefer to think it was 1989 too, he can still make spines shiver.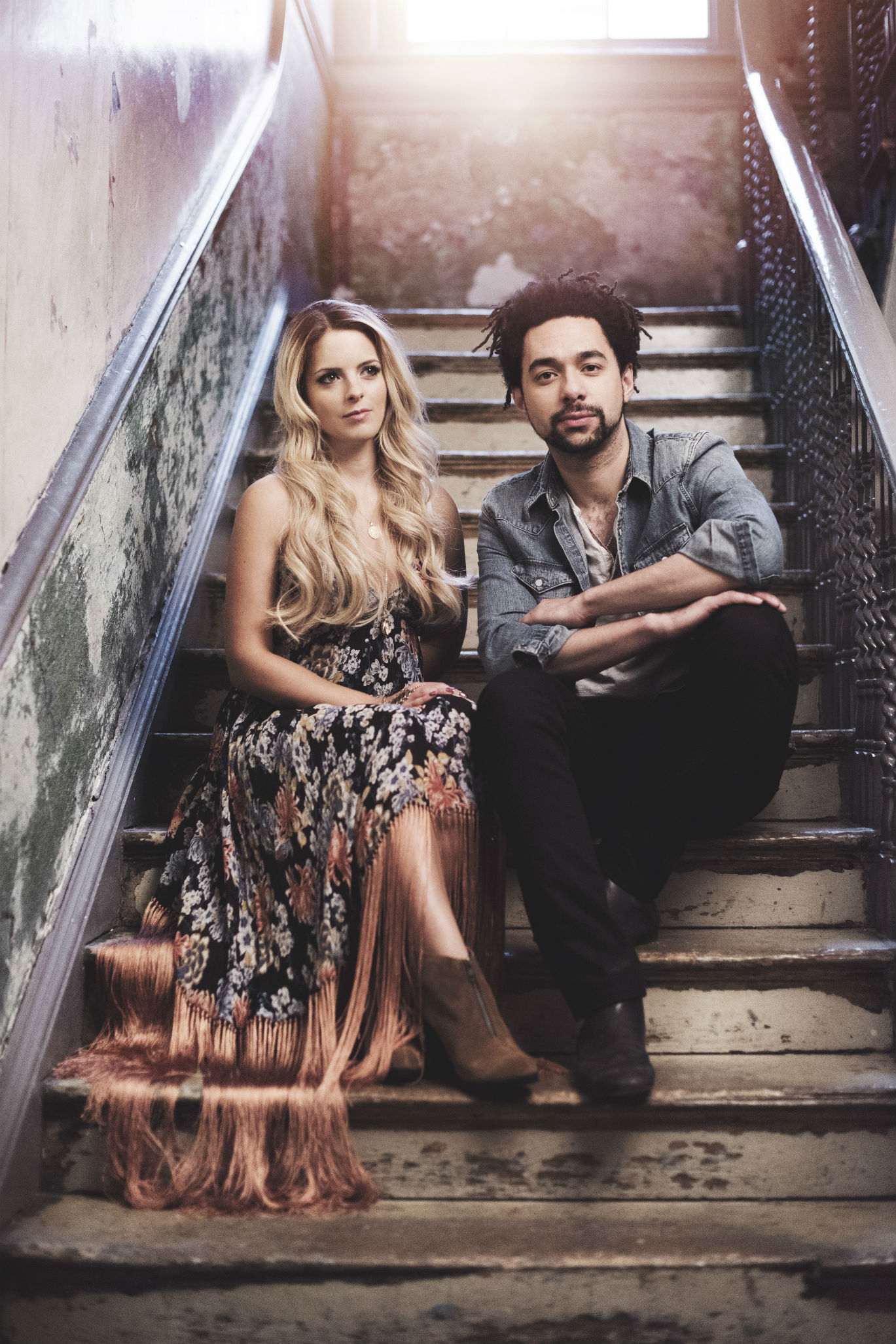 Sir Tom was supported by The Shires, a young country pop duo consisting of Ben Earle and Crissie Rhodes (pictured left), who've received much support from Bob Harris on Radio 2 recently. They are, technically, from the shires – Rhodes from Bedfordshire, Earle from Hertfordshire – though these are the counties more associated with the 7.35 to Euston than anything especially rustic. And they do what they say on the tin. If you like acoustic guitar and duets in thirds, they're tuneful, enjoyable outdoor listening, though after a full set, I began to wonder if their country pony needed more than one trick.
Most of their songs were slick and well-crafted, "All Over Again" perhaps the stand-out, though when they departed from romantic country ballads, they were less convincing. Their cover of Fleetwood Mac's "Dreams" raised questions about their versatility: the original has attractively spacey instrumentation, which isn't necessarily improved by a country-by-numbers guitar and close harmony adaptation, while "Friday Night", with the chorus "get a little drunk on a Friday night", gives some idea of the target demographic. You can't imagine Mick Jagger singing that. The less said, meanwhile, of the supposedly patriotic "Made In England", a cliché-bingo extravaganza about rain, pebbles and fish and chips, which apparently makes us feel proud of ourselves, the better.
As an aesthetic proposition, the concept of bringing such quintessentially American music to Britain is questionable. Their song "Nashville Grey Skies" proposes building "our own Nashville underneath these grey skies". I can't think of anywhere Nashville would fit, unless Earle, from Hertfordshire, proposes razing Hatfield first. That might work. As protagonists in the incipient English country movement, The Shires are worth watching, but I wouldn't give up a trip to Nashville, Tennessee, just yet.