Two Door Cinema Club, Roundhouse |

reviews, news & interviews
Two Door Cinema Club, Roundhouse
Two Door Cinema Club, Roundhouse
Northern Irish threesome are precision-engineered to spread enjoyment
Two Door Cinema Club: 'There is a Tiggerish enthusiasm to their music that encourages bouncing, clapping, arm-waving and generally having a good time'
Bouncy: if there is one word that sums up this hot young Northern Irish band, that would be the one; there is a Tiggerish enthusiasm to their music that encourages bouncing, clapping, arm-waving and generally having a good time, which is exactly what happened at last night's gig: a festive atmosphere prevailed, Two Door Cinema Club played a short, sharp set that lasted for little more than an hour, and they sent the crowd out into the early spring night buzzing.
A year ago Two Door Cinema Club were, as their choochy-faced singer Alex Trimble noted during this show, playing the Hoxton Bar and Kitchen; not to be sneered at, of course, but they are now entering a whole new league. They have achieved this rapid ascent with a musical formula that has worked well already for Vampire Weekend: a blend of ska-punk, soca, West African styles and dance music, allied with some fab tunes and a generally upbeat youth-oriented vibe. Where Two Door Cinema Club depart from the Vampire Weekend template is in their harder rhythmic edge.
In the build-up to their appearance, the Roundhouse DJ played a succession of rabble-rousing dancefloor classics – Daft Punk, Chemical Brothers, that sort of thing – and I was curious as to why; but once the band were on stage I realised the connection, and it's one that comes across more powerfully on stage than on record: at times Two Door Cinema Club seemed like a techno band. Hypnotic choruses, thumping drums, repeated guitar licks, rumbling bass, dazzling backlights – it really was quite impressive, and at times almost rave-y.
The three members of the band – augmented on stage by a touring drummer – looked supremely comfortable and confident; their rhythms are often tricky and quite complex, but bass and drums were locked into a solid groove, while the guitars chopped and snapped with precision. Trimble (pictured below) meanwhile, sang in a voice that was sweet and boyish. And they were all clearly chuffed to be there: Trimble told us proudly that this was their biggest ever UK gig, while bassist Kevin Baird told us that all their families were in the audience – "Give us a wave, nanny!"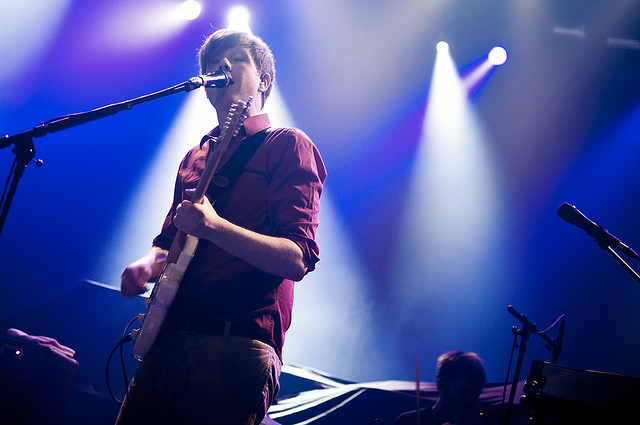 Most of the songs were taken from their one and only album, Tourist History, though they did showcase one brand new song, called (I think) "This Isn't Home", which broadened their musical horizons by incorporating influences from the traditional music of their Irish homeland.
Two Door Cinema Club are not the most creatively cutting-edge band to have emerged in recent years: their music is fun, upbeat, and precision-engineered for the purpose of enjoyment. But here, as the crowd bounced with increasing enthusiasm and started to go a bit bonkers, it was impossible not to get sucked into the maelstrom of fun. This wasn't a life-changing experience, but there are worse ways to spend a Saturday night in Chalk Farm than having one's spirits lifted by the exuberance of songs such as "Do You Want It All?" or "Undercover Martyn".
Finally, a word about the support act, the Swedish band I'm From Barcelona; I counted (I think) 16 people on stage, many of whom were backing singers, and together they made a big, beautiful noise, and they, too, bounced enthusiastically, spreading their message of joy and harmony and hope with choruses that went "Nah nah nah", or sometimes "Nah-naaah nah naah-nah". I would like to think that the members of this barmy ensemble all live in a big rambling house where there is lots of laughter and a big pot of soup is always bubbling on the stove.
Watch the video for "Undercover Martyn"
At times Two Door Cinema Club seemed like a techno band. Hypnotic choruses, thumping drums, repeated guitar licks, rumbling bass, dazzling backlights – it was almost rave-y
Explore topics
Share this article