Q&A Special: Musician Ben Drew, aka Plan B |

reviews, news & interviews
Q&A Special: Musician Ben Drew, aka Plan B
Q&A Special: Musician Ben Drew, aka Plan B
Plan B talks swearily about anger, soul music, concept albums and film-making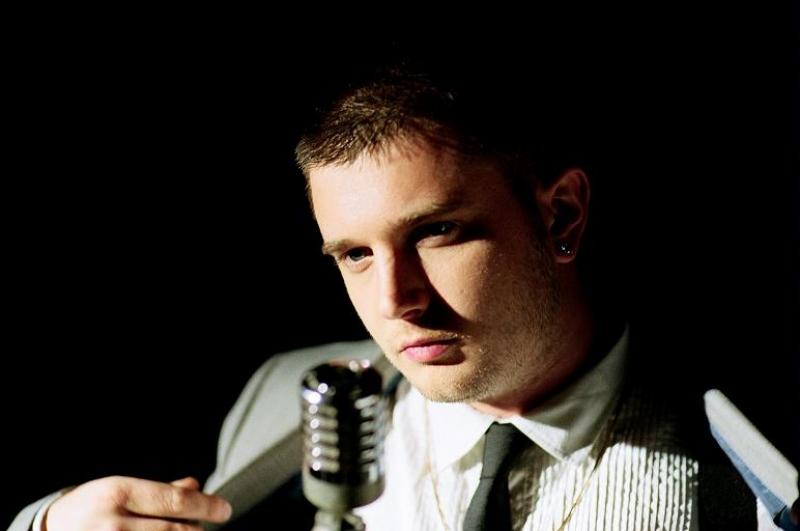 Ben Drew, aka Plan B: the hip-hop star is suited and booted
Ben Drew, who records as Plan B, is busy on the promotional rounds. He has spent the day at the BBC's Maida Vale Studios being interviewed by Fearne Cotton and others for TV and radio, and performed his new single "She Said" as well as an ebullient cover of Charles & Eddie's "Would I Lie to You?" He's accompanied by a nine-piece band, including three gospel backing singers, and is as sharp-suited as the promo photos you see here.
Drew, 26, grew up in Forest Gate, East London, one of two children in a single-parent family. He never fitted in at school, was often in trouble and was expelled at 15 (though he did go on to attend another school). Music was a constant in his life and after trying various styles he made waves with the double A-side "Kidz/Dead and Buried" - vicious, violent rap numbers about sink-estate life. He also developed a reputation for accompanying himself on an acoustic guitar, not the norm in hip-hop culture. An album, Who Needs Actions When You Got Words, followed. Many dismissed him as glorifying urban nastiness. Those who actually listened, however, realised his raps were dark and brutal but ultimately modern morality tales.
More recently, it seemed Plan B might disappear into film acting. He delivered convincingly menacing turns as young hoodlums in Adulthood and the Michael Caine film, Harry Brown, but parallel to this he was advancing musically. He appeared on a number of tracks by crossover drum-and-bass duo Chase & Status, including the top-10 hit "End Credits" last year, but it was his new solo material with producer Paul Epworth that really showed where he was headed, soulful but drawing on his hip-hop past. The result has been two top-10 hits this year, "Stay Too Long" and "She Said", both from the new album, The Defamation of Strickland Banks, a concept piece about a soul singer imprisoned for a crime he didn't commit.
In person, sitting in a BBC reception area, Drew has physical presence, stocky, calm yet tightly coiled, articulate but abrasively foul-mouthed. He talks fast in a contemporary London-meets-Essex-lad accent, Cockney marinated in black culture, but his dapper suit, right down to the ironed hanky in the top pocket, makes him look more like a character from a sharp 1960s Brit gangster flick.

THOMAS H GREEN: You've gone the whole hog with the clothes...
BEN DREW: Gotta do it properly, innit. Chase & Status, they're half measures. They're trying to be like English gentlemen but they ain't got the balls. They wear Vans [Van Heusen] and don't tuck their shirts in.
Will [Kennard - Status] goes for it more.
Will goes for it but Saul [Milton - Chase] lets the team down. I love them but get some brogues, motherfuckers.
Watch "End Credits" by Chase & Status ft. Plan B on YouTube:
So presumably you don't wear these clothes at home.
Only because I don't want to fuck 'em up, get baked-bean juice down my nice new shirt. People who dress like this don't dress like this at home, they dress like this when they go out. Back in the day everyone dressed like this, different versions of it.
Has anyone viewed the suit as you turning your back on hip hop?
What? I'm not real because I like different types of music? No! Do I have to wear the suit all the time or I'm not staying true to soul music? It's bullshit. If I go swimming I wear trunks, if I go cycling I'll wear cycling shorts. What people can't get through their heads is that I'm a storyteller and The Defamation of Strickland Banks is my new film. Every time I'm wearing these clothes I'm acting, innit, I'm in character. When I first put it on for a photo shoot I felt like a girl in a short skirt on a night bus, but when I saw the pictures I thought, 'I fucking love this suit, it's sick'
Has the Strickland Banks idea been floating around your mind a long time?
I wrote "Love Goes Down" around the time I went on tour with The Roots [2006]. I played it with the band during soundcheck and instantly everything worked, every chance we got we'd play it so we started writing a few more songs like it. I'd be like, 'This'll never work, no one will hear these songs. I could sell 'em to Craig David but they're not really his style either'. I couldn't imagine anyone singing them but me. The politics of music means that I create something really good and nobody gets to hear it because it'll ruin the way they see me. I've written so many songs nobody hears because they don't fit my image. I invented Strickland Banks and knew something dark had to happen to him in order for it to fit in the Plan B world, a soul record that didn't compromise, just like my hip hop.
Do you ever compromise?
You have to in some respects. Initially this was going to be a two-disc album, a soul album and a hip-hop album, but the label said, "Look, we can't market that, it'll confuse people, two styles coming out at the same time. Let's just run with one and you can have the rights to the hip-hop album." So I did compromise there but in hindsight it was the best decision to make. When someone comes up with a good idea there's no point in being a stubborn dickhead.
The story of The Defamation of Strickland Banks reminded me a little of the Bob Dylan song "Hurricane" about the boxer, Rubin Carter, who was convicted of a murder he's always claimed he didn't commit.
I heard that song and watched the film a long, long time ago, but it's weird you say that because the story was not on my mind at all. I wanted to do a soul album but the subject matter had to be gritty. Strickland Banks is innocent so I don't want to say what his crime is, it's irrelevant, but I wanted it to be something that could destroy someone's name even if they were acquitted, a crime that leaves your name blackened so that if you're ever left alone in a room with a girl, she'll always be having doubts.
Where did the name Strickland Banks come from?
When I started doing music I wanted a stage name. I used to have all these MC names. I used to go to my friends every couple of months and say, "Yeah, this is my new MC name, when I'm on the mic, call me H.O.T." Then, "No, don't call me that, call me Hot Property", then "Don't call me that, call me MC Scholar." It was stupid so I thought, "People call me B, short for Ben, so if I have a name that has B in it no one has to change what they call me." Doing soul I was Strictly B, Strictly Business, then I ended up doing hip hop as Plan B. When I started doing an album about a soul singer, he had to be Strictly B, right, but if he's in a court they can't go, "Yo! Will Strictly B please stand," so what's his real name? Strickland Banks.
Are you a fan of concept albums?
I'm not. I never feel people pull them off.
Even hip-hop concept albums?
You know what? Kirk Jones was good [Black Trash: The Autobiography of Kirk Jones by Sticky Fingaz of the group Onyx], but when I listened to it from start to finish I got lost.
Were your label happy with the Strickland Banks idea?
You think the label wanted me to do a concept album? No way. Every chance they got they'd say, "Can't this just be a normal album?" No, fuck you! "All right, cool, but do we have to tell people what it's about? Do we have to mention prison?" Fuck you! "OK, do we have to mention the crime?" Ah, you might have a point there...
Did you maintain the same control with the videos?
We were shooting the video for "Stay Too Long" and the director was trying to make me kiss [actress-model] Kaya [Scodelario] on the stairs. In the lyric it says I'm kissing her in a lift but he says, "Yeah, but we haven't got to be literal." I went, "Fuck you, man, if we're not being literal with the lyrics, then what next? Get me a lift." So we go to a Chinese restaurant to eat dinner and what do I find but this heavy-gated lift and it's one of the best shots in the video. I don't compromise with that shit.
Watch the video for "Stay Too Long" by Plan B on YouTube
So the second disc of the double album will still eventually appear?
Yeah, The Ballad of Belmarsh, it's the hip-hop version of events. If people care about the substance of the story then The Ballad of Belmarsh will become available to them and a film will be made.
A film?
We're trying to shoot a featurette around the next video, "Prayin'", which is set in a prison. In my head, if we get a chance to go in a prison location, that's going to cost a lot of money. It's hard to get in there so why waste the opportunity? We might as well shoot all the prison story. I've written a script for it. Strickland Banks meets a couple of characters in there who have an affect on his life and it's not written about on the album. The videos are a big part of this album. I'm doing a film with 10-minute skits [between songs], deleted scenes that will be on the hip-hop record. On the album you get the song "Recluse" saying, "I don't want any trouble, going to stay in my cell and hope everyone just leaves me alone," then suddenly you get "Traded In My Cigarettes" which says, "If people want to fuck with me I'm going to trade in my cigarettes, get a shank and fuck them up," so what happened there? Why did he suddenly switch? There's a deleted scene there and all those parts missing from The Defamation will be on the hip-hop album and in the film.
You're really into telling the story.
Stories are my best way of explaining anything. If I could have done a film of my first album I would have. I wanted my first record to be a film for the blind. When I wrote my first Plan B tune, "Kidz", I thought, "This works, now I'm going to write an audio-novel. I'll take all these different styles of music, add a hip-hop beat and rap over it, like I did with my Paint It Blacker mixtape [which featured songs by the Rolling Stones, Coldplay, Nirvana, Leonard Cohen and more]. I did that to show that all music is hip hop once you start rapping over it. When I had the idea I didn't even know if I was capable of making films for the blind so I wrote "Dead And Buried" to teach myself how to do it, then after that I wrote "Tough Love" and so on. Then I started looking at personal things I could rap about, real life stories. This time round I wanted to do it again but with a twist. It's about a soul singer and every time you see things though his eyes, you hear soul music because that's his language. And every time the narrator tells you what's going on it sounds like Plan B.
You've always seemed rather angry - but I hear you now have counselling for it.
Yeah, straight up, I went and spoke to someone about my problems... anyone who laughs at that...
Why would anyone laugh at that?
Some people laugh at it because they think, "Oh, what?", like you're a little bitch because you went and spoke about your problems, opened your heart. Some kids think like this or they think that if you go to counselling you're crazy. No, I'm a grown man, I can sit there and admit when I'm wrong to a complete fucking stranger because I want to stop myself from being wrong. I want to stop myself from making mistakes, and the only way I can do that is talking with a complete stranger who can't judge me because they don't fucking know me. I want to try to get to the bottom of whatever insecurity it is that's making me act like this, whatever insecurity that allows me to get so angry about someone taking the piss out of me that I want to smash their face in. I've got something worth fighting for now, I can't let it affect my career, I can't keep getting arrested for letting these haters get to me.
The key to this decision, then, was that you were finding yourself in volatile situations with other people?
Yeah, people that was either jealous of me or just fucking pricks 'cause they come out of their mother's cunt looking like a cunt. Coming up to me and being very unpleasant to me for no damn reason. I had people coming up to me going, "Please meet my friend, he's a massive fan of yours." "Cool, yeah, you want to have a drink with me? What do you do?" I start speaking to them about what they do and then they're like, "You know what? I thought you'd be different." I say, "What do you mean, you thought I'd be different?" "Well, I thought you'd be like the way you are in your songs, but you're a bit of a... I won't even say it 'cause it's rude..." [Drew suddenly shouts furiously] Bang! I'll nut you, mate. What? You're my fan, you want to talk to me and because I'm nice to you and not showing you a gun, telling you how much of a bad man I am, you think you can take me for a prick? Nothing makes me more furious than that. When people take kindness for a weakness, that makes me murderously furious. I took you in and... I'm getting worked up now but I have calmed down a lot.
Members of So Solid Crew once told me that when they became famous they should have moved away from their old neighbourhoods - rundown areas of London - to stop friction with the locals.
Damn straight. For me to walk around my own area is a disrespect. They're like, "Who the fuck do you think you are, man? We ain't got shit but you think you can drive down the road in your new car and we ain't gonna scratch it up?" Listen, if this hadn't happened to me, I'd still have that mentality: "Who the fuck does that cunt think he is, coming down to the local pub? I've been putting work in on that girl for six months and I'm almost there, then you turn up in your fucking suit and your bullshit and she's going home with you." I understand it, I get it. I still go back there, go to the pub, but not frequently. I live in Hackney now.
Did you listen to a lot of classic soul to get you in the mood for the new album?
My mum never played those records so my earliest taste of soul music was films like Stand By Me and My Girl. The only music you'd hear round my house when I was eight was Michael Jackson or whatever was on the radio. One of the first songs I was taught on guitar was "Tracks of My Tears", to learn about song structure, but I sang it for two-and-a-half years without hearing the original. I wrote songs in the style of what I thought Motown was, then I'd go in the studio once they were written and work out how to record them. The band might say, "This song slightly reminds me of... who's that artist? Let's get it up on YouTube." That's how we started digging up all these soul records, listening to them purely for the sonics and the ingredients. We knew we was going to put brass on but didn't know how much and which songs needed it until we listened to other older records.
With the new soulful direction some people will undoubtedly accuse you of aligning yourself with Mark Ronson, Amy Whitehouse and so on.
Jumping on the old bandwagon, eh? What? Are you mad? Suck my dick! So I couldn't always sing like this but suddenly sold my soul to the devil to give me this voice. Yeah, you're a dickhead. You've got to remember I was making this music before Mark Ronson, Duffy, all of them. Anyway, we all grew up with the same music and the talent we were born with. I was making music like this since the age of 14 but there's a reason why my hip-hop side was shown to the public. I used to suffer from stage fright horribly, throwing up and everything. I used to go up in these urban showcases, this little white boy with his little guitar all hunched up, singing to the floor. I hated it. I had no confidence in my voice because no one had taught me my key. I knew music was what I wanted to do and the only way it could be my life was if I could perform it. When I played "Kidz" for the first time and saw the reactions on people's faces I became so much more comfortable. Suddenly I didn't have to feel nervous about going onstage. It turned out I wasn't nervous about people looking at me or playing live music, I was just nervous about singing to a room full of black people who were used to hearing the sickest gospel voices. When I found Plan B I ran with it because it was a way for me to go on stage without being nervous beforehand. I was kind of angry with myself that my body was shutting down, that I was shaking and couldn't get onstage. Me coming on shouting and swearing was almost a "Fuck you" to myself. Once I got past that, going onstage was not as hard. Now it's quite easy. It's taken me 10 years but now I want to go back to singing. I'm more educated, I want to go back and do that. I was fucking doing it from the start, just you lot never knew about it.
Comparisons with Amy Winehouse might not necessarily be meant as insults.
Even if I was jumping on the bandwagon, so what? I done it good. I made a sick album. I could sit there and say, "Yes, it's a good album, right? Better than all the people you're comparing me to, right? Yeah, fuck you!"
When you first appeared you generated a lot of press that was symptomatic of paranoia about urban hoody culture.
Yeah, man, it's like Islamophobia, fucking bullshit stories that don't need to be printed in the paper. Certain stories, even if they were true, by printing them in the paper you're fuelling that fire, fuelling closet racists in closet racist towns. I heard that Tower Hamlets council was going to change Guy Fawkes night to the Tiger Prince night so that Muslims and Hindus in the area could join in [in 2006 Tower Hamlets replaced their annual Guy Fawkes firework display with an event called The Emperor and the Tiger based on a Bengali folk tale]. I remember thinking that was pretty fucked-up but I also realised I was getting angry about a piece of information someone put in the paper to get me angry on purpose, to turn me into a racist, so I ignored it.They do the same thing about kids going round stabbing and shooting each other. These kids have been told they're pieces of shit their whole life so they act like pieces of shit. No one represents them or shows them any encouragement or love so what do they do? They won't listen to the police, they won't listen to their parents, but they listen to rap and take it in, and they want to be like those rappers. You know why? All these rappers come from shit families, shit council estates, never had fuck-all, no one loved them, and suddenly they're big stars, chicks everywhere, rims, hoes, money. Of course they want to be that because that's the only person they've seen in their life who represents what they're like and where they come from. I tapped into that music. I swore, I used the word "cunt", I used all the dirty nasty language they love to hear and once I'd got their attention I went conscious on them. I said, "You know the way you're behaving is wrong and disgusting, you're a fucking animal and need to stop it. Don't be so negative, I care about you, I understand where you're coming from, I'm kind of coming from the same place but you ain't got to stab people." If you listen to my record I make it very clear I don't like crack, I don't like heroin, I don't like people that deal crack or heroin, I don't like rapists, I don't like people that stab kids over Pokemon cards, but I get thrown in that same fucking bucket.
Watch the video for "She Said" by Plan B



What film work have you got coming up?
There'll be no film roles in terms of acting. I've got no time this year. All my projects are like essays piling up that I need to get off the desk. I want to make a film about where I'm from and what I know. It's fiction but based on true stories people told me when I was younger, all narrated by different hip-hop songs. It's called Ill Manors and I've been trying to get it made for three years. It will also be entertaining. You get films like [Gus van Zant's] Elephant that aren't entertaining, more like documentaries, but I hate slow-moving films. Ill Manors will be really harrowing but punchy. There'll be six stories. I've already shot a short hand-held version. The first one we done was about a prostitute who steals a crack-dealer's phone. He finds out and in order to get his money back he pimps her out to all the local fast-food restaurants and chicken shops. This is based on a true story. The girl in question wasn't forced to do it, she actually said, "I stole your phone, let me pay you back." She went from one chicken shop to the next coming out with a tenner each time. In every film company there's someone who loves my script and says they're going to make it but then they go with their bosses. Adulthood did really well then the recession hit. The money went to the bank because the film was part of Pinnacle Distribution [which went into administration in 2008]. All the companies scaled down from making 15 films a year to making five, It didn't matter that Adulthood had been an earner. Every time you write a script set in a city with a couple of street kids in, essentially it's looked at as a black film and investors shit themselves. If I wrote Pride and Prejudice III I'd be fine.
If The Defamation Of Strickland Banks matches the success of its preceding singles you may finally have the power to get it made.
I know that.
Share this article