Prince of Persia: The Sands of Time |

reviews, news & interviews
Prince of Persia: The Sands of Time
Prince of Persia: The Sands of Time
Fantastical desert epic beguiles the eye while deep-freezing the brain
The most exciting part of the screening of this absurd new blockbuster was an appearance by producer Jerry Bruckheimer for a pre-show pep talk. You may be familiar with his CV - Armageddon, Pearl Harbor, all the CSIs, Pirates of the Caribbean. Only a little guy, but so was Attila the Hun. He raved dutifully to a theatre-full of British hacks about the flick's marvellous mostly-English cast (a lot of it having been shot at Pinewood) and schmoozed with its beaming director, Mike "Four Weddings" Newell.
I daresay Jerry (and indeed Pinewood Studios) hope that Prince of Persia will kick off another gigabucks franchise like Pirates of the Caribbean, to which end the casting of Jake Gyllenhaal as the hero Dastan, former cheeky street brat adopted by Persia's benign King Sharaman (Ronald Pickup), could go a long way. Bearded, muscled-up and equipped with adorably floppy hair (he has plans to bleach it in order to play deceased grunge-rocker Kurt Cobain), Jake has cut loose from his usual quizzical moodiness to make a surprisingly effective action hero. They've made him put on a British accent, which he carries off to immeasurably greater effect than that old grouch Russell Crowe in Robin Hood.
The film is fundamentally daft, which is what you'd expect from a story built on the virtual foundations of a computer game about ancient Persia. I hesitate to judge whether that's better or worse than being derived from a Disney World resort attraction, as Pirates of the Caribbean was. Surprisingly, however, the screenwriters have smuggled in a sliver of political metaphor. The plot kicks off when the Persians besiege the city of Alamut on the pretext that the Alamutians have been selling weapons to Persia's enemies, but having captured the city, they can find no weapons of mass destruction or even minor annoyance. But somebody - no plot spoilers here - has an ulterior motive, referred to in the Sands of Time of the title. Within Alamut rests a mystical dagger, which, when filled with the appropriate magic sand, can send time hurtling into reverse. Clearly such a device could have empire-building potential, and someone badly wants to lay their hands on it. Messrs Cheney, Rumsfeld and Bush, are you getting this loud and clear?
Dastan, having spearheaded the Persian attack on Alamut, is rewarded for his boldness by being framed for the murder of his father, and is forced to go on the run while he tries to flush out the real killer. Happily, he is joined on his travels by Alamut's Princess Tamina (Gemma Arterton), who has inherited the job of the keeper of the Sands of Time. She persuades him they must find the Secret Guardian Temple, and inevitably they must overcome many alarming supernatural hurdles en route. Ghastly assassins try to impale them with lethal metal prongs, and they need all their ingenuity to fend off hideous giant snakes which creep up on them by burrowing through the sand. Gyllenhaal gets to show off his free-running technique, only slightly computer-assisted, as he runs up walls and over buildings during lavish combat set pieces.
The allure of Arterton remains obscure, as she plays the princess like a bossy big sister and barely gets any of her kit off. I suppose you could say she's almost as good an actress as Elizabeth Hurley. There's much better value from Alfred Molina, tasked with the loveable-rogue role of Sheik Amar who runs a lucrative ostrich-racing racket, while Ben Kingsley is all silky smirkingness as Nizam, King Sharaman's allegedly loyal brother (pictured above).
Maybe it's OK if you switch off your brain, take the kids and get stuck into a big bucket of popcorn. The desert shots in Morocco look nice. Marks out of 10? Don't tempt me.
OVERLEAF: GEMMA ARTERTON ON STAGE AND SCREEN
Tamara Drewe (2010). Arterton plays Posy Simmonds's modern Hardy heroine (pictured right) in barbed rural romp shot by Stephen Frears
The Master Builder, Almeida Theatre (2010). Arterton stars opposite Stephen Dillane as passions blow hot and cold in uneven take on Ibsen
Clash of the Titans (2010). Arterton comes up Persil white as the Olympians of Tinseltown plan a classical killing in 3D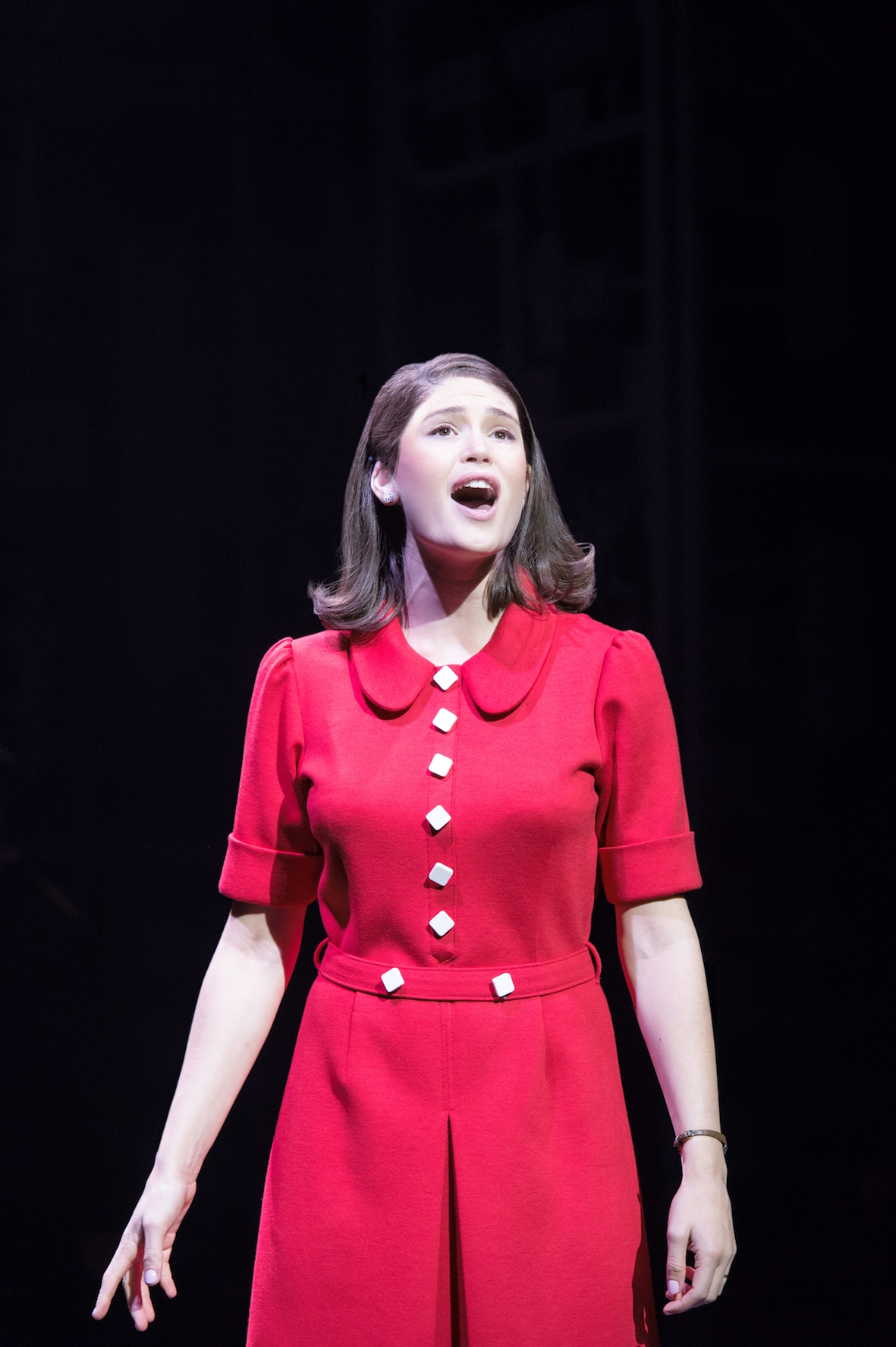 The Little Dog Laughed, Garrick Theatre (2010). Arterton plays straight woman to Tamsin Greig's mega-star comic turn in Broadway satire
Byzantium (2013). Arterton is va-va-voom vampy in Neil Jordan's return to bloodsucking
Song for Marion (2013). Under Arterton's tutelage, Terence Stamp and Vanessa Redgrave work the tear ducts in paean to old age
The Duchess of Malfi, Sam Wanamaker Playhouse (2014). In a bright opening for London's shadowy and atmospheric new theatre, Arterton is radiant as Marlowe's tragic heroine
Made in Dagenham, Adelphi Theatre (2014). Arterton reveals great pipes as she takes on the bosses in musical version of the 1968 struggle for equal pay (pictured above by Manuel Harlan)
The Voices (2015). Arterton is Ryan Reynolds' victim in Marjane Satrapi's surreal portrait of an American psycho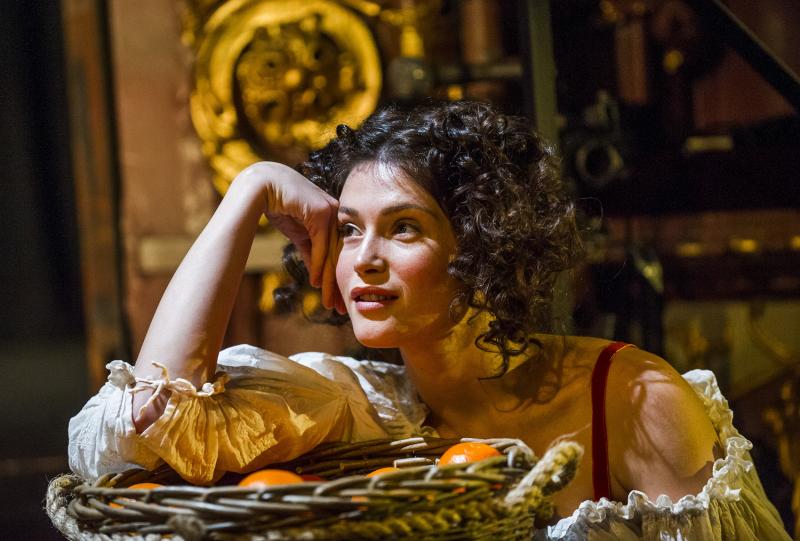 Nell Gwynn, Apollo Theatre (2016). Arterton charms king and audience in West End outing for the Globe's jolly Restoration romp (pictured by Tristram Kenton)
The Girl With All the Gifts (2016). Bestselling dystopian book reborn as underpowered movie
Saint Joan, Donmar Warehouse (2016). Revival of Shaw classic is a tour de force for near-miraculous Arterton
Their Finest (2017). Resoundingly British and sheerly enjoyable story of filmmakers joining the fight against Hitler