The Stones in Exile: an Imagine Special, BBC One |

reviews, news & interviews
The Stones in Exile: an Imagine Special, BBC One
The Stones in Exile: an Imagine Special, BBC One
Evocative documentary about the 'greatest rock'n'roll band in the world'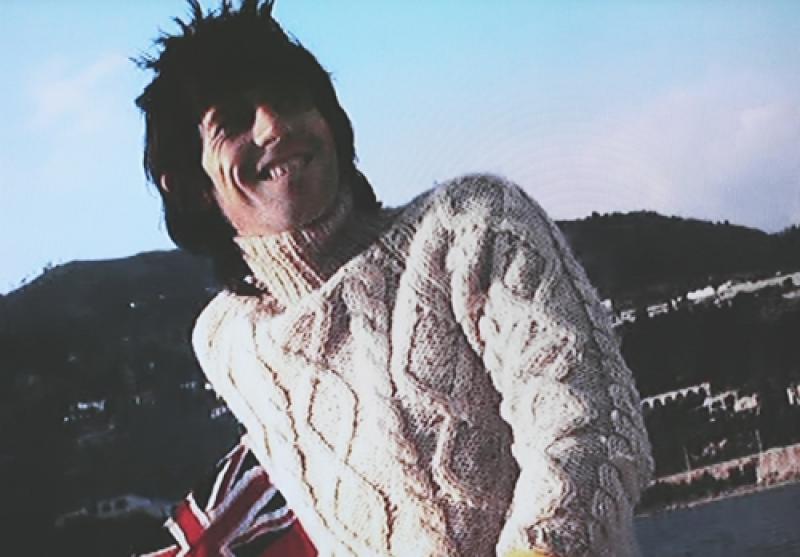 Old sea dog Keith Richards on the Mediterranean, wearing an Aran sweater
Aptly, this new documentary about how the Rolling Stones fled from England to the South of France to record Exile on Main Street was premiered at the Cannes Film Festival, with a supernaturally healthy-looking Mick Jagger on hand to give it a promotional shove.
Jagger (along with Keith Richards and Charlie Watts) produced the film, working closely alongside director Stephen Kijak to knit together an evocative and emotional portrait of "the greatest rock'n'roll band in the world", at what many would argue was their peak.
The fact that the project is an authorised job from the heart of the Stones camp is a mixed blessing. It has meant access to the band's matchless film and photographic archive, but Jagger is far too canny to let any really damaging skeletons come crashing out of the closet. The saga of the making of Exile in 1971 has come to resemble its own 1001 Nights of drugs and drug dealers, debauchery and lowlife skulduggery, but you'll have to trawl some of the reams of Rolling Stones literature for the prurient details. In a newly shot opening sequence in which Jagger and drummer Charlie Watts revisited Olympic Studios in Barnes, once a regular Stones haunt, Jagger blithely distanced himself from the past with a few carefully scripted throwaway comments: "Boring really... old fucking recording sessions... Boring. Who gives a shit?" As Watts commented later on, "Mick doesn't like anything you did yesterday, let's do tomorrow."
Still, Jagger threw wry light on why the Stones felt they had no choice but to abandon England. They were very successful and selling lots of records, but lousy recording contracts meant they were earning a (relative) pittance. He didn't mention Allen Klein by name, though you could just about read it on a newspaper cutting flashed up on screen, but he did talk about a managerial dispute and the "Byzantine mess" the Stones had got themselves into. And, as Bill Wyman added, they were facing tax bills that would scoop up 93 per cent of their earnings.
But the images, both moving and still, found their own voices. Snippets of home movie footage captured a flavour of the louche, jasmine-and-orange-blossom lifestyle the extended Stones family indulged in on the Côte d'Azur. In particular there was plentiful use of Dominique Tarlé's still photographs, accumulated after he asked if he could take a few snaps at Villa Nellcôte where Richards was living with his partner Anita Pallenberg and their son Marlon, and where many of the basic tracks for Exile were recorded. He ended up living there for six months, and emerged with what must be the warmest and friendliest shots of the Stones ever taken, with Richards apparently behaving almost like a conventional husband and father for at least some of the time.
The film's time frame stretched beyond the Riviera to completion of the album in Los Angeles and then on to the band's 1972 American tour. Kijak was given access to the two famous long-lost Stones movies, Robert Frank's near-mythical Cocksucker Blues and the concert film Ladies and Gentlemen: the Rolling Stones, both shot on the tour and neither ever officially released. The drugs-and-orgies scenes which have supposedly kept CS Blues (to give it its family-friendly pseudonym) locked away for all these years still didn't appear here (boo!), but the glimpses of Richards throwing TVs off his hotel balcony or the Stones entourage negotiating US Immigration like a wandering tribe from Planet Vaudeville peeled away the decades to a time when rock'n'roll really seemed like an alternative reality, not the dusty exercise in book-keeping and historical loss-adjustment it has now become.
One of Kijak's major stylistic choices was to present very little of the film in synchronised words and pictures, which was partially forced on him by the use of stills and Super 8 film with no soundtrack. Most of the narrative from band members and others involved in the Exile circus was used as voiceover for the director's deftly woven patchwork of imagery, which had the effect of lending the story a "once upon a time" air, like the telling of a great myth.
Sometimes the less prominent characters provided the most interesting perspectives. Bill Wyman loathed the entire South of France experience, and recalled his Little Englishman's horror at having to import staples like PG Tips, Branston pickle and Bird's Custard. He also hated French milk, "which wasn't the same."
By contrast, Texan saxophonist Bobby Keys devoured the experience in monster-sized portions. "Yessir buddy! The South of France, pretty girls, a young man in his twenties, a rock'n'roll musician, that's a mighty good combination!" What's more: "Hell yeah, there were whisky bottles around, there were scantily clad women around. It was rock'n'roll, son! Without it you ain't got rock'n'roll." Rock'n'roll they undeniably had got.
It was rock'n'roll, son! Without it you ain't got rock'n'roll
Share this article