Imagine: Tom Jones - What Good Am I? BBC One |

reviews, news & interviews
Imagine: Tom Jones - What Good Am I? BBC One
Imagine: Tom Jones - What Good Am I? BBC One
It is unusual: how the Pontypridd Pelvis survived into the Irony Age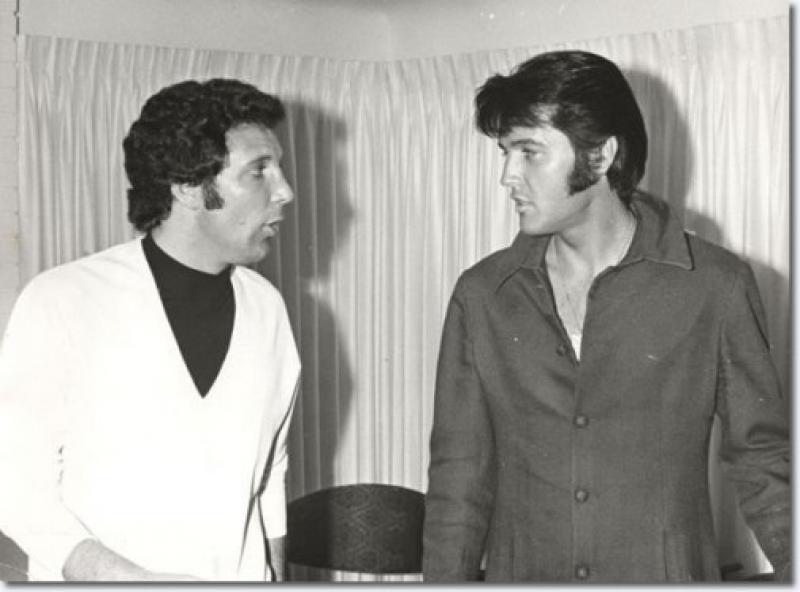 'Any black men where you come from?' 'Only the ones that come out of the mine'
The voice, being 70, isn't quite the untamed beast of yore. But it retains a certain feral throb. Alan Yentob stands across the recording studio, listening donnishly as Tom Jones belts one out. "You still feel the presence and power," he reports. Not that you'd know from the way Yentob sways ever so imperceptibly in his BBC execuspecs. Yentobs don't dance. Go on, man, do the done thing. Whip off your drawers and lob them lovingly at the Pontypridd Pelvis.
Actually the knickers thing is sort of discouraged in the Jones camp these days. A couple of decades back the slightly simian lothario put away the open-to-the-navel orange jump-suits, the billowing shirt fronts and circulation-thwarting slacks and opted for the quiet dignity of floor-to-ceiling leathers. It was his son Mark, on also becoming his manager, who put an end to 20 years of wardrobe malfunction and told him to stop being embarrassing. As sons will. "Ideally", Mark said at the time, "the focus of his image will shift three feet upwards."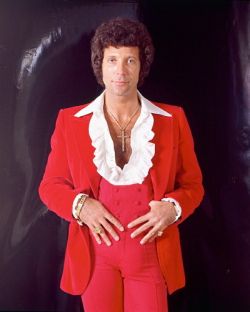 "Maybe I was exploiting the sexual part of it too much," conceded Jones, without giving the least indication that he believed this party line. In his head he's still 25. "Once you start to undo buttons and girls scream then you tend to open another one," he innocently explained. "I didn't know it was going to catch up with me. I thought my voice was going to shine through." Yeah right. Cut to a clip of Jones in the whitest and briefest of white briefs, plus sailor's cap, serenading a yachtful of young skimps in bikinis. It's a miracle that Jones has survived into the Irony Age.
This is the second time in recent months that Imagine has told of a singer who, having burst out of South Wales in the 1960s, is still lustily performing. Where Shirley Bassey kept her cards frustratingly close to her chest, Tom Jones showed all of his. How about all those women, Jonesey? Fair's fair. But the girl he married at 16 and took to live in Dean Martin's old house hasn't chucked him out yet. "We had a few blow-ups and she would explode, rightfully so. But it was all part and parcel of the thing, I felt."
Jones is not someone, you sensed, who would benefit from a spell on the couch. "To grow up in that environment did a lot to form my character," he explained of Pontypridd, though beyond a love of song it wasn't quite clear how. It might have been nice if the programme had found the time (and budget) to take him back there, as the photographer Terry O'Neill once did, snapping him with a Rolls in the terraced streets of home. (Slapped wrists for the BBC pronunciation unit by the way: Yentob got the double D in Pontypridd wrong.)
The portrait emerged of a simple man with a cracking voice. He always wanted to be a singer. A teacher once asked him why he was reciting the Lord's Prayer like a negro spiritual. The answer was that's the musical influence he ingested from the radio as a kid bedridden with TB. For two years he couldn't move or sing. He could only listen. The illness kept him from the pit and spared him for stardom. Curious about the soul-inflected tincture of his larynx, Elvis once enquired if there were any black men where Jones came from. "Only the ones that come out of the mine."
With a regulation hour to play with, it was a fair old sprint from Jones's first public efforts at singing to his first hit. In those seven years he worked in a glove factory and on building sites. Then Sandie Shaw heard Jones demoing a song destined for her and, as she explained here, insisted he keep it. So did he, forcefully. You wonder how many times he's sung "It's Not Unusual" since. Stardom mushroomed overnight. In 1967, when everyone was turning on, tuning in and dropping out, they were also putting Tom Jones, a performer not notably powered by flowers, in the top ten five times in 12 months. It brought him a CBS contract which found him regularly duetting with the likes of Stevie Wonder, Janis Joplin, Johnny Cash, Little Richard and his idol Jerry Lee Lewis. Cue some great clippage.
Tom Jones performs with Janis Joplin
Then the knicker-tossing began, and the serial mopping of a fevered working-man's brow. And not just that. There was the benediction of ladies in the front row to be got through, but not like the Pope pecking babies' heads. These were full smackers on the lips, carefully played and replayed here with a studied sociological fascination. You mean performers really used to do that? Not all of them. Just Tom Jones. Or he did until his son stepped in.

The ironic reinvention happened a while back now. We saw Jones sing "Kiss" on Jonathan Ross's show, and Ross hasn't been that thin for decades. In due course Jones was paired with all sorts, each queuing up here to pay homage, most of them Welsh: Cerys Matthews, Stereophonics, Rob Brydon, with whom he duetted on Gavin and Stacey. So at least in his choice of collaborators he's had a kind of homecoming. Jones was once asked if they minded in Wales that he'd upped sticks for California. "They still haven't got over the fact that I've moved to England. America's nothing."
Tom Jones sings "Delilah" on Top of the Pops