Pearl Jam Twenty doc comes to BBC Four |

reviews, news & interviews
Pearl Jam Twenty doc comes to BBC Four
Pearl Jam Twenty doc comes to BBC Four
Cameron Crowe chronicles 20 years of the Seattle rockers
Wednesday, 09 November 2011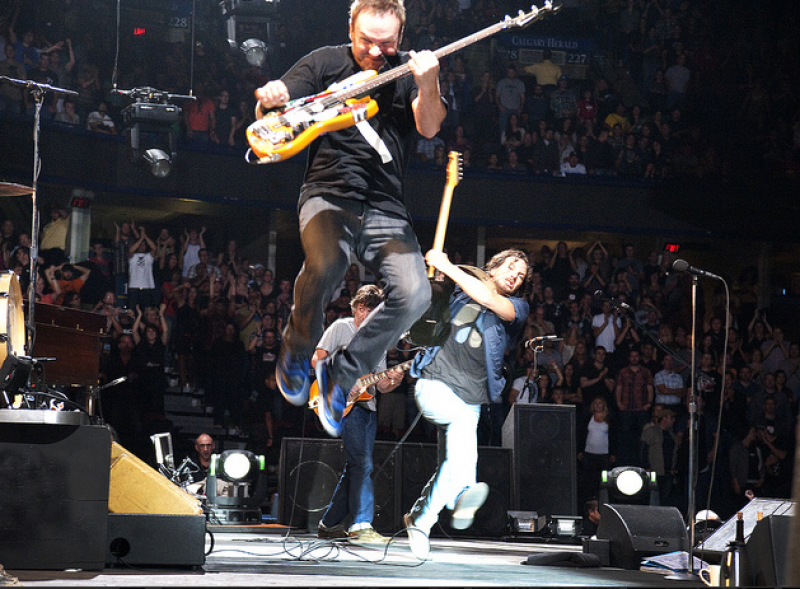 Alive and kicking: Pearl Jam light up the stage
Marking Pearl Jam's two decades together, long-time fan and ex-Rolling Stone writer Cameron Crowe has assembled the two-hour documentary Pearl Jam Twenty, due for an airing on BBC Four this Friday (11 November). It's a project which he's had in mind for years, and the effort which has gone into it is obvious from the amazing range and variety of footage, most of it previously unseen.
Every phase of the band's career, and even pre-career, is covered, going back to their roots in mid-Eighties Seattle before anybody had heard of "grunge".
There's fascinating material capturing the brilliant but short-lived Mother Love Bone, the Led Zeppelin-like unit which featured future Pearl Jammers Stone Gossard and Jeff Ament alongside gifted frontman Andy Wood, who died of a heroin overdose in 1990. But chiefly, it sticks faithfully to Pearl Jam's coat-tails, from their breakthrough with 1991's debut album Ten, their Blur-versus-Oasis-style competition with Nirvana and consequent disillusion with being portrayed as the commmercial face of grunge, their battle with Ticketmaster for cheaper ticket prices, and their determination to disentangle themselves from the record industry to run their career their own way (vocalist Eddie Vedder, pictured below).
The disaster at Denmark's Roskilde Festival in 2000, where nine fans were crushed to death in the crowd during Pearl Jam's set, was a mid-career trauma which almost prompted the group to throw in the towel. But they're still here, and have built the kind of long, cumulative career - with a massively loyal following and still-healthy album sales - bands rarely enjoy any more. All of them come over as intelligent, articulate guys (Gossard especially), though you emerge after a slightly laborious 120 minutes none the wiser about their private lives, while tricky issues like the heroin epidemic which swept Seattle and its music community simply don't feature. It's a love-in for the faithful.
Pearl Jam Twenty: Friday, 11 November, 9pm on BBC Four
Watch the trailer for Pearl Jam Twenty

The disaster at Denmark's Roskilde Festival in 2000 where nine fans were crushed to death almost prompted the group to throw in the towel
Share this article