Garrow's Law, Series 3, BBC One |

reviews, news & interviews
Garrow's Law, Series 3, BBC One
Garrow's Law, Series 3, BBC One
Tony Marchant's Georgian courtroom drama keeps a foot in the here and now
Not just sharing a roof: Garrow and Lady Sarah (Andrew Buchan and Lyndsey Marshal) pose for the camera
Garrow's Law, which returned last night for a third series, would seem to be entirely about the foreign country that is Georgian England. One of its progenitors is Tony Marchant who, give or take the odd adaptation of Dickens or Dostoevsky, has spent his packed writing life in the modern day. But they don't seem to make his kind of searing contemporary drama any more, the type that hunts for the root cause of moral failure in individuals and society.
So in order to hold a mirror up to his audience, he has turned to the 1700s. Profitably.
The shrewdness of Garrow's Law is that it has a foot in two different centuries. On the one hand it examines the development of Enlightenment values in the cauldron of the Old Bailey. In this new episode, Garrow's task in court was to establish that a man who takes a potshot at his Majesty the King in the theatre is in fact, despite appearing sane and rational, completely barking. Here you could learn all about a fresh precedent set for the legal definition of insanity, all of it carefully researched.
A glimpse of Garrow's flaws would give him more humanity
But the other foot is in the 21st century, in which those ethical frontier zones which intrigue Garrow and his entourage (led by Alun Armstrong) are still up for debate: homosexuality, race, society's treatment of war veterans, insurance scams and so on. Marchant, like Garrow, cannot break the habit of taking up arms against the ills around him.
Garrow's Law's pursuit of relevance is helped by the law itself. At least in outward aspect not much has changed since George III's morning stool was examined for signs of madness. The dramatis personae still wig up and showboat shamelessly in front of a jury – why, Roger Allam and Julie Walters were at it only last week in The Jury. The grammar of the legal stand-off has barely altered either: the dastardly prosecutor whose role is to defend the status quo here embodied by Aidan McArdle, while the chaser after lost causes is played with the unsmiling face of the right-thinking do-gooder by Andrew Buchan.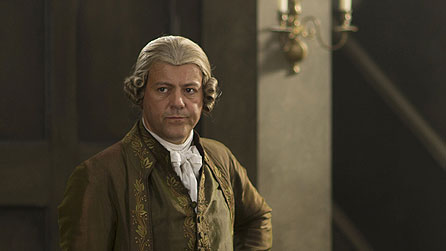 Presumably the series can last as long as fresh stories can be found from Garrow's historical casebook, but the thing which threads it all together as Sunday-night drama is the ongoing saga of the defending counsel's involvement with Lady Sarah (Lyndsey Marshal). A posh courtroom groupie who took a fancy to the liberal shapes cut by Garrow in the first series, she became the victim of a jealous husband's despotic use of the law in the second series. Come last night's opening episode of the third series, we were left in no doubt that, if Sir Arthur's suspicions were once a figment of his imagination, they aren't any longer. Lady Sarah is enjoying Garrow's protection but a roof isn't the only thing they share. The money shot of the high-minded couple getting horizontal has been a long time brewing – this may have been only the eighth episode of Garrow's Law but it's been going for two years. For delayed gratification only Downton Abbey can compete.
The plotline of this (again) brief series of four episodes will partly follow Lady Sarah as she tries to win back custody of her child: again, rather more a 21st-century preoccupation. If we see more of Rupert Graves's unconscionable Sir Arthur (pictured above), so much the better. Here he had only a couple of scenes, both with a new scheming flame-haired slattern in tow (Olivia Grant). I wonder if I am alone in finding Buchan's portrayal of Garrow just a mite too priggish. A glimpse of Garrow's flaws would give him more humanity. It seems that the real Garrow wasn't always on the side of the angels. In the BBC case notes for the original trial on which last night's episode was based, it is explained that a couple of liberties have been taken. For this key moment in legal history, in which James Hadfield was tried for high treason, Garrow was actually prosecuting.
Garrow's Law's pursuit of relevance is helped by the law itself. The dramatis personae still wig up and showboat shamelessly in front of a jury
Share this article