Brighton Photo Biennial gets an above-Parr treatment |

reviews, news & interviews
Brighton Photo Biennial gets an above-Parr treatment
Brighton Photo Biennial gets an above-Parr treatment
Brighton Photo Biennial launched
The fourth Brighton Photography Festival (BPB) has been launched amid dramatic economic hardships, but my money is on it being a roaring success. It will put Brighton on the map as somewhere other than a gay clubbers' delight and a hen-party hub. The reason for my confidence? The guest curator, Martin Parr. He's a Zelig-like character who spends his life dropping into every photo festival around the world and is the best-known UK photographer on the international stage today, his reputation made through his controversial high-colour documentary photographs and the touring exhibition Parrsworld, which is fed by his collector's bug.





"Leisure, consumption and communication are the concepts I've been researching for decades now on my worldwide travels," Parr says, and those elements link his selections for this ambitious event. His appearance at PhotoEspaña (PHE) Madrid and his curations for New York Photo Festival and Rencontres Arles (France) have groomed him for the job. And with Brighton packed with overseas students and a rapidly expanding, ethnically diverse population, the Biennial needed this international vision.
Parr's BPB festival menu is unlike anything that's gone before in Brighton or elsewhere in the UK. Among the eclectic subjects, photographers and sources, there's a noticeable absence of archival collections, which are major attractions at most festivals. Because, as he explains, it is "the world's first ever entirely un-framed exhibition", and it makes sense; saving on framing is obviously economically savvy, but it denies the possibility of including fragile, expensive works from distant decades, which are major attractions of such festivals.
But to have works stuck on walls with Sellotape or hung off pegs would not be appropriate; only new, emerging, unknown photographers and a handful of international, award-winning names who agree to such treatment. The latter group includes Stephen Gill (Hackney), Rinko Kawauchi (Japan) and Alec Soth (US) who were commissioned to respond to Brighton as a location for Strange and Familiar: three views of Brighton. The results, Parr says, promise to be poetic, literal and abstract. And funnily enough, Brighton Photo Fringe, the exciting, risk-taking younger sibling operating without Arts Council funding, will almost certainly include frames.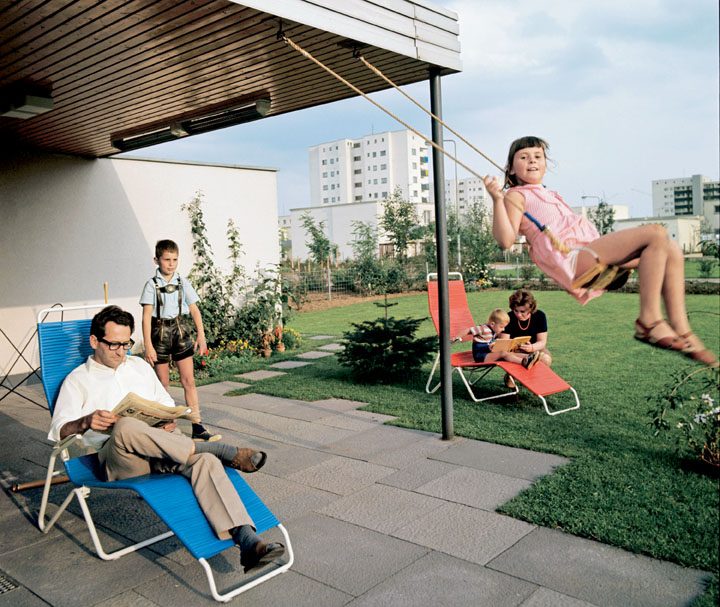 Martin Parr's passion as an avid (obsessive?) collector exposes his taste for the surreal, humorous, bizarre and incongruous, and is applied here to the House of Vernacular (see photo right) an intriguing collection that includes 1950s and 60s Litter Bins found in the Design Council library, and vividly hand-painted portrait photographs from Brazil.
For me, one of the main attractions will be New ways of Looking, a mosaic of new work by nine international photographers, reflecting the diversity of approaches, aesthetics, concepts and technical details in their territories. Oscar Fernandez Gomez, a Mexican taxi driver who shoots through his cab window, emerged at last year's PhotoEspana's show of young Latin American Discoveries and his presence is a reminder that Latin Americans are the rising stars in international photography circles, with Argentina leading the way and Colombia close behind.
For a separate show, A Night in Argentina, two contrasting Buenos Aires' photographers were commissioned to shoot during darkness. And back in the UK gay capital, Queer Brighton turns to the lesbian and gay community through the lens of two Americans, Molly Landreth and Zoe Strauss. Something for all the family - not as bracing as Skegness in winter, but equally refreshing.
Explore topics
Share this article