Dublin Carol, Trafalgar Studios |

reviews, news & interviews
Dublin Carol, Trafalgar Studios
Dublin Carol, Trafalgar Studios
A businesslike revival of Conor McPherson's seasonal play
Thursday, 15 December 2011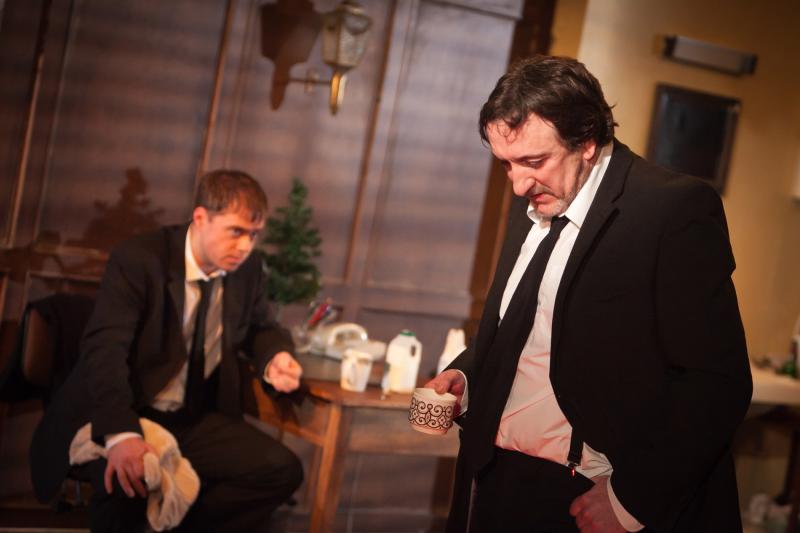 Rory Keenan and Gary Lydon in 'Dublin Carol'
Conor McPherson's 2000 play is one of the Irish writer's most memorable works, and this revival comes soon after his less acclaimed latest play, The Veil, over which we shall draw, er, a discreet veil, debuted at the National. It reminds us that McPherson at his best is a writer of humanity and compassion and, as a former toper who is now a non-drinker, one who understands the lure of the bottle.
Abbey Wright's seasonal revival of
Dublin Carol
(it's set on Christmas Eve) is a Donmar production shown as part of the theatre's Resident Assistant Directors scheme in a 12-week season at Trafalgar Studios.
Dublin Carol has a simple set-up: John (Gary Lydon) is a middle-aged Dublin undertaker whom we first see as he returns from a funeral with Mark, the 22-year-old nephew of his employer, Noel, who rescued John when his life appeared to be heading straight to the bottom of a bottle of Jameson's. Noel is John's guardian angel, you might say, if you wanted to see Dublin Carol as Christian allegory.
Mark (Rory Keenan, who embodies the line of having "a great listening quality" as John blathers on about his life) has helped at that morning's funeral because Noel is in hospital. John, the kind of reformed alcoholic who now drinks just the one bottle of whiskey a day, recites his sad history about how he has destroyed his life and family through drink. Mary (Pauline Hutton), his adult daughter whom he hasn't seen for several years, arrives to tell him that his wife, whom John left several years ago, is dying. For an undertaker who deals with death in a businesslike manner, John is strangely uncomfortable about dealing with the reality of how we get there, and is unwilling to visit his dying wife.
John gives Mark some terrible advice about how to treat the ladies – as if he'd know, a deserted wife and family behind him
So far, so unChristmassy, despite the garlands hung across the office – nothing too flashy, that would be inappropriate for the bereaved - and the Advent calendar on the wall, with its dutifully opened windows. Dublin Carol's three-act, three-hander set-up deliberately echoes Dickens's A Christmas Carol, where Mary is the Ghost of Christmas Past and Mark the Ghost of Christmas Present – but does John represent the Ghost of Christmas Future?
Lydon's rather one-note delivery struggles to bring out the full beauty of McPherson's poetic language, which is beautiful, funny and fierce, often in the same sentence. Talking of the rough Dublin pubs where he used to hang out in his proper drinking days, John says they were "full of know-alls and the type who'd fuck your mother and forgive your father for letting them".
John gives Mark some terrible advice about how to treat the ladies – as if he'd know, a deserted wife and family behind him, and the love of his life dismissed with the phrase "women's love can be terribly constant" - and then, in the play's strongest act, his meeting with Mary, in which John is full of instant apologies and self-serving explanations for his past appalling behaviour, we see how an alcoholic's self-recrimination is always trumped by maudlin self-pity.
In the last scene, where Mark appears to realise he could be stumbling into a John-like life lacking in commitment and we have a sense that John may finally be facing up to reality, there is some hope. But Wright's straightforward production leaves the audience to do a lot of the work.
Dublin Carol is at Trafalgar Studios, London SW1 until 31 December