Les Ballets Trockadero de Monte Carlo, Prog 2, Peacock Theatre |

reviews, news & interviews
Les Ballets Trockadero de Monte Carlo, Prog 2, Peacock Theatre
Les Ballets Trockadero de Monte Carlo, Prog 2, Peacock Theatre
The Trocks are back! Laughing all the way to the dance
Wednesday, 22 September 2010
Les Ballets Trockadero de Monte Carlo: The Trocks
I have a friend who loves telling jokes. One night he started a well-worn story: "Please," he said, "if you've heard this before, don't stop me – it's one of my favourites." I am always reminded of that evening when watching Les Ballets Trockadero de Monte Carlo – the Trocks to their many thousands of fans across the world – when they touch down in London on one of their regular stops.
The jokes are great – the dance is pretty good too – and if the jokes are a bit familiar, well, that's all part of the fun.
As it often does, their second programme begins with Act Two of Swan Lake (pictured right) – or, as the Trocks call it with their passion for old-style Ballets Russes glamour, Le Lac des Cygnes. Whichever language, we all recognise the language of a bleached-blonde prince (Ashley Romanoff-Titwillow, also known as Joshua Grant), a bossy swan princess (the grand diva of the company, Olga Supphozova, or Robert Carter) who, after she is captured by the hunter-prince, gives him a "don't mess up my tutu, sonny" look. Many of the jokes work on two levels – Swan Lake is one of the broadest, pratfalliest parodies the Trocks do, but as well as the limelight-hogging corps de ballet member and the evil magician who gets lost inside his cloak, there are also wonderful balletomane-focused jokes, such as the prince who has to ask his swan princess to repeat her mime, because he can't understand it – as, let's face it, who can?
The middle section of the evening has three pas de deux and one solo. Truth be told, it's probably one piece too long, but deciding what to cut is the next best thing to an impossibility. Which should go – the Grand Pas Classique, that piece of camply grand post-war French glamour, astonishingly well danced, and almost entirely parody-free? This is serious stuff – by Yakatarina Verbosovich (Chase Johnsey) and Dimitri Legupski (Claude Gamba). Or the Corsaire pas de deux, danced (almost) straight by Nina Enimenimynimova (you try and type that stone-cold sober: sorry, I mean, danced by Long Zou) and Mikhail Mypansarov (Emanuel Abruzzo)? Zou has a delicate grace and is the least dragged-up of all the Trocks, but here she has the manner down pat: her small head-tilt towards her partner, and the death-ray eyes that say, "You've missed your cue: just get yourself over here now," while still giving the audience a demure, pained-ballerina smile, is worth the price of admission alone.
The pas d'action from Harlequinade is perhaps my candidate for the chop: with choreography "after" Petipa (a long way after), the jokes are stretched thin – the tallest men play the women, while the shortest men are, well, the men – and the parody is strained because the original is so far from anything we might enjoy today.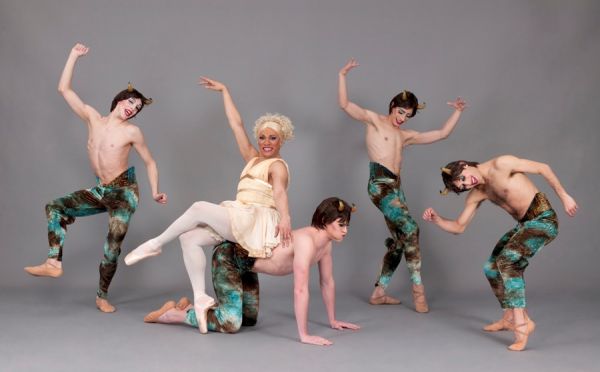 Which makes Walpurgisnacht (as it's usually known; the Trocks, of course, go for the Russian Valpurgeyeva Noch) (pictured left) such a surprise. This too is far from the current repertoire; a Soviet ballet from the 1940s, of a style sometimes slightingly referred to as lycra-ballet, for its most notable element. For it certainly isn't the choreography, which in the original consists mostly of a lot of kitsch skipping and running. Yet the Trocks blast through it, taking a camp piece and turning it into a supreme camp-fest. Bacchus (Andrei Verikose, or Brock Hayhoe) and Bacchante (Olga Supphozova again) play the glittery leads, prancing about in front of the massed ranks of Pan (Mikhail Mypansarov) and "Panette" (Long Zou; I'm sorry, I'm just not typing Enimenimynimova again), and assorted fauns and nymphs.
Panette is remarkable: if I didn't know this was the Trocks, I would have sworn "she" was a woman, not merely for her appearance – which closely resembles Joan Rivers pre-plastic surgery (not that I remember that far back; I'm guessing) – but for her dancing, which is fluid and, well, female. As her rival for the love of Bacchus, Supphozova gives just that right edge of diva-ish "this is my party" knowingness; and as Bacchus himself, poor Andrei Verikose really drew the short straw, with a blonde wig of remarkable hideousness, a (very) brief white tunic that leaves three-quarters of his gangly body uncovered, and gold lamé underpants. As they say in Gentlemen Prefer Blondes, "Fun's fun, but a girl can't laugh all the time." At the Trocks, though, a girl really can.