Made in Dagenham |

reviews, news & interviews
Made in Dagenham
Made in Dagenham
A warm-hearted comedy about ladies striking for equal pay
Tuesday, 28 September 2010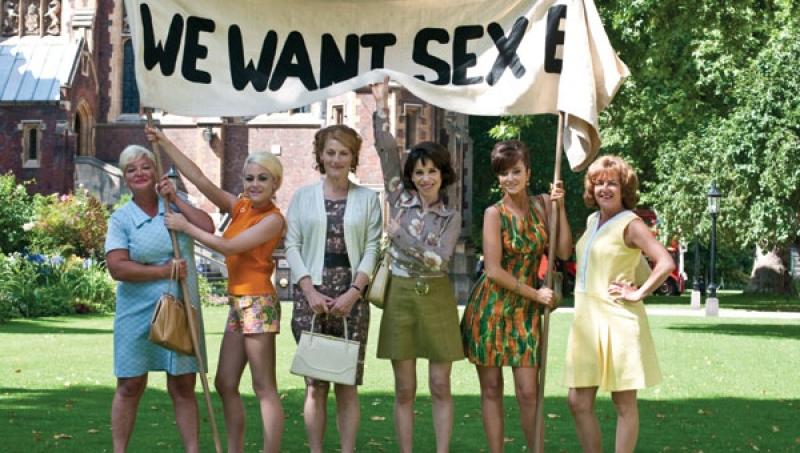 'Made in Dagenham': There are moments that feel pure 'Carry On', such as the striking women's partially unfurled banner
Nigel Cole's bright and breezy film opens with news footage and advertising reels about the American car giant Ford, which in 1968 had 24,000 men working at its Dagenham plant in Essex and only 187 women. It may have been the decade of the Beatles, the Rolling Stones and David Hockney - all vibrant colours and youthful energy - but the Swinging Sixties are far removed from the gritty reality of these low-paid workers' lives.
The 187 women work in appalling conditions in their separate part of the factory - freezing and with a leaking roof in winter, baking hot in summer - as they stitch together the seat covers for the new Cortina, which is soon to be rolled off the Dagenham production line, where many of their husbands and sons also work. The women are agitating for a pay rise and are led by Rita (Sally Hawkins), an unassuming young mother of two who is voted in as their spokeswoman.
They go on strike and soon the dispute is widened into one about equal pay - the machinists were being paid 87 per cent of the rate paid to unskilled men and 80 per cent of the rate paid to semi-skilled. What they do is deemed by Ford as unskilled work, but which looks pretty damned skilled to me - "Put those together and make a car-seat cover," Rita says as she throws a wad of different-shaped strips of plastic at a roomful of Ford managers, who all look mystified as to how the material might end up as the finished product.
The strike - the first by women since the Bryant & May match girls of 1888 - lasted three weeks, closed the factory and became a major news item. The Secretary of State for employment, Barbara Castle, met the women, who subsequently agreed to go back to work after being offered 92 per cent of the men's rate. It was not until 1984, though, and after another strike, that the women were regraded as semi-skilled, but their 1968 action led directly to the introduction of the Equal Pay Act in 1970.
Cole, with a script by William Ivory from a story suggested by the film's producer, Stephen Woolley, describes a vital part of Britain's political history with a lot of humour - there are moments that feel pure Ealing comedy or even Carry On - and by telling the human stories of the women. This isn't a docudrama, however, as the characters are composites of the actual women, although we do get to see them as they are today as the final credits roll.
Rita and her colleagues confound the men around them; they are not political, but became politicised by the rightness of their demands and when they woke up to the shocking sexism and male chauvinism of the time. There's a telling exchange between Rita and her husband, Eddie, which describes both their domestic set-up and a wider social reality. After a few weeks in which Rita has been increasingly absent fighting the cause, Eddie is down to his last shirt and, exasperated as she rushes off to another strike meeting, he tells her that she should be grateful that he doesn't hit her, go out drinking every night or screw other women. "I want that as a right, not a privilege," she tells him.
The men in Made in Dagenham mostly come off badly - the conniving union bosses, the patronising Ford management in the UK and America, and the women's own menfolk who conveniently forget that the 187 had walked out in sympathy when the men went on strike previously, but who now think only of their lost wages when the factory shuts down production. But Bob Hoskins, as the women's supportive shop steward, and Daniel Mays, as the sweet-natured Eddie, are sympathetically drawn and played.
Hawkins (pictured above) is tremendous as Rita, an undereducated woman finding her voice, while Rosamund Pike almost steals the show with a wonderfully restrained performance as the trophy wife of a Ford executive. She may have a first in history from Cambridge, but she is dismissed to the kitchen when he wants to talk business with his boss. Andrea Riseborough and Geraldine James give great support as other factory women in the forefront of the battle, and Jaime Winstone does a nice turn as a young woman conflicted between supporting her mates and breaking out of the working-class mould by becoming a model.
Miranda Richardson, meanwhile, is clearly having great fun as Barbara Castle, but her character doesn't quite ring true as - bizarrely, to my mind - Cole presents her more as a manipulative politician who uses the women's dispute for her own ends, rather than the canny and courageous fighter for equal rights that she was. It's the one minus point in an otherwise warm-hearted and thoroughly enjoyable film.
THE BEST OF ROSAMUND PIKE
A United Kingdom. Love, race and power politics under African skies

Barney's Version. Pike plays the third wife as novelist Mordecai Richler makes a mostly welcome return to the screen
Gone Girl. Pike compels in unfilmable book triumphantly brought to the screen by David Fincher
Jack Reacher. Pike survives the famous curse of Cruise
Women in Love. A BBC Four adaptation starring Pike and Rachael Stirling does not get over The Rainbow

PLUS ONE TURKEY
Thunderbirds Are Go. Pike voicing Lady Penelope cannot save the day for ITV reboot
Overleaf: watch the Made in Dagenham trailer
Subscribe to theartsdesk.com
Thank you for continuing to read our work on theartsdesk.com. For unlimited access to every article in its entirety, including our archive of more than 10,000 pieces, we're asking for £3.95 per month or £30 per year. We feel it's a very good deal, and hope you do too.
To take an annual subscription now simply click here.
And if you're looking for that extra gift for a friend or family member, why not treat them to a theartsdesk.com gift subscription?