Whites, BBC Two |

reviews, news & interviews
Whites, BBC Two
Whites, BBC Two
Alan Davies stars in a well-balanced kitchen-com that hits the sweet spot
Tuesday, 28 September 2010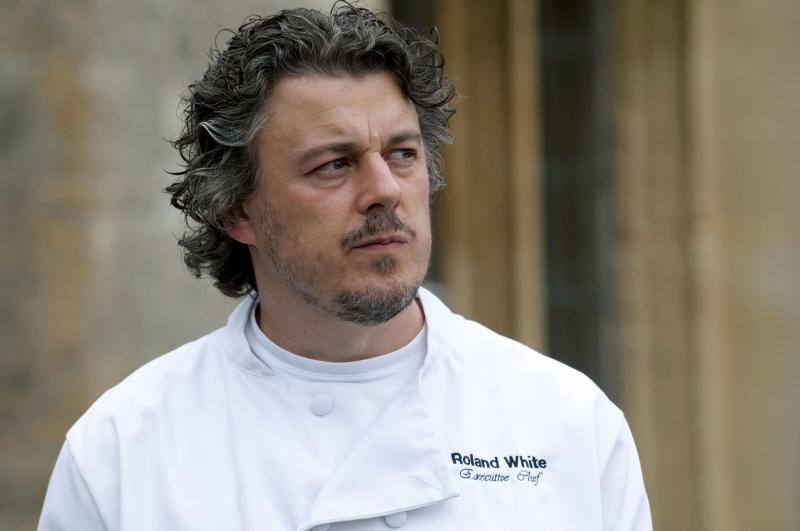 Marco Pierre who? Alan Davies as Roland White
Those of us who occasionally still wake abruptly at 3am, a cool, clammy film of sweat creeping across our brow, as we recollect the full horror of Lenny Henry's Chef! (God, that cruelly mocking exclamation mark), could be forgiven for approaching this new kitchen-com with a degree of trepidation.
Thankfully
Whites
, starring Alan Davies, turned out to be a far more appetising proposition, and not just because there's nary a sniff of the dread Mr Henry to be found lurking behind the pots and
pain
.
Whites has two major factors in its favour: a talented, eminently watchable cast and a script - co-written by Peep Show's Matt King alongside Oli Lansley – full of elegantly al dente put-downs and slyly malevolent wit. The food was almost a side show, although you wouldn't have guessed as much from the opening sequence, a blur of jerky hand-held shots that jump-cut breathlessly from flaming pan to clattering tray to people shouting "Service!", "How long!" and "Off my pass!" to no one in particular.
We're so familiar these days with the dramatic and semantic landscape of gastronomy that the heart sank a little, but thankfully Whites swiftly settled into a finely played ensemble piece, confident enough in its merits to proceed at a pace somewhat closer to a slow cook than a flash fry.
Prior to filming the cast undertook a culinary assault course at Jamie Oliver's Fifteen, so it has no doubt been hand-stitched into their contracts that at least once per episode they're entitled to have their way with a well-seared sea bass, but generally the humour lay not in the persistent "Yes Chef!"-ing, but in the neat characterisation and the nuances of several finely turned facial expressions.
Davies played Roland White (shamelessly riffing off of Marco Pierre White's rumpled Regency shtick), the "executive-chef" of the White House, a posh pile not dissimilar to Raymond Blanc's Le Manoir aux Quat' Saisons. Having long since traded in his youthful, Michelin-star-grabbing sense of vocation for a quiet life dedicated to avoiding anything resembling hard work, he spent most of his time cowering in his office dictating his first book, provisionally entitled My Innards – "a mixture of memoir and offal recipes" – and relying on his harried, uptight sous chef Bib - played by Darren Boyd, aka the tall blonde one from Smack the Pony - to keep the show on the road.
Into this dysfunctional, mutually dependent marriage motored young Skoose (Stephen Wight), a chippy apprentice – "He looks like an evil Dickens character," said Bib, and he was right - with his eyes firmly set on usurping his line manager, with perhaps something even more sinister served on the side. Meanwhile, White had one of those sexy sparring things going on with the quietly acidic front-of-house manager Caroline, beautifully played by Katherine Parkinson from The IT Crowd (pictured above, on the left) which will no doubt boil over in future episodes.
Davies was good as King Roland, whose sense of entitlement came seasoned with a weary vulnerability. He captured all the tropes of the superstar chef, from rampant anti-vegetarianism ("We've got a field of grass out the back!") and arrogant neglect to casual, charming brilliance, without descending into caricature. And the wonderful Maggie Steed promises much fun as owner Celia (all "scrummylicious" this and "din-dins" that), dispensing mayhem with an elegant, dotty charm.
Bulked out by at least half-a-dozen properly funny one-liners, the result was an instantly enjoyable comedy. While still not quite as hilarious as the sight of the real Pierre White dispensing his homespun warrior philosophy to a bunch of fifth-wit celebs who seemed to have mistaken a mere cook for Confucius, Whites left one happily contemplating a second helping.