Lovesong, Lyric Hammersmith |

reviews, news & interviews
Lovesong, Lyric Hammersmith
Lovesong, Lyric Hammersmith
Latest by the writer of The Iron Lady and The Hour is a ravishing study of love and death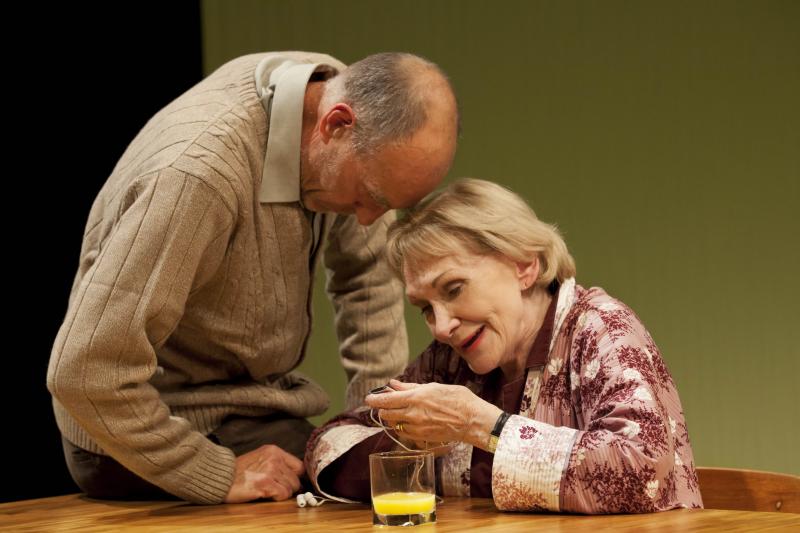 Autumnal love: Sam Cox and Siân Phillips in 'Lovesong'
Till death do us part: love and death are, like the fingers of a couple holding hands, perfectly intertwined in this play by Abi Morgan, which has been touring the country since autumn and opened in London last night. For about 90 minutes, we watch the ups and downs of the marriage of Maggie and Billy across four decades and through several leaps into the unknown. In its ambition, beauty and delicacy, this is a ravishing piece of work.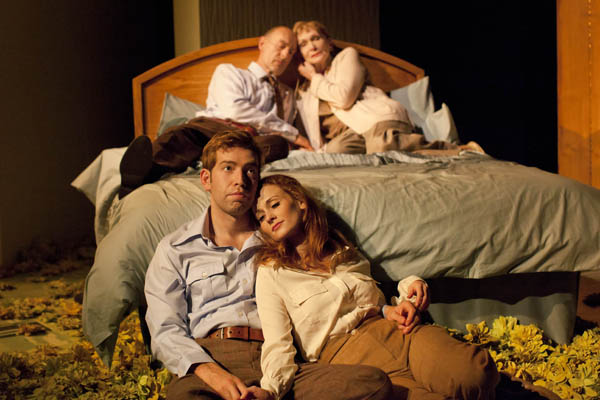 The plot is very simple. In the 1960s, a British couple meet, fall in love and marry. They emigrate to the United States; he then borrows money from the bank to set up as an independent dentist. They try for children, but none come. Against his wishes, she decides to get a job in a local library. Both partners are tempted by the prospect of having an affair. The marriage survives. They grow old together; when they can no longer cope, they make arrangements to dispose of their property, and of their cat. One of them is terminally ill, and decides to end it.
Through watching these leaps into the dark, we learn about their lives. Maggie and Billy are shown as both their present-day elderly selves - Siân Phillips and Sam Cox - and as memories of their youthful selves, the more formally named William and Margaret - Leanne Rowe and Edward Bennett (all pictured above right). The interaction between the actors creates a meditation about time, and references to skulls, teeth and prehistoric cave drawings give a long view of history, and of our place in it. It's moving, wry and profound.
The sadness of mortality, the sense of loss, is balanced by the delightful quirkiness of Morgan's text, which is by turns playful and illuminating, and by the plangent music and recurring video images of Frantic Assembly's rapt production. Morgan's previous collaboration with the company was her masterpiece Tiny Dynamite in 2001, and, as if to prove that lightning never quite strikes twice in the same place, this time the tone is less exhilarating and much more sombre.
What strikes you for most of the evening is the tenderness of the show, its pervading delicacy and the terrible beauty of its vision of love and death. While Morgan's work for film and television - The Iron Lady, Shame and The Hour – usually feels as if it is constrained by the commercial form of the product, here her voice is very much her own, uncensored, unashamed and unleashed. And, in every scene, the tenderness is braced with the cold steel of truth.
Lovingly directed by Scott Graham and Steven Hoggett, Lovesong is particularly effective in showing the interaction between the older and younger couples, so that we see an old man dancing with a memory of his younger wife (pictured above), or a young man making love to the older woman his wife will become (look, it's much less clumsy when you see it on stage). At the climax of the evening, there is a breathtakingly intense sequence when both couples slip in and out of time. So although Frantic Assembly's signature dance moves are all too familiar, and there is a bit too much awkwardness in some of the staging, the general effect is one of wonder.
Likewise, if at times it feels as if the good vibrations are laid on a bit thick, and the childlessness of the couple enables them to live a largely uncomplicated life, this is more than compensated for by something overwhelmingly expressive in the emotional depth of the play. Watching Phillips (the bravest performance of the evening) and Cox as the couple in the sunset of their years next to Rowe and Bennett as their almost surrogate children, while starlings swoop and sunbursts explode, is to feel a sadness as deep as life, and a generous mercy as broad as humanity.
Love Song at the Lyric Hammersmith from 11 January to 4 February, the Citizens Theatre in Glasgow from 7 to 11 February and the Sherman Theatre in Cardiff from 15 to 18 February
The sadness of mortality is balanced by the delightful quirkiness of Morgan's text, which is playful and illuminating
rating
Share this article