Giulio Cesare in Egitto, Opera North |

reviews, news & interviews
Giulio Cesare in Egitto, Opera North
Giulio Cesare in Egitto, Opera North
Neat direction and outstanding singing ensure that Albery's Handel succeeds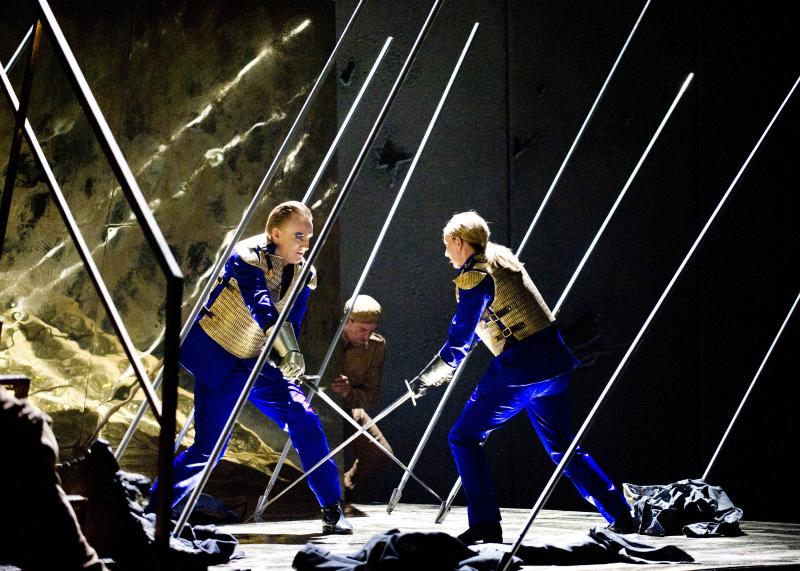 Squabbling siblings in Handel's Egyptian epic
It's the pace that takes getting used to in a Baroque opera. Five words in the libretto can easily take up five minutes to sing, and Handel's music is often disconcertingly jaunty, even when tragic events are unfolding. Tim Albery has also directed Opera North's current Madam Butterfly revival, a thrillingly cinematic, fast-moving production. His Giulio Cesare is judiciously pruned, with a total running time of about three hours.
The cuts prevent any sense of stasis; what's remarkable is just how much entertainment Handel's imperial epic provides.
Albery's 20th-century update is dominated Leslie Travers's brutalist concrete barrier, enclosing a pyramid shape which can be revolved – the exterior harsh and grey, the interior bronzed, golden. There's a lot of scope for shadowy lurking, notably as the production opens and Giulio Cesare's rival Pompeo is cleanly, nastily dispatched by Tolomeo, the Egyptian King. Countertenor James Laing's Tolomeo steals the evening, even attracting pantomime-style boos at the curtain call. He's slightly comic, camply attired (he and his sister/wife Cleopatra are the only characters dressed in bright colours) and finally loathsome, the golden fingernail extensions he wears at one point deliciously suggesting petty cruelty and sadism.
Cleopatra, beautifully sung by Sarah Tynan, is a brilliant match for him, physically and vocally – she's not an eyeliner-streaked Liz Taylor clone but small and blonde. Initially we're slightly repelled by her shallow vanity, particularly when she sits on the steps and seductively unrolls her stockings, flippantly tossing them aside. Tynan's sheer stamina is a revelation; Handel's protracted arias never sound strained, even when she's been chained by one leg to the stage floor. You've fallen in love with her by the time the opera reaches its climax, despite the fact that she's played a pretty passive role in the events leading up to her union with Cesare, soberly and impressively portrayed by Pamela Helen Stephen (pictured above right).
The most impressive singing comes from Ann Taylor and Kathryn Rudge as Cornelia and Sesto, the murdered Pompeo's widow and daughter; their duet in Act 1 is marvellous, the two voices beautifully matched. Sesto finally succeeds in murdering Tolomeo, who's then left painfully suspended by his ankles. At which point the set does one of its periodic revolves, enabling Laing to be untied before his circulatory system has given up. Cesare, earlier thought to have drowned, reappears and declares his love for Cleopatra, the new Queen of Egypt. Alas, she now dons her deceased brother's fingernails, implying that her reign won't be any more enlightened than his was.
Robert Howarth makes his company debut, playing harpsichord continuo and confidently directing slimmed-down orchestral forces. Cesare's aria Va tacito includes a virtuosic horn obbligato, while the entry of the full horn quartet near the opera's close is a spectacular moment. Thomas C Hase's lighting neatly conveys the feeling of darkness, of intrigue, while always allowing us to see just enough. But it's the quality of the singing which makes any opera worth seeing, and the singing in this production is consistently impressive.
Giulio Cesare in Egitto at Leeds Grand Theatre (25 January, 7, 10, 16 February), Theatre Royal Nottingham (23 February), The Lowry Salford (1 March), Theatre Royal Newcastle (9 March) and Grand Canal Theatre Dublin (14-16 March)
Countertenor James Laing's Tolomeo steals the evening, even attracting pantomime-style boos at the curtain call
Explore topics
Share this article