Patience (After Sebald) |

reviews, news & interviews
Patience (After Sebald)
Patience (After Sebald)
Film tribute to writer WG Sebald is visually evocative but veers towards trite hagiography
Patience (After Sebald): 'part appreciation, part lit crit and part unadulterated fandom'
Diehard Sebaldians may seek to retrace the footsteps that formed the basis of WG Sebald's meditative masterpiece The Rings of Saturn. Or they may choose to watch Grant Gee's film tribute instead. Patience (After Sebald) takes as its fulcrum the German expatriate's category-defying memoir-cum-history, travelogue-cum-novel – which was published in 1995 and is considered by many to be his greatest work – and it attempts to recreate the book's physical and mental landscape.
An ambitious undertaking, it only partly succeeds.
Excerpts from the novel are beautifully read by Jonathan Pryce (one is almost hypnotised by that richly textured, mellifluous voice), and talking-head contributors include artist Tacita Dean, writer and psychoanalyst Adam Phillips (who provides by far the most interesting insights), psychogeographer Iain Sinclair and poet Andrew Motion. The film therefore is also part appreciation, part lit crit and part unadulterated fandom.
The unadulterated fandom bits are amply supplied by excitable LA-based artist/curator Lise Patt, who at one point describes how she wrote a Sebald-inspired concrete poem during which she believed she was communing with the spirit of the dead author (Sebald died in a car crash on a Suffolk country lane in 2001 at the age of 57). And then there's the bum-note ending, in which artist/curator Jeremy Miller talks about a series of photographs of smoke configurations he took in the exact spot Sebald died. I'm not sure what we're meant to see in the last configuration – I likened it to a fish, and yes, Sebald's various philosophical segues include a meditation on herring and an indigestible fish supper – but Miller's voice suddenly stops and there is a moment of portentous silence as Sebald's image is slowly superimposed over the mystical smoke shape. I was reminded of various Daily Express front pages showing cloud formations resembling Princess Diana.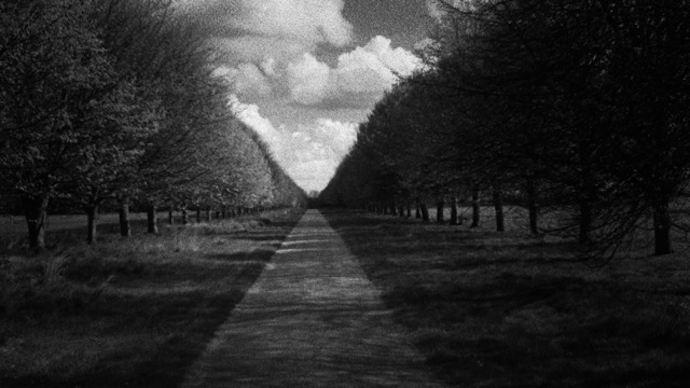 More intriguing is Dean, who talks of Sebald's influence in terms of her own work in which chance connections and ruminative associations play their role. She also reveals the connections she found between the pages of The Rings of Saturn and her own life, among them the curious discovery that her great, great uncle was the hanging judge who sentenced to death, for treason, the Irish nationalist Roger Casement.
As if to demonstrate that imitation is the sincerest form of flattery, these contributions are intercut with grainy black and white photographic stills of the desolate locations in East Anglia and Suffolk which prompt Sebald's many and varied historical disquisitions. They take us from a search for the skull of 17th-century doctor and medical writer Thomas Browne to the carpet-bombing of German cities in World War II, and from mass slaughter in Serbia to slavery in the Congo (wherein Roger Casement makes his appearance). These in turn are intercut with some of the original images used in Rings of Saturn, and with a note on their often unsettling juxtapositions.
While visually evocative and suitably atmospheric, Patience (After Sebald) occasionally veers toward trite hagiography. And though it's true that amongst the driest of academics Sebald does indeed excite the most effusive devotion, it seems ultimately pointless to celebrate a writer like Sebald in terms of cult status rather than literary importance. Perhaps the director's past projects (films on Joy Division and Radiohead) have something to do with his current treatment. A better film would doubtless have cut through all that.
Watch the trailer to Patience (After Sebald)
rating
Explore topics
Share this article