Relics of Richard II, National Portrait Gallery |

reviews, news & interviews
Relics of Richard II, National Portrait Gallery
Relics of Richard II, National Portrait Gallery
Thursday, 18 November 2010
But even the NPG staff were a little startled to find that they were unknowingly storing part of a coffin. And "startled" is not the right word when it turned out to be from the tomb of Richard II (died 1400).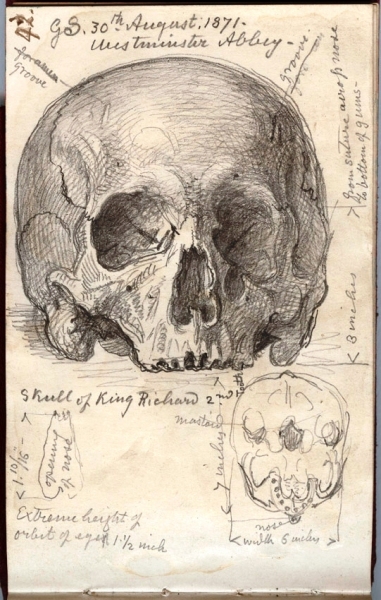 But there it is, in a tiny cigarette box (main picture), with the date 31 August, 1871 written on it. On that day, the diary of the NPG's director, George Scharf, records that he attended the opening of the royal grave in Westminster Abbey, and sketched what he saw: a glove, a skull (pictured left). And in the box are tiny fragments of wood, which may be from the coffin, and a few bits of fabric, which most likely came from the glove. Happily, nothing from the skull itself seems to have found its way to the basement of the Gallery, but the papers are currently being catalogued and released online.

So as you mosey along the gallery and check out the portrait of Richard II, give a thought to the Gallery's director, and to his real-life view of "the skull beneath the skin". No word yet on whether the box will go on view, but in the meantime, anyone can make an appointment and see the original Scharf drawings and diary entries in the Heinz Archive and Library. You can't get much closer to history than that.
Explore topics
Share this article