Peter Cook Season, British Film Institute |

reviews, news & interviews
Peter Cook Season, British Film Institute
Peter Cook Season, British Film Institute
The partly satirical broadcaster is celebrated with a film and TV retrospective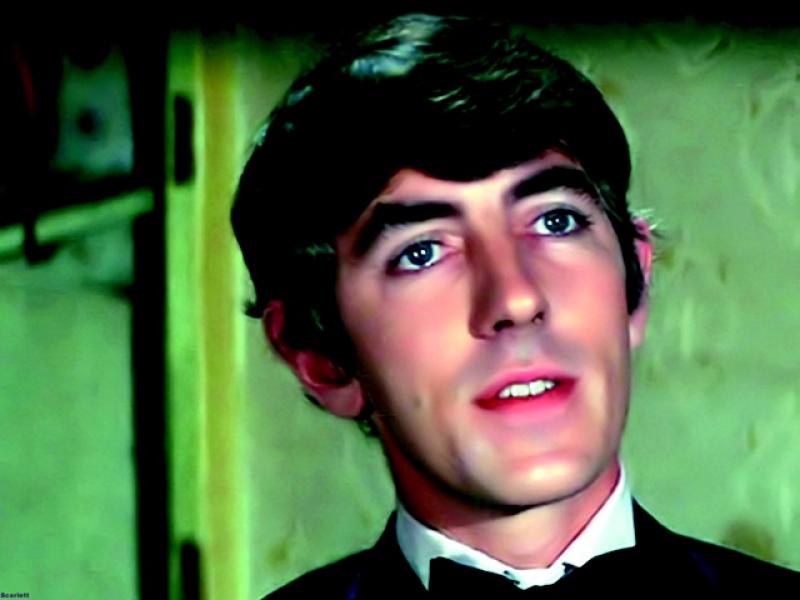 Peter Cook at his most devilishly handsome in 'Bedazzled'
The death of Peter Cook on 9 January 1995 was my JFK moment. I'll never forget what I was doing when I heard the news. I was driving from London to Granada Studios in Manchester to interview comedian Caroline Aherne. At the time she was married to the New Order bass guitarist Peter Hook, so when the radio announced that Peter Cook was dead my ears did a double take.
I did not pull onto the hard shoulder and have a sob, but it certainly cast a shadow over the rest of the day. That and the fact that my interview was cancelled. This was in pre-mobile days so no one had been able to tell me Aherne was poorly herself. I picked up a message at Granada, got back in my car and drove straight back to London, listening to radio tributes to Cook all day. Almost without exception they talked about how he had failed to live up to his early potential. I disagreed. All I could think about were Cook's successes, from Beyond the Fringe to playing the seedy compere in ITV's Seventies pop show Revolver and, no pun intended, beyond.
Most of Cook's work is now little more than a click away, but he deserves to be seen in his full glory on the big screen
To mark the 75th anniversary of Cook's birth the BFI is presenting a season entitled Peter Cook: Genius at Work. It offers the public the opportunity to see some of the wide range of work Cook produced in his lifetime, from the undeniably seminal Beyond the Fringe, which kick-started the satire boom, to The Rise and Rise of Michael Rimmer, his chillingly prescient 1970 movie about a ruthlessly ambitious advertising man who – sounds familiar? – becomes Prime Minister. Cook's tempestuous relationship with Dudley Moore is also to be charted in airings of Not Only But Also and the expletive-clogged Derek and Clive. In this YouTube age most of Cook's work is little more than a click away but, groundbreaking and charismatic, he deserves to be seen in his full glory on the big screen.
Peter Edward Cook was born on 17 November 1937 in St Chad's Nursing Home in Torquay. Cook's father Alec worked in the colonial service in Nigeria and it was assumed Cook would follow in his footsteps. But at boarding school comedy became an obsession. After St Bede's he attended Radley in Oxfordshire, where he devoured P G Wodehouse and 1066 and All That. Radio comedy was important too. He had a convenient habit of feeling ill on Fridays so that he would be sent for a rest in the sanatorium, which had a wireless. By a strange coincidence his sick notes always used to coincide with The Goon Show being broadcast.
Cook soon gained a reputation as the school mimic, in particular sending up one of the dining hall's butlers, Arthur Boylett, whose drone would later provide the inspiration for Cook's monotone megabore, E L Wisty (see clip below). His satirical school show, a thinly veiled attack on the colonialism that helped to pay his fees, The Black and White Blues, was so successful there was a thriving market in over-priced tickets. Under "Plans" on his final school report before heading to Pembroke College, Cambridge, he wrote "BBC, Films, TV, sherry".
By the time Cook left Cambridge his career was well on course. He had already written for Kenneth Williams' West End revue and had penned one of his greatest sketches, "One Leg Too Few", which would later be performed with Dudley Moore, about a one-legged man auditioning for the part of Tarzan. "I've got nothing against your right leg. The trouble is neither have you." In 1960 he was booked to appear at the Edinburgh Festival in an irreverent satirical little thing called Beyond the Fringe, with three other Oxbridge alumni, Dudley Moore, Alan Bennett and Jonathan Miller. Beyond the Fringe was a smash hit, transferring to the West End and Broadway.
In October 1960 critic Kenneth Tynan dubbed Beyond the Fringe "a revolution in revue". Everyone loved the show - even Cook's father and, reportedly, the Queen, who giggled at Peter Cook's positively anarchic impression of Prime Minister Harold Macmillan as a doddery old fool in the "TVPM" sketch. Macmillan was never named as the subject of the sketch but everyone knew who the skit was skewering. And, legend has it, just to compound the irreverence Cook added some extra lines to his character's ramblings on the night when Macmillan decided to pay the show a visit: "When I've a spare evening, there's nothing I like better than to wander over to a theatre and sit there listening to a group of sappy, urgent, vibrant young satirists, with a stupid great grin spread all over my silly old face." This, alongside his support for Private Eye, helped to make Cook's name as a satirist, a tag he fought against. All he cared about was being funny.
Cook was a figure of boundless creative energy. Having seen the booming nightclub scene in Germany during his gap year he could not believe there wasn't a similar nighterie in London. He was determined to be the first person to open one. The Establishment Club (clip below) was a former strip joint called the Club Tropicana. Cook made it the place to be and be seen in 1961, long before London started swinging. As it was for members only, it did not have to kowtow to the heavy censorship of the Lord Chamberlain, who still vetted any material that went into theatres and crossed out anything unacceptable with a blue pencil.
Lenny Bruce was a sensation at The Establishment, Frankie Howerd was reborn there. Barry Humphries tried out Edna Everage there. Cook himself held court if a guest was indisposed. His career seemed unstoppable. Not Only... But Also was a big TV hit, popularising his old duffer Sir Arthur Streeb-Greebling and his magisterial head-to-heads with Dud. But his film career was the first indicator that things would not always continue in an upwards trajectory. The Wrong Box (1966) and the Faust update Bedazzled (1967), with Cook as a shades-wearing devil making Dudley Moore's Stanley Moon an offer he cannot refuse, was more style than substance. The Rise and Rise of Michael Rimmer, written by Cook, was released in 1970 and was a critical and commercial flop. With Bedazzled and Michael Rimmer being shown in the BFI season it will be intriguing to see whether time has been kind to them. If nothing else they now work as period pieces, a snapshot of a bygone swinging age followed by a darker, more bitingly cynical comment on careerism respectively. Four decades on, Michael Rimmer, in particular, may have finally found its moment.
The received opinion is that Cook's career went into a tailspin in the 1970s, that he was the Orson Welles of comedy, starting on a high and never surpassing it. It certainly seemed that way when in 1971 he was invited host a TV chat show, Where Do I Sit? When Kirk Douglas walked on, Cook meant to say, "How are you?" but it came out as "Who are you?". The BBC was flooded with complaints about the show and cancelled the 12-part run after the third week.
But Cook was clearly still able to be groundbreakingly creative despite his increasing use of drink and drugs. He and Moore found time to make the phenomenally filthy first Derek and Clive album, recorded during downtime in the New York run of Good Evening. The idea started when Cook wanted to record a sketch about the worst jobs anyone had ever had. His worst job involved the buxom starlet Jayne Mansfield: "I had the terrible job of retrieving lobsters from her bum." Derek and Clive was followed by two albums, Come Again and Ad Nauseam, the latter complete with its own sick bag to save anyone with sensitive stomachs having to rush to the loo while they were listening to routines about the Pope, Jesus and the Holocaust, which were also captured on film for Derek and Clive Get the Horn.
'I do 50 eyebrow-raises a day,' he replied when challenged on his exercise regime
By the end of the 1970s, however, Cook's partnership with Moore was all but over. At least Cook was lucid enough to acknowledge he had a drink problem. In 1979 he joined Alcoholics Anonymous and slowly got back on track and in June he made a memorable appearance on the second night of Amnesty International's Secret Policeman's Ball concerts in London. A story in the press after the first night had asked what had happened to comedy's bite. Cook took the comment to heart and delivered a blisteringly funny send-up of the judiciary. The sketch was such a hit it was even released as a single – "Here Comes the Judge". For someone who claimed that he was never a satirist, Cook's potshots at authority could still hit bull's-eyes.
Yet by 1981 he was drinking heavily again. Following Moore's "sex thimble" success with the movie 10 he had had his own crack at American screen fame, co-starring in the sitcom The Two of Us (clip below) in which he played Brentwood the butler. But it had been axed. He was lonely in America and had to live with Moore's continuing success. After 10, Moore had had another hit with Arthur, about a badly behaved, privileged English alcoholic. Rumours hinted that the character might have been partially based on Cook.
Cook could still come out with a great gag though. He was a supporter of the 1980s rave drug Ecstasy. He once said to his old friend William Donaldson, "You'd even like Richard Ingrams if you tried Ecstasy." It did have its downside though: "The trouble with E, though, is that you do want to fuck everything – I started looking at the Corby trouser press in a different light." Donaldson's theory was that Cook took drugs to avoid boredom. With no real financial worries, ennui was a constant spectre. The only exercise he got was golf and he started to put on weight.
As Cook aged the high points became rarer. But flickers of his genius – most famously an appearance playing all the guests on an edition of the C4 chat show Clive Anderson Talks Back (see clip below) – were still there. Maybe he was nearly burnt out by abusing his body. Maybe he had simply used up his creative capital. Or maybe he was just weary of life. To borrow a phrase used as the title of a priceless Radio 3 verbal ramble with Chris Morris, maybe he just thought, "Why bother?" We can speculate until the cows come home. Other comedians lose it. Cook never lost it. But maybe he put it somewhere and could not be bothered to get it out.
In 1993 I interviewed Cook over breakfast in the basement of the Everyman Cinema round the corner from his mews home in Perrin's Walk in Hampstead. He had a large fry-up and what looked suspiciously like a larger Bloody Mary. He was an amiable but slightly shambling figure in casual slacks and non-ironic socks and sandals, occasionally coming across as somewhat bitter about being trumped by others. There was no nastiness about Dudley, but Cook was aware of how wide-ranging his influence was. And not just on erudite Oxbridge comedians from John Cleese to Stephen Fry. He was convinced that Johnny Rotten had copied his deadpan vocal drawl. Fair comment in 1977, but still to be going on about the Sex Pistol in 1993 seemed a bit much.
We popped back to his house, and the lounge, dominated by a large television, was a terrible mess. The coffee table was covered in newspapers and remote controls; there were glasses everywhere. The only thing that seemed organised was his set of golf clubs by the door in case he fancied a different kind of round. He might not have been in the best shape but it was still a shock when he was gone less than two years later, aged 57, having a suffered a gastrointestinal haemorrhage.
His last words were not recorded, but maybe he had left his own self-mocking epitaph a few years earlier: "I might have some regrets... but I can't remember what they are." Cook may have squandered his talent but, boy, did he have some talent to squander.
Watch Peter Cook and Dudley Moore in the classic 'One Leg Too Few' sketch
His influence was wide-ranging. He was convinced that Johnny Rotten had copied his deadpan vocal drawl
Share this article