Frost on Satire, BBC Four |

reviews, news & interviews
Frost on Satire, BBC Four
Frost on Satire, BBC Four
Veteran inquisitor on the trail of TV's comic iconoclasts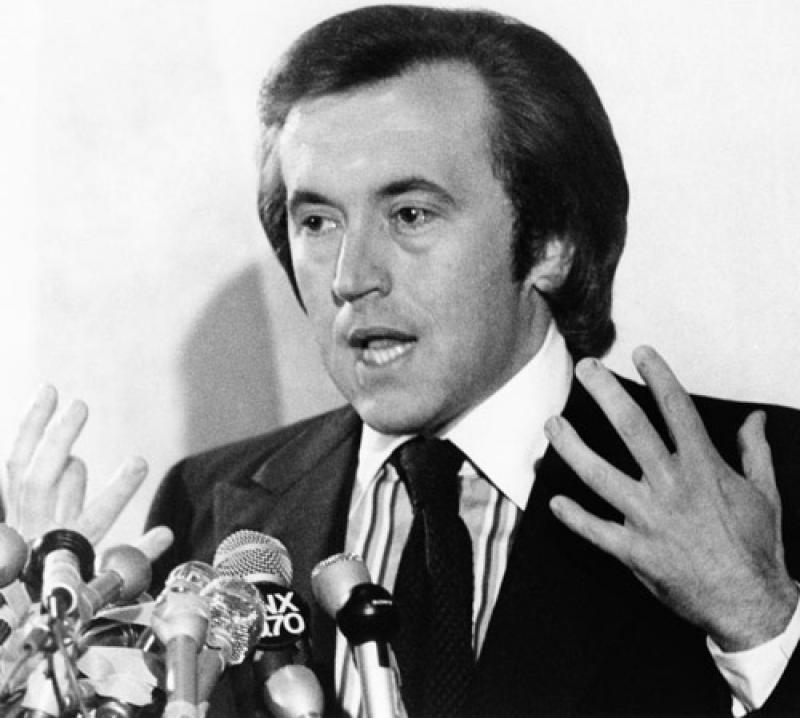 The way we were: budding media tycoon David Frost models satirical hairdo
Remarkably, the most provocative moments in Sir David Frost's survey of TV satire were supplied by his own early-Sixties show, That Was The Week That Was, when he was still an oily young upstart on the make. The BBC's Director General himself had declared that the aim of the show was to "prick the pomposity of public figures", but he must have felt the shockwaves rattling the door of his office.
We revisited Millicent Martin's scathing lullaby for single mothers to sing to their children ("the world is full of bastards just like you"), a member of the studio audience jumped onstage and tried to punch the ostentatiously too-clever Bernard Levin, and the show's scorching parody of the Black and White Minstrels was frankly gob-smacking, with its lyrics about Jews, the Ku Klux Klan and the blood of hanged "niggers" dripping into the Mississippi. Strewth.
This stuff would be staggering now, let alone in stuffy, uptight, monochrome 1962, but these days shock and awe are left to the military. As Sir David pottered through the subsequent decades, highlighting satirical milestones such as Spitting Image, America's Saturday Night and Saturday Night Live, the works of Rory Bremner and the indestructible Have I Got News for You, there were some hilarious moments and lethal impersonations, but little evidence of political empires brought crashing to the ground. Frost, despite his latter-day establishment leanings and borderline-senile delivery, retains the knack of getting his interviewees to talk, and he conducted a particularly illuminating discourse with Spitting Image's producer, John Lloyd. (Thatch and John Major get the Spitting Image makeover, below.)
Among some splendid yarns about how he'd had to pay weekly visits to the Independent Broadcasting Authority and explain to a solemn committee why Spitting Image's jokes were funny, Lloyd took a sober overview of the satirist's lot. Could satire change the world or not, enquired Frost. "Not in my experience, no," said Lloyd. "I think satire changes perceptions but I don't think it changes the actuality."
Ian Hislop made the point that satire tends to thrive in periods of stark political conflict, as in the Thatchist 1980s when people felt driven to riot in the streets, but the job becomes harder as political satirees grow increasingly shapeless behind a smog of spin, lies and subterfuge. The way Rory Bremner was the first satirist to find cracks in the gleaming facade of Teflon Tony Blair was hailed as a triumph, but ultimately it was Blair's own greed and messianic delusions that brought him down, rather than some clever sketches on television. Bremner's admission that he would think twice before making jokes about Islam – because he'd be saying to himself, "If this goes down badly then I'm writing my own death warrant" - was honest and rational, but a deflating corrective to the notion of satirists as fearless iconoclasts recklessly spitting in the eye of the rich and powerful. It was almost as bad as the confession from a benign, roly-poly Chevy Chase that while he was willing to lampoon politicians, he hated the idea that they might actually feel personally wounded by his comic barbs.
Nonetheless we're much better off with satirists than without them and, if nothing else, satire will always have a role as a lightning rod for shared disgust, anger or contempt at the behaviour of our public representatives. What a shame that so few of the latter are capable of feeling shame or remorse.
And we leave you with news of my favourite bit of the programme, which was Will Ferrell's impersonation of Dubya Bush: "I'll be on the job, making the tough decisions, 24-7. That's 24 hours a week, seven months a year." It didn't destroy the Bush presidency, but only a military putsch could have.