Florence + the Machine, Alexandra Palace (2012) |

reviews, news & interviews
Florence + the Machine, Alexandra Palace (2012)
Florence + the Machine, Alexandra Palace (2012)
High-impact performance from Ms Welch puts doubts to rest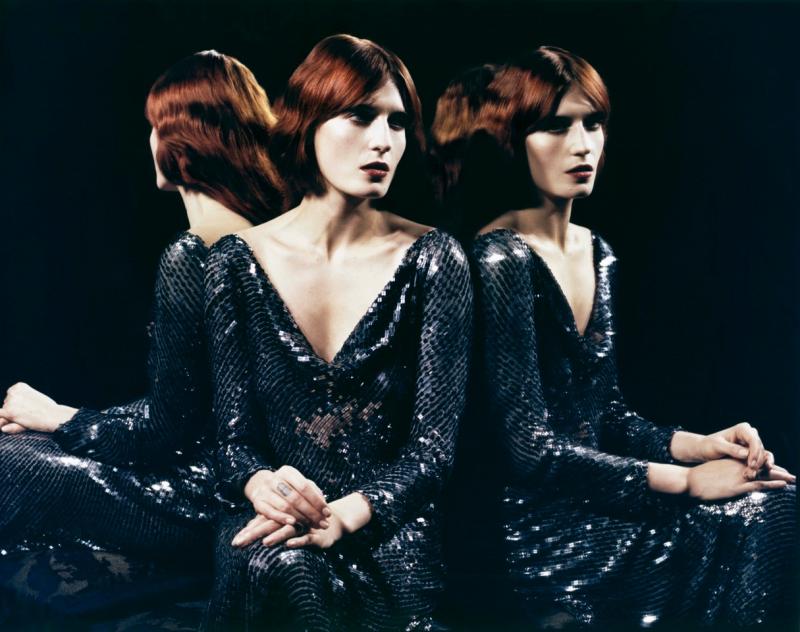 Beside herself with Florence
I figured there were two solid reasons to attend last night's Florence + the Machine gig in North London. The first was that I'd given Ceremonials a fair few listens, and was beginning to conclude that the chaps at Island Records had identified what they thought constituted, hitherto, the "Florence sound", and then simply produced an entire album of it.
I found the result somewhat less invigorating, less wild and haphazard than
Lungs
, F+tM's debut, and wanted to know if it would be better on stage. The second was that, between her rather, um, "portable" lyrics and her high-impact manner of performance (both things, I agree, that could only be deemed failings by professional music critics), there have been one or two questions raised over the putative contrivance of Florence Welch – and I wanted my concerns allayed.
So I pitched along with all the middle-aged mums and camply-dressed young chaps out to let their inner Flo flow (all identifiable from the nearest tube station. Every single cut and shade of trouser you can imagine: and some you probably shouldn't) and it gives me great pleasure to report that, despite the old Victorian barn of Ally Pally being not quite right for the mood, and much of the evening being spent watching the performance on one or other of the giant screens, Florence + the Machine made the absolute most of it, and that was plenty.
What with the gospel choir, the antique-effect orchestra, the hieratic garb, her own personal harpist, and the heaven-ward glances (which is, alas, when she bears her closest resemblance to Noel Fielding), "Only If For a Night" was Florence starting as she meant to go on, unabashedly flamboyant, the hammering music-box continuo ringing out against the art deco brandy-basket of a stage.
From here she cracked straight into "What the Water Gave Me", a song about having pockets full of stones, and suddenly you realise where you've seen that statuesque beauty (I think the preferred euphemism is "Roman") and the rather strictly tied back hairdo: it's mad old Virginia Woolf, everybody! You only have to look around at all the pasty faces and terrible hair to realise that Florence is a godsend for theatrically "troubled" middle-class girls the world over. (Her fans don't just like her. They LOVE her. Several of them said as much.) She knows damn well what she's doing, allying herself with Woolf.
Though often operating in the first person, Welch sings (and presumably writes) her songs as though they are congregational, with universal implications – hence the tween appeal. As a piece of theatre alone, "Cosmic Love" had cosmic power, and by the time she got to the quiet line "I heard your heart beating" – a slow-to-nothingness, punctuated by a dum-dumph… dum-dumph… from the bass drum – she had the audience in her hand and she knew it. (Welch "conducts" lightly with her hands as she sings. As she warmed to the role of galactic controller, cast in her very own Bowie movie, with Egyptological trim, I found I couldn't shake the feeling that she'd practised for this moment in her bedroom, using dolls.)
"Between Two Lungs", though a fairly heavy, trance-like number, was performed with a balletic verbal delicacy (Ah… She's the swan that all the ducklings want to grow up to be…!). And speaking of lungs – boy, does she have a serious set. (Her tuning's nothing to write home about; but hell, it wasn't a night at the opera.)
As if in full knowledge of what was coming, Welch allowed herself a little smile of pride
After a few minutes of really quite charmingly-guileless banter with the crowd, F+tM shifted into a second-half of relatively calmer material, as if by way of a warm-down. The change of pace was certainly perfectly reasonable (if only because she'd been going at it pretty hard thus far); but after a succession of "lesser" numbers – the clangily up-tempo, Eighties-ish "Breaking Down"; "Heartlines", which didn't get off the ground the way one would've hoped; and "Leave My Body" – a plateau began to form on the horizon.
It's a trick to be at once ethereal and anthemic, but "Shake It Out" achieves just this. As if in full knowledge of what was coming, Welch allowed herself a little (and legitimate) smile of pride. Although – and perhaps the lighting is to blame here – she followed it with a slo-mo cape-removal that was just a little to close to "Mrs Jacobi becoming…" from Red Dragon. Then, during a drop-in string-section longeur in "Dog Days", she mounted the riser at the back of the stage, and sinuated her velour-clad, feline physique like, well, like the fairy on top of a music box. I'm not sure, now, why this surprised me so much.
But she rallied with "Rabbit Heart (Raise It Up)", and then threw in the whirling "Spectrum" and the pounding "No Light, No Light" for good measure, underlining proceedings with F+tM's now-established cover of "You Got the Love" by The Source.
Honour duly satisfied, and everyone having got what they'd come for, Florence thanked the punters and the punters thanked Florence, and everybody went out into the night.
Her fans don't just like her. They love her. Several of them said as much
rating
Share this article