The Hunger Games |

reviews, news & interviews
The Hunger Games
The Hunger Games
Compelling adaptation of Suzanne Collins's dystopian teen drama is emphatically not about young love
Katniss (Jennifer Lawrence) attends the Reaping ceremony
Given the numerous and now pretty tiresome comparisons that pundits and punters alike have drawn between the Hunger Games trilogy and the inexorable Twilight saga, it's worth taking a moment to imagine how the franchises' respective heroines might get on if they actually met. One can't imagine they'd see eye to eye on much.
The Hunger Games' fiercely self-reliant Katniss Everdeen is a 16-year-old with the weight of a broken world on her stoical shoulders, fighting tooth and nail to protect her family from starvation and violent oppression. Twilight's meek, passively dependent Bella Swan is a 16-year-old preoccupied solely with the question of which man she should devote her life to. In all likelihood, their meeting would end with Bella getting an arrow through the eye.
Her father dead, her mother lost in near-catatonic depression, Katniss – played here with earthy nuance by Jennifer Lawrence – has learned to hunt and barter to put food on her family's table. It's a challenging prospect in the dystopian surroundings of Panem, a country that was once North America but now consists of 12 districts ruled over by a despotic Capitol. The eponymous Games are an annual event in which one boy and one girl from each district are randomly selected to compete in a battle to the death, televised in the style of a reality show. If you're wondering where you've seen this premise before, try brash Japanese shocker Battle Royale or the blackly satirical Series 7: The Contenders. When her beloved younger sister Prim is selected for the Games at the none-too-reassuringly named Reaping ceremony, Katniss volunteers to take her place.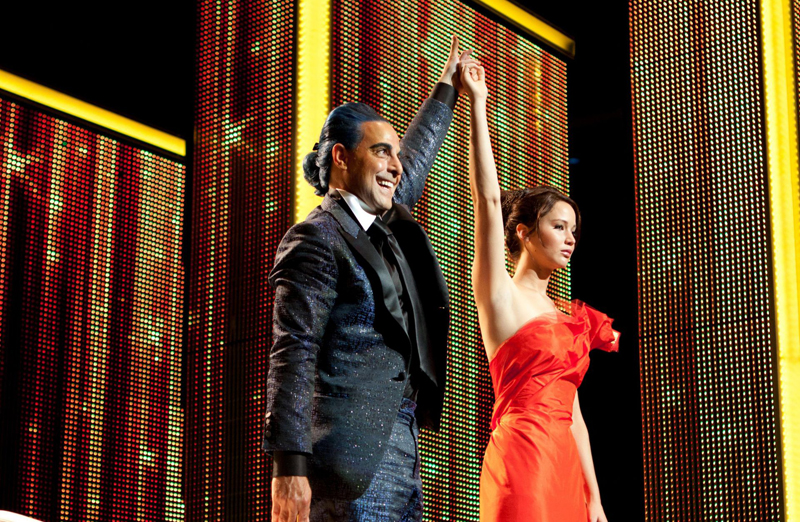 Director Gary Ross (incongruously best known for the sugar-coated Seabiscuit) and his director of photography Tom Stern (Clint Eastwood's regular DoP for the past decade) establish a shrewd visual contrast between the muted blues and greys of District 12, where Katniss leads a hand-to-mouth existence, and the garish neons of the television studio into which she's later thrust. Each contestant is primped and styled for the cameras, expected to charm the crowd in a talk-show interview before being led to the slaughter. "It's a very interesting mix this year," muses host Caesar Flickerman (Stanley Tucci), a piece of pre-game analysis exemplifying the film's dead-on portrayal of the dynamics of reality television.
That said, there are political resonances that don't survive the page-to-screen translation. One of author Suzanne Collins's most potent and disturbingly plausible ideas is barely mentioned here – that of the "tesserae", a system by which poorer citizens can choose to have their name entered into the Hunger Games ballot more times, thus increasing their chances of being picked, in exchange for extra food.
While the contestants' training period is given a pleasing amount of scope here, the trade-off is that the Games themselves feel curiously rushed and even anticlimactic. This comes down to a simple problem of establishing the passage of time – much of the book follows Katniss alone for days in the densely forested arena, staving off dehydration and hunting for food. It's hard to imagine how these portions could compel on screen, but without them there's less sense of sheer endurance, and thus one or two of Katniss's later lucky escapes feel less earned.
There's also an expanded sense here of the world beyond the arena, and hints of the political unrest that will become crucial in later instalments. Where Collins's prose stays tethered to Katniss's point of view, the script moves between her and the sinister forces controlling the Games in a way that's reminiscent of Drew Goddard and Joss Whedon's upcoming The Cabin in the Woods. Without wishing to spoil that film, the two would make a compelling double bill.
And then, of course, there is the love triangle. As deftly as Lawrence conveys every note on the emotional scale from deadened terror to helpless fury, there's a curious lack of spark with either childhood friend Gale (Liam Hemsworth) or lovelorn fellow contestant Peeta (Josh Hutcherson). But this seems almost to be by design in a film whose view of romance is cynical at best. As directed by mentor Haymitch (an enjoyably sardonic Woody Harrelson), Katniss pretends to return Peeta's feelings for her in order to curry favour with viewers, knowing that young love will "give them something to root for". Team Peeta? Team Gale? Who cares? In a world this bleak and desperate, there's no room for heroines in the Bella Swan mould.
This is explicitly not a film about young love, or being torn between boyfriends. It's about family and terror and loss. It's about being brave, and being alone, and having to grow up too soon. It's about one young woman who is strong and smart and single-minded enough to overcome the odds. In other words: if you must pick a team, make it Team Katniss.
The Hunger Games is on UK release from Friday, 23 March
Watch the trailer for The Hunger Games
Katniss is a 16-year-old with the weight of a broken world on her stoical shoulders, fighting tooth and nail to protect her family
rating
Explore topics
Share this article