Remote Control, ICA |

reviews, news & interviews
Remote Control, ICA
Remote Control, ICA
An exhibition exploring how artists over the last four decades have engaged with television
'Those Who Don't Change Will Be Switched Off', by Simon Denny, 2012
Remote Control and its accompanying series of events, Television Delivers People, coincides with the analogue to digital switch-over, marking a shift in the history of a medium which will soon be eclipsed by on-demand content. While this may sound mundane on paper, the humble light-emitting box has been the elephant in the room for the last half-century, profoundly transforming living habits and shaping political discourse.
What's more, television at its worst has represented the kind of passive, habitual looking to which art-making is intrinsically opposed. The show itself is a survey of artistic meditations and interventions, looking to break open the social and political mechanics of programming.
The exhibition is torn between two poles: on the one hand is the physicality of the equipment, and on the other how the medium is used for artistic ends
The exhibition is torn between two poles: on the one hand is the physicality of the equipment, and on the other how the medium is used for artistic ends. Indicative of the former are Matias Faldbakken's rough-shod casts of flat-screen television sets presented with partial cardboard and wood casing. These stained and fractured ghosts are evocative of urban decay but textured with the moulded contours of consumer technology. Then there's Simon Denny's remnants of a huge, now obsolete analogue TV transmitter, which, with its defunct switches and levers, occupies a central place in the gallery. But beyond its impressive size, it's not really adding much to the discourse.
Beside this mass of old technology are artists' TV projects, each of which you can watch with a single pair of headphones and totalling up several hours of footage. Richard Serra's Television Delivers People, 1973, a bizarre addition to this sculptor's oeuvre, is a polemic against the medium. White text floats up a blue screen while muzak plays, informing us that "You are the product of TV... You are delivered to the advertiser who is the customer". It attempts to do what Serra accuses corporations of doing (changing our behaviour), but with less success.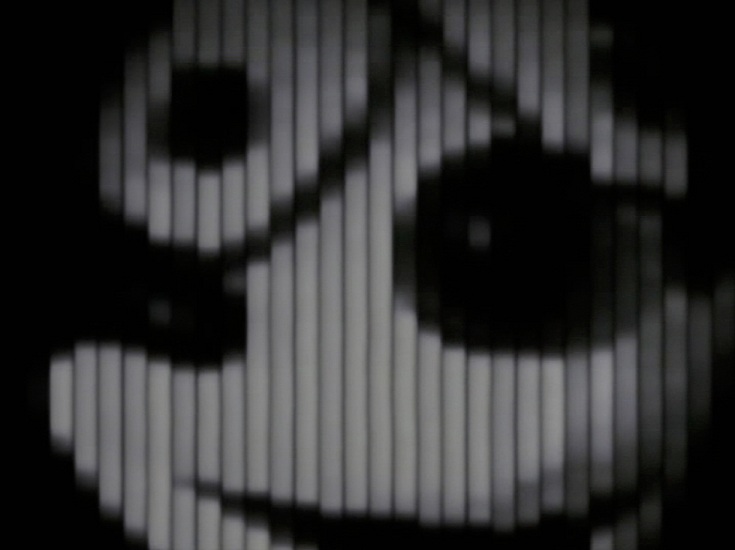 Serra's sloganeering can't match the nuances and complexity of the medium, and more compelling are the artistic deconstructions of televisual language. Stuart Marshall's The Love Show, 1979, examines constructions of sexuality, as does Joan Braderman's satire of Dynasty, whilst KRIWET takes on that seminal moment of communal television-watching: the 1969 moon landing. Surprisingly, Andy Warhol and Chris Burden, two major artists who notoriously ventured into the medium, are not present.
Works upstairs mostly synthesise the physicality of equipment and television images. Taryn Simon's Alhurra TV Broadcast Studio, Springfield, Virginia, 2006-07, reveals TV's place in the soft-power strategy of the war on terror. We see an Arab channel funded by the US congress and broadcasting from the heart of America. A female newsreader sits serenely in profile under the gaze of floating cameras while on a background screen a masked man holds an enormous rocket-propelled grenade up to a far remote camera. Richard Hamilton's famous image of the TV-mediated Kent State massacre is here, as is Mark Leckey's Felix Gets Broadcasted, 2007 (still pictured above right), a beautifully shot film of an early test card machine.
In his 2007 book Feedback: Television Against Democracy, art historian David Joselit argued that in a world where democracy is conducted through images, art history has the capacity to become a political science. It's a bold and true statement, but the problem with this show is that while it comes good on giving us a decent survey of artistic responses to TV, it doesn't give them enough thematic context. It's an ambitious show for the weakened ICA and credit is due, but a subject like this needs a major museum's attention.
While this show comes good on giving us a decent survey of artistic responses to TV, it doesn't give them enough thematic context
rating
Explore topics
Share this article