Shakespeare in Italy, BBC Two
Shakespeare in Italy, BBC Two
The thinking woman's Krystle Carrington lays claim to the Bard as an honorary Italian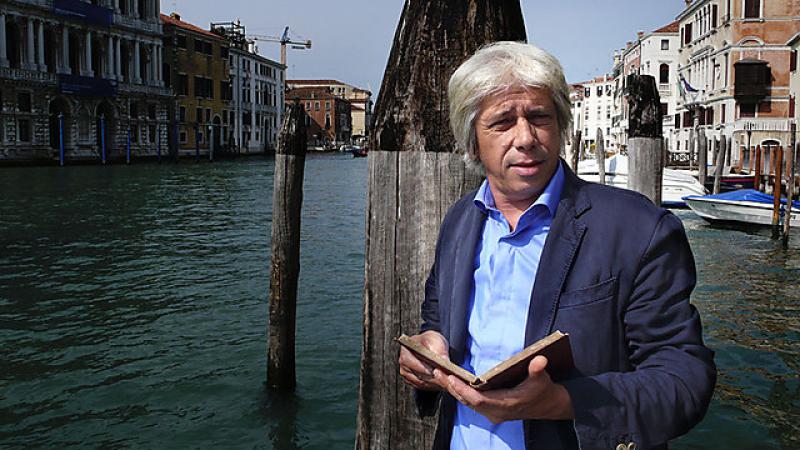 Francesco da Mosto: 'God-given, below-the-belt hotness'
Francesco da Mosto's two-parter is ostensibly about the Bard and his fascination with the TV historian's native Italy. In reality, it's a film about da Mosto and his apparently God-given, below-the-belt hotness. Given the camera's ceaseless drooling at the presenter, a more honest title would have been "Ladies! Get a load of this!"
There's something about da Mosto that makes TV producers come over all unnecessary. In their view there is no one more ruggedly handsome and intrinsically Italian than he. Thus, in Shakespeare in Italy, if he wasn't captured driving his red Alfa Romeo down country roads flanked by sun-dappled olive groves, the wind rippling through his bountiful Krystle Carrington mane, he could be seen zooming around the canals of his beloved Venice in a sky-blue speedboat, smarming "Ciao, bella!" at pretty passers-by, or walking with artfully furrowed brow through Tuscan gardens, forever accompanied by the sound of the zither. Granted, this is the first da Mosto documentary that hasn't had his name in the title. But just like Francesco's Venice, Francesco's Italy, or Francesco's Mediterranean Voyage, da Mosto remains the centrepiece in a film that is essentially an extended advert for the land of his birth.
It was Shakespeare, rather than generations of gondoliers, who first established Italy as the land of love
Indeed, you have to wonder if it's sheer coincidence that the programme goes out just when the summer tourist season cranks into action. Such was the film's fondness of cultural stereotypes – Look, there's Francesco eating spaghetti bolognese! Look, there he is at a masked ball! – that you can only presume that had the programme been called Shakespeare in France, they'd have had Daniel Auteuil in Breton shirt and beret and chewing on a frog's leg.
Da Mosto's objective in the programme was to lay claim to Shakespeare, who set a third of his plays in Italy, as a vital part of the country's cultural heritage. His investigations led him from Venice to Padua, from the Ponte Vecchio in Florence to Juliet's balcony in Verona. He asserted that it was Shakespeare, rather than generations of gondoliers with pencilled-on moustaches, who first established Italy as the land of love (cue footage of assorted couples with their tongues down each other's throats along the Grand Canal), and that the Bard's lost years from 1585 to 1592 where very likely spent there with his so-called "dark lady", an Italian beauty named Emilia Bassano, who was believed to be his lover and whom he celebrated in his sonnets.
This was all conjecture, of course, first posited by academics in the 1970s and which fitted neatly into da Mosto's thesis that Shakespeare felt a greater affinity with Italy than he did England. More farfetched was the idea that through his Italian–set plays Shakespeare taught subsequent generations of English men and women how to love. As da Mosto later pointed out, Shakespeare in fact thought a man should marry for money while his depictions of true love, such as in Romeo and Juliet, invariably ended in tragedy. Moving on to the playwright's comedies the presenter went to Sicily where he met actress Emma Thompson, who played Beatrice in the film version of Much Ado About Nothing, and who talked about Shakespeare's invention of what we now know as the rom-com. Picking up a copy of Much Ado… the pair put on an ad hoc performance in a coffee bar, with the presenter taking the part of Benedick. Da Mosto is no actor but it was with discernible relish that he recited the line: "It is certain I am loved of all the ladies."
da Mosto remains the centrepiece in a film that is essentially an extended advert for the land of his birth
Explore topics
Share this article