The Dictator |

reviews, news & interviews
The Dictator
The Dictator
Sacha Baron Cohen favours gross-out over satire as an autocrat in New York
Aladeen Insane: yet another foot-in-mouth clot from Sacha Baron Cohen
Is this a sophisticated satire or a dumb, laugh-out-loud, nothing-is-sacred comedy? That is the question which pings around your head Sacha Baron Cohen's latest.
The title is presumably a nod to Chaplin's
The Great Dictator
, but while that is still rated as a classic 72 years years after it was made, somehow you cannot see this piece of lightweight froth, in which Baron Cohen plays strutting but stupid North African potentate Admiral General Aladeen, being held in the same esteem for 72 weeks.
Baron Cohen's fourth film marks a move away from the teasing and provoking of real people that made Borat and Brüno so excruciatingly funny. Instead this harks back more to his first cinematic outing, Ali G Indahouse, homing in on a mix of political chicanery and gynaecological and scatalogical quips. In that film Charles Dance grimaced and picked up a cheque as the supporting villain, this time it is Ben Kingsley doing a straight-faced turn as sinister Tamir, the Machiavellian power behind the democracy-despising dolt's throne.
While the jokes here regularly raise a smile, few raise any hackles
The crispbread-thin narrative quickly takes this Gadaffi/Saddam amalgam from Africa to New York to make a UN speech, which offers plenty of opportunities for fish-out-of-water fun. The plot thickens slightly when a bungled murder (John C Reilly as the gormless Southern-fried assassin) leaves Aladeen on the streets, replaced by an even dimmer doppelganger (also played by Baron Cohen). The real Aladeen is accidentally taken in by salad-munching feminist Zoe (Anna Faris) and ends up working in her health food store, where he plots his return to power with the aid of an exiled nuclear scientist he once ordered to be killed over a piffling disagreement (the execution gag is, incidentally, very similar to an Armstrong and Miller running gag).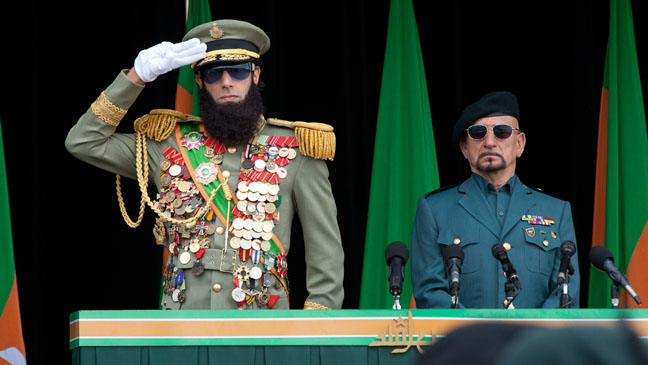 Maybe one should not scrutinise the plot too much, but it's difficult to graps why the scientist wants to help Aladeen, nor quite why a salad-munching feminist would fall for him, unless part of the satire is to show how gullible nuclear scientists and salad-munching feminists are. Don't bother asking yourself why Aladeen doesn't fall from a zip wire suspended between two skyscrapers. Somehow he hangs onto it for an age before evacuating his bowels over Manhattan.
A better policy is just to sit back and take in the rapid-fire sight gags and punchlines plus cameos from John Cusack, Megan Fox and Garry Shandling. In contrast to Baron Cohen's fearless approach in recent years, The Dictator seems nowhere near as lipsmackingly outrageous as his mockumentaries, lacking that frisson which comes with SBC ridiculing real people. While the jokes here regularly raise a smile, few raise any hackles. A helicopter trip over Manhattan is a cue for some 9/11 gags which might smart more at American screenings, while a scene in which Aladeen has to deliver a baby and gets his mobile stuck in utero is too silly to be offensive (and surely director Larry Charles missed a trick here – when Aladeen joyfully holds up the baby shouldn't he have been holding up his retrieved Nokia?)
Anyone hoping for hard-hitting Swiftian satire will have a long wait. But just before the end Aladeen, back in control of his country, makes his UN speech celebrating the joys of tyranny – control of the press, dubious elections, the rich getting richer while the poor get poorer, the kind of things one finds in modern America. This is the one moment where he gets close to the same ballpark as Chaplin's classic. Is The Dictator great? No. Passable gross-out comedy? Just about.
Watch the Trailer for The Dictator