Globe to Globe: King John, Shakespeare's Globe |

reviews, news & interviews
Globe to Globe: King John, Shakespeare's Globe
Globe to Globe: King John, Shakespeare's Globe
Armenia's version of Shakespeare's European war play hits every note - and more
'King John' in Armenian at Shakespeare's Globe
You might have wondered if, when Armenia was offered King John as part of the Globe to Globe season, they felt they'd drawn the short straw. Not a bit of it.
Shakespeare's early history play, the action of which pre-dates those for which he is better known by a century, may be rarely performed, but here, in what I suspect is a judiciously trimmed version, it brings out so much that genuinely crosses international lines, speaking Shakespeare's story with the local accent of the producing nation.
And Armenia and the Caucasus in general provide such fertile ground for pondering the same kinds of historical realities that Shakespeare did. In very recent memory there have been cities, effectively besieged like Angiers, at the mercy of larger, warring powers. It's no big stretch of the imagination to liken Shakespeare's bickering monarchs to various post-Soviet rulers – the hereditary presidency being monarchy in all but name. Memories of the cruelty of war remain in very many landscapes. Losses have indeed been suffered.
But Tigran Gasparyan's production from Yerevan's Gabriel Sundukyan National Academic Theatre didn't labour these points. Shakespeare has been a key part of its repertoire since its foundation in 1922, and apparently the bard was a way for the nation (and not only Armenia) to explore ideas of freedom under Soviet rule. Interesting, that. The action came with an approximate costume definition that mixed loosely Napoleonic war outfits, with a touch of Mad Max, and ruffs where required. There was still a single sword involved, but the battle scenes were done with suitcases and trunks, plus the old odd hold-all. It worked brilliantly. Characters entered one by one, each with their baggage (in the literal and metaphorical sense), which could be built into an ever-morphing range of visual effects.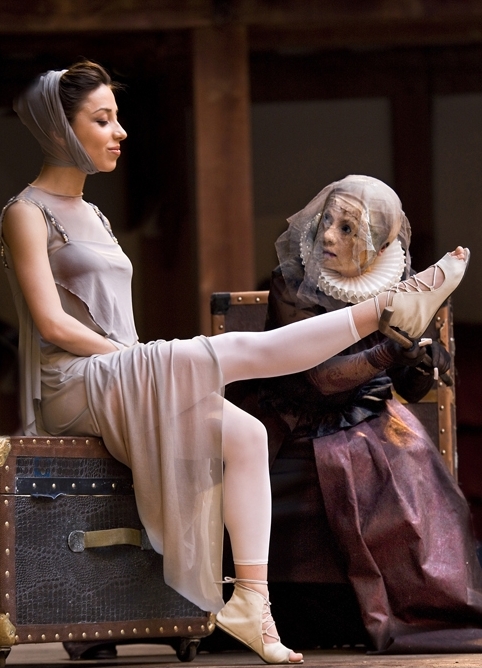 But very first onstage were the three musicians, led by the Armenian flute, the duduk, joined by clarinet and guitar. The musical accompaniment was pretty constant, except for when the Bastard-Plantagent raised his hand to command silence so that he could soliloquise. The presence of the duduk presence is the kind of local touch that defined this view of Shakepeare's John. The issue of national stereotypes may be a thorny one, but there was something very Caucasian in the wealth of physical action, comedy and elements of pantomime. The scene in which John learned from Hubert that Artur, whom he had previously thought murdered, was in fact alive, was played with the king hiding in a trunk in his grief, and then gradually reopening its top from inside - pure slapstick, quite brilliant.
In a cast of this quality, it's hard to single anyone out. If Armen Marutyan as John hasn't played Lear yet, he should soon. Tigran Nersisyan as the Bastard mae it brilliantly clear why his character emerged on top. Nelly Kheranyan played Eleanor as a sort of Miss Havisham on speed. Liana Arestakyan as Blanche played one scene with her husband with such sexual intensity that she earned a round of applause. There was another round in the exchange between Gnel Ulikhanyan as Artur and Albert Safaryan as Hubert, sent by John to put out Artur's eyes. If Globe to Globe sees another scene as strong, it will be lucky.
The only concern I felt was for the suitcases. They got battered around a lot. So, as the audience, did we. In a very special way.
It's no big stretch of the imagination to liken Shakespeare's bickering monarchs to various post-Soviet rulers
Share this article