Tracey Emin: She Lay Down Deep Beneath the Sea, Turner Contemporary |

reviews, news & interviews
Tracey Emin: She Lay Down Deep Beneath the Sea, Turner Contemporary
Tracey Emin: She Lay Down Deep Beneath the Sea, Turner Contemporary
The Brit artist bad girl has been replaced by a grande dame, and she's not looking back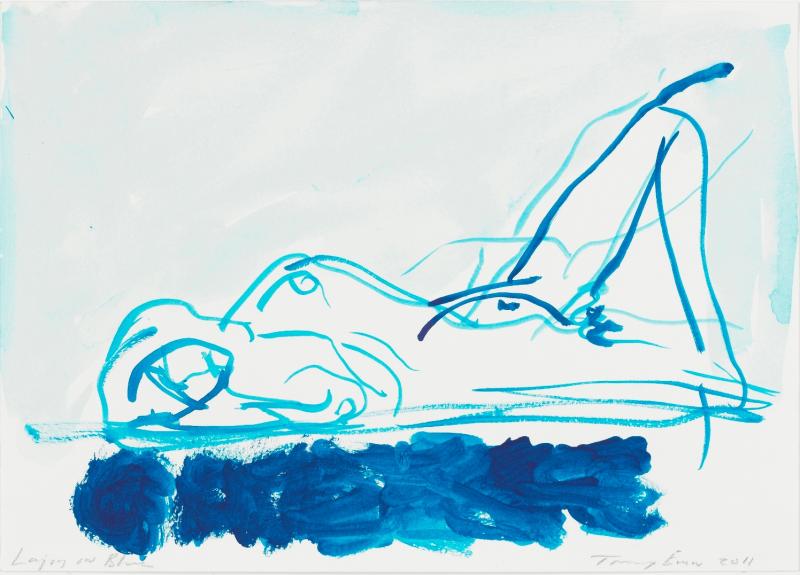 'Laying on Blue': a kind of universal idea of femininity?
"I realise how lucky I am coming from Margate. It's a most romantic, sexy, fucking weird place to come from. I didn't come from the suburbs." Tracey Emin's relationship to her hometown mirrors a familiar trajectory. Like all difficult relationships, it has chipped away at her psyche for years. Not surprisingly, we've sensed it played out in her work: first defiance and rejection, then a kind of ambivalent reconciliation, and finally a deep affection.
What is arguably her best work, the 1995 video, Why I Never Became a Dancer, which must surely be read as a modern-day, cult-of-celebrity fairy tale – delivered a triumphal two-fingered salute to all those who'd wronged and humiliated her in this shabby seaside town. Maybe the affection was there all along, though inevitably complicated by other emotions.
You wonder if this mature self-acceptance is just Emin playing a novel role, and whether the persona really fits
Now with her first exhibition of new work at Margate's seafront gallery, we're witnessing a triumph of a different sort: this is Emin the professorial grande dame (she's now a drawing professor at the RA, as well as an Academician). And though she has been an artist of "the establishment" for some time, it is here, much more than in her Hayward retrospective less than a year ago, that it all seems to finally coalesce. There are even, amongst Emin's own nudes, the private nude sketches of Rodin and Turner, thus validitating her status in the pantheon (beautiful, explicitly sexual images by JMW, most of which it's long been thought were destroyed by Ruskin to protect the great artist's reputation).
And so, in this quietly focused exhibition of new work, which is made up of drawings, tapestries and embroideries of drawings, along with a few neon pieces and sculpture – and none of which, incidently, make any direct reference to Margate – we encounter a mood that's calm and mature though never dry; and actually, in the end, just as Emin had hoped, it's rather uplifting, whatever the naysayers say.
There are, of course, still flashes of the old Tracey: "The Confussion is I Love You", she writes above a sketch in blue of her naked self, neatly conflating "confusion" and "confession". And there are few other angsty outpourings of love and loss, and so you wonder if this mature self-acceptance is just Emin playing, like Madonna, a novel role, and whether the persona really fits – though, indeed, she manages to wear it well and at least for the time being it rather suits her.
The four rooms in the exhibition are thematic. The first features naked self-portrait sketches in blue on white paper, hung in deep rows on the wall, like porcelain plates. Febrile, formless, weightless and faceless, these nudes might suggest a kind of universal idea of femininity, since there is nothing to locate them to person or place. A smaller series of blue-on-white drawings of a couple in bed have their faces obscured by scribbles or are barely delineated, and their bodies exist only in faint, rudimentary lines. These delicate sketches are rather touching, since they suggest a longing for comfort, for safety, for a safe haven.
There are also drawings and prints paying homage to Picasso, and, if she's going to take on Turner and Rodin, then why not? But these portraits again offer us a kind of generic womanhood, for neither the features of Emin herself or any of Picasso's muses are discernable. What's rather more satisfying here are the tapestry works, transposed from watercolour sketches (pictured above): febrile nudes bathed in washes of pale yellows and pinks and greys, suffused with something of the Margate light, the watery light that Turner so admired.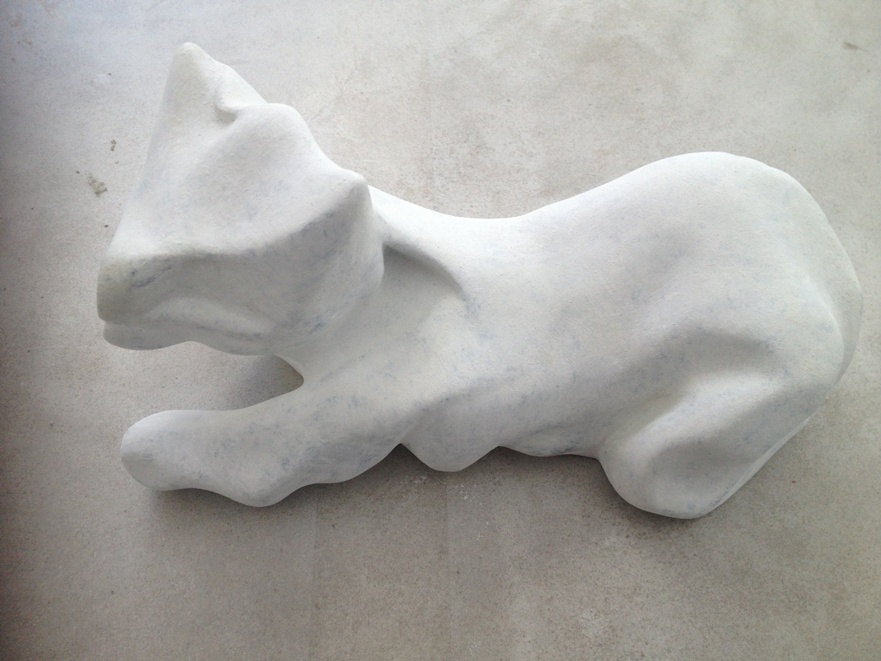 Emin is no sculptor (though thankfully better than Damien Hirst is a painter) and here it largely shows. There's a huge, blobby mass of white plaster on a plinth called Sphinx, which is a very poor pastiche of a Rodin, but, still, I felt rather taken with a charming bronze sculpture in white of Docket (pictured right), Emin's beloved cat. It sits unobtrusively on the floor in the corner of one of the galleries facing the wall, and is easy to miss, or indeed to kick over. And there's a perfect white pomegranate called Secret of the World, that suggests the hidden seeds of fecundity, a harking back to the Hayward retrospective which was all about the loss of fecundity. Here the pale pomegranate sits on its own on a wooden base, self-contained and sheathed in its thick skin.
There's one work, The Vanishing Lake, that felt beautifully resonant. It's of a metal bathtub shaped like a coffin in which there's a dirty, crumbled Union Jack flag. I think I read somewhere that the crumpled flag is Emin commenting on the current state of Britain, but I didn't read the work in this way at all, but rather as Emin finally wanting to lay to rest the ambivalent label of Brit artist. After all, that Nineties girl holding aloft a Union Jack like a triumphant sprinter on the cover of the Hayward retrospective catalogue is now gone, and she (definitely maybe) won't be coming back.
Febrile, formless, weightless and faceless, these nudes might suggest a kind of universal idea of femininity
rating
Explore topics
Share this article