Louise Bourgeois & Tracey Emin, Do Not Abandon Me, Hauser & Wirth |

reviews, news & interviews
Louise Bourgeois & Tracey Emin, Do Not Abandon Me, Hauser & Wirth
Louise Bourgeois & Tracey Emin, Do Not Abandon Me, Hauser & Wirth
A great double act, or two sides that don't quite cohere?
Thursday, 17 February 2011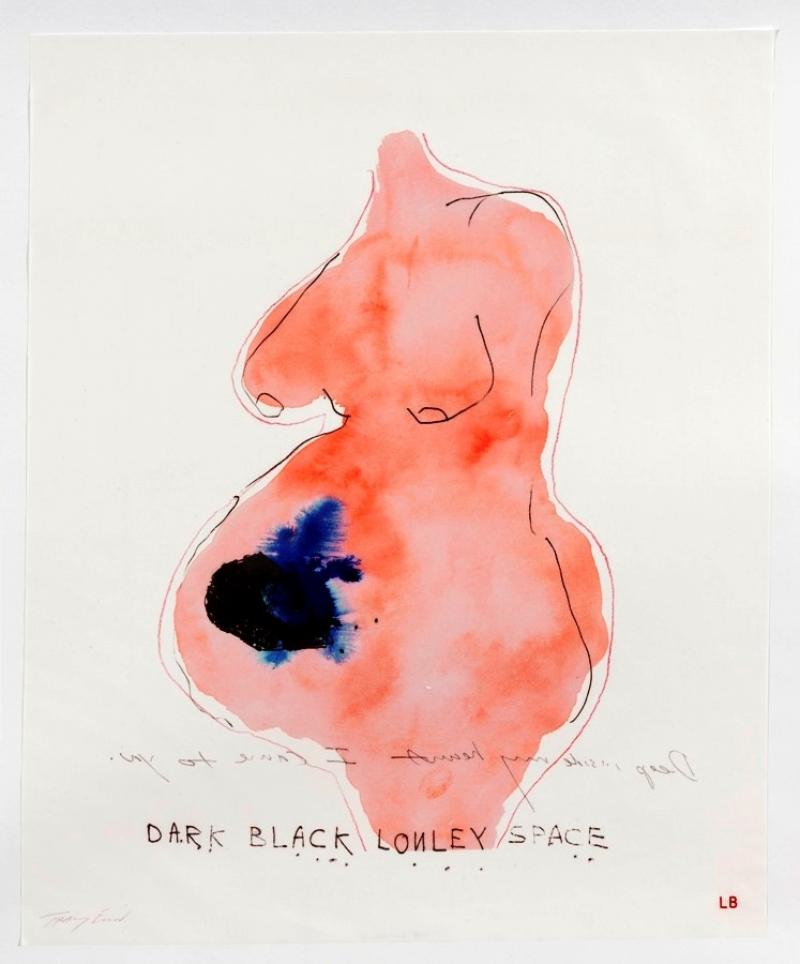 'Deep inside my heart' by Louise Bourgeois and Tracey Emin
Louise Bourgeois died last year at nearly 100, a revered figure: survivor of the Surrealist movement into the 21st century, a pioneer of autobiographical expression, whose fame came only late in life.
Tracey Emin, by contrast, found fame early, coming to the attention of the general public in Charles Saatchi's
Sensation
show at the Royal Academy while she was still in her thirties. Both, however, work a single-mindedly autobiographical vein – indeed, open their veins figuratively to pour their lives into their art. The idea of a collaborative work, therefore, seems natural.
Bourgeois created a series of gouaches, male and female torsos in lovely veils of red, magenta and blue, which she then handed on to Emin, who incorporated her own spidery figures on them, using the disproportion of size to create narratives of psychic pain. Yet, unusually, Bourgeois's original paintings are decidedly un-narrative, relying on the liquid colours and the febrile, fragile lines surrounding them to produce their own aura of tone, rather than of history. For an artist who made a fetish of translating her life into art, Bourgeois has here produced figures that are rather serene and detached. This is not Bourgeois at her finest - for that one has to go back several decades at least. But her share of this collaboration is work of skill, serenity and balance.
Until, of course, Emin has performed. For Emin's art is always about performance, and for an artist who produces in so many media – prints, photography, film, neon, fabric, installations and more – her performances have become rather predictably repetitive. Here once more are her tiny scribbled line drawings of women, legs splayed, cavorting this time over and across and underneath these rolling hills and valleys of flesh. Here is the familiar lettering, the words almost but not quite making sense: "THERE IS NO SPACE IN MY HEART IT DIED WHEN MY CUNT STOPPED LIVING YOU KILLED IT WITH YOUR LACK OF DESIRE...". Here are the scribbled-out messages, "You kept fucking me", with all of it crossed out except the "me", and, underneath, "you" repeated over and over across the white ground: "me", "you" "you" "you". (Pictured right, I just died at birth.)

One woman rests on an erect blue penis; another woman kneels in front of yet another blue penis, entitled I held your sperm and cried. The woman doesn't appear, however, to be crying, but reading a newspaper, or possibly looking at a menu as the sperm rains down, which itself looks vastly more like cuts of meat than sperm, or even liquid.

Indeed, it is almost impossible to look at the little scuttly figures spread literally and figuratively across the prints and not start a mental comedy routine. Just hanging shows (another) blue penis, this time with a woman hanging from a noose at its end. I'm afraid that what immediately sprang to mind was not Emin's litany of rape, trauma, rejection, trauma, incest (and did I mention trauma?), but instead the cartoons of the wonderful Jacky Fleming, a feminist who refuses to whimper. (Her "Will the prince remain a quivering blob of frogspawn or will the kind princess swallow some and thereby save him? Probably not" seems a much more valuable lesson than I held your sperm and cried, or even I lost you (pictured below).)
I am being frivolous, of course. But the point I want to make is a real one. Emin, despite all the personality hoopla, which is irrelevant, is a serious artist. Why, therefore, is it becoming increasingly difficult to take her seriously? Part of it, I think, is that she has been unable to reconcile her artistic narrative of herself as victim with the success of that victim - herself - as a person. That portrayal of a damaged psyche that has such free play over so many decades and so much art has never developed: Emin-the-victim never seems to learn, never seems to change or develop, but instead just continues to revel in her state of damage. For an adolescent, or an artist in her twenties, this would be entirely comprehensible; for a woman heading for 50, it becomes faintly embarrassing.

What I am really saying, and what this exhibition of Emin's now-traditional half-formulated thoughts brings home so clearly, is, I wished I liked Tracey Emin's work more. But I can't take it seriously because she takes herself so seriously she has been unable to grow. Or, indeed, grow up.
I wished I liked Tracey Emin's work more. But I can't take it seriously because she takes herself so seriously she has been unable to grow. Or, indeed, grow up
Explore topics
Share this article