Globe to Globe: The Taming of the Shrew, Shakespeare's Globe |

reviews, news & interviews
Globe to Globe: The Taming of the Shrew, Shakespeare's Globe
Globe to Globe: The Taming of the Shrew, Shakespeare's Globe
Shakespeare's study in domestic discord played brightly and for laughs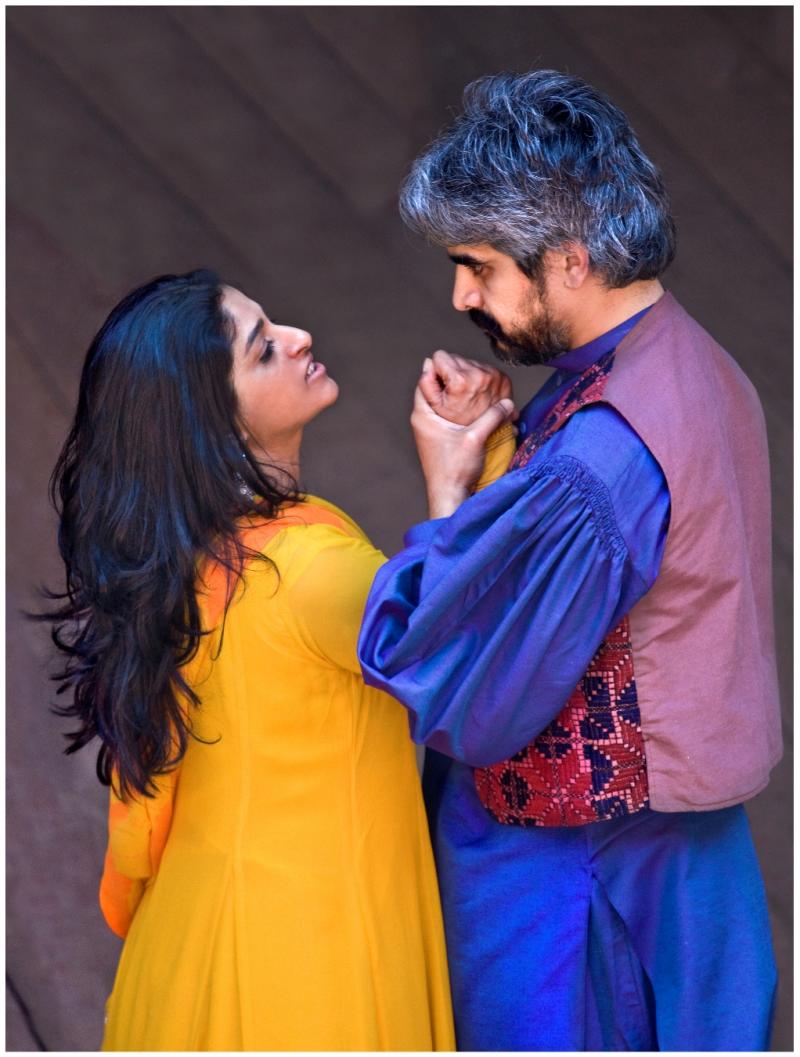 Omair Rana's hirsute swaggerer of a Petruchio, here called Rustam, Nadia Jamil's feisty Kiran, aka Kate
The battle of the sexes took on a bright and breezy tone in Pakistan's contribution to the Globe's ongoing Bardathon, the Theatre Wallay-Kashf's rumbustious production of The Taming of the Shrew. It's been more customary of late to treat this most vexatious of comedies as sustainedly ironic or as a far-from-funny exercise in domestic degradation. But the director Hassaim Hussain and his agile company were having none of that.
If anything their production in its tone often suggested a dry run for
The Comedy of Errors
, which the Globe will host later this week.
Ed Hall and his all-male Propeller troupe several years back posited the arc of Petruchio's relationship with Katharina as one less of submission than flat-out subjugation, with Kate pretty much beaten and starved into obeisance; so much for happy endings. That scenario couldn't have been further from the central combatants' dynamic as charted by the visitors from Islamabad. From her first sighting of Omair Rana's hirsute swaggerer of a Petruchio, here called Rustam, Nadia Jamil's feisty Kiran (aka Kate) disappeared behind his back to let the crowd know that she thought this guy was hot. Her body language exuded the very word - phwoar (sorry, can't give you the Urdu for that one) - that she wouldn't let herself speak. One can play compare and contrast when Samantha Spiro takes on the same role later this season in the Globe's own homegrown Shrew.
The emphasis throughout was on the knockabout, on releasing the inherently playful from a narrative that has long confounded feminists (and others), and with good reason, too. Early on, we got a sense of Kiran's volatile ways from a music lesson gone awry that found Osman Khalid's Butt's Hasnat/Hortensio emerging with a guitar broken over his head courtesy our termagant of a heroine. (The limbre Butt doubled as the production's choreographer.) And a single wide-eyed expression from Bashir (Salman Shahid), Kiran's father, spoke volumes as to his disbelief that such a filial scold would ever, um, score.
Those expecting some more pressing analysis of this play from a culture where arranged marriages still exist were instead treated to a forward roll, fart joke, and a fluttery solo dance for Karen David's Bina/Bianca, Kiran's eminently marriageable younger sister. (Here, by the way, were two actresses in Jamil and David who actually looked as if they could be siblings.) As for the drunken Christopher Sly, whose antics kick off the text but are often cut, that character was abandoned in favor of a puckish figure called Ravi (Maria Khan), who scuttled among the actors as an all-purpose comic foil, chivvying events along and adjudicating where necessary. A (mostly) wordless scamp, Ravi absented herself from such moments as Kiran flying a kite, an especially popular activity in the Punjab.
The performance ended, incidentally, with a quotation from the Sufi poet/philosopher Bulleh Shah about the importance of self-knowledge over academic learning. How do I know this, given that (as you may have guessed) I'm not particularly au fait with Punjabi mystic saints? Easy: I was enlightened on that topic and quite a bit else by the very kind Pakistani medic who was seated next to me with her family, all of whom loved every minute of the show. Here's yet another bequest of this incomparable season. One not only sees Shakespeare refracted through the broadest cultural prism imaginable, but it's more than possible to leave the auditorium having made new friends.
The emphasis throughout was on releasing the inherently playful from a narrative that has long confounded feminists (and others), and with good reason, too
Explore topics
Share this article