Torch Song Trilogy, Menier Chocolate Factory |

reviews, news & interviews
Torch Song Trilogy, Menier Chocolate Factory
Torch Song Trilogy, Menier Chocolate Factory
David Bedella delivers in a play that hasn't entirely stood the test of time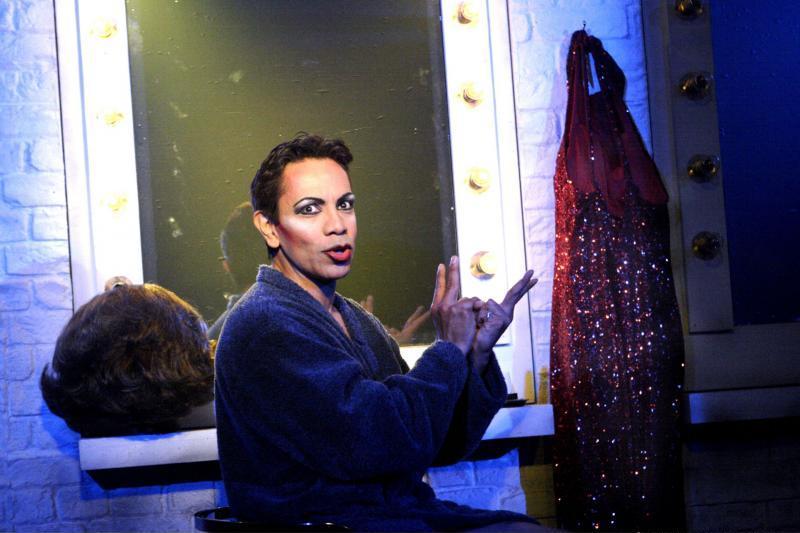 Who's looking at ya? David Bedella reinvents Arnold Beckoff in his own image
If it's possible for a piece of writing to remain significant, even important, without necessarily being great, that would describe the status of the epoch-defining Torch Song Trilogy 29 years after the triptych won Tony Awards for Harvey Fierstein as both author of the best play and best leading man. Notably different from the inimitably growly, outsized Fierstein, not least in terms of girth, David Bedella reinvents the demanding principal role in his own slimmer, always empathetic image. But neither he nor Douglas Hodge's affectionate production can quite erase one's sense that the material has been superseded by more sophisticated, less sitcom-heavy approaches to the terrain.
I saw this play in its Broadway premiere, and vividly recall its subsequent West End stand that starred a rouged Antony Sher fresh from his own career-defining Richard III. (Fierstein took over in London for a spell once Sher's contract was up.) Trailblazing in its wholesale embrace of the gay milieu to a degree that wasn't common on Broadway the way it is now, Torch Song bravely put centre-stage characters (a flamboyant drag queen and his bisexual lover) and situations (a backroom, for one) that raised more than an eyebrow, within the commercial theatre at least.
It belongs sweetly, almost guilelessly, to a pre-AIDS era where casual sex came without risk
To that extent, Fierstein's trophies and the show's prolonged New York success can be read not least as a political gesture: a crucial milestone in the gay community's self-assertion that Fierstein would carry over into the musical theatre the next season as book writer of the perennial Broadway and London favourite, La Cage aux Folles. (He is represented on Broadway at the moment by his Tony-nominated book for the musical Newsies.)
And here Fierstein's breakthrough play is in its first major revival either side of the Atlantic since those first New York and London runs. The director is the actor Douglas Hodge, who stormed both theatre capitals playing Zaza, La Cage's tender yet defiant Riviera drag queen.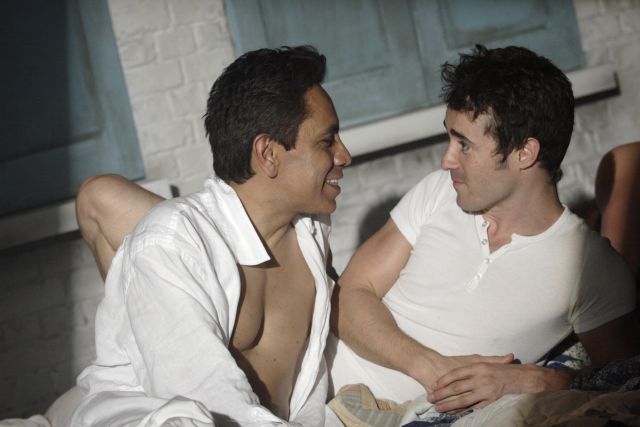 So, how does Torch Song itself look given the sometimes unforgiving passage of time? In one respect, it belongs sweetly, almost guilelessly, to a pre-AIDS era where casual sex came without risk, even if homophobia exists to prompt the brutal event that takes us into the interval. (The posters on Soutra Gilmour's clever multi-purpose set cue an age defined by films like Manhattan and Lady Sings the Blues.) But for all that remains winning about Arnold's gay New York Jewish shtick, especially as fielded by Bedella with commendably casual bravura, one is simultaneously aware of writing that frequently opts for either the easy laugh or the mawkish in favour of properly full-blooded investigation of character and relationships. Tony Kushner, or Cock, this is not.
That, in turn, means very much taking the play on its own terms, especially in an extensively filleted evening that has cut by over an hour a trio that in the original Off Broadway version hit the four-hour mark. The first two-thirds of the trilogy essentially present Arnold the showman as they canter through his backstage musings en travesti (stage name: Virginia Ham), charting his serial monogamy from the bisexual teacher, Ed - played by Joe McFadden with an ace American accent, (pictured above with Bedella), through to a young model, Alan (Tom Rhys Harries, a newcomer in over his head), whose affections for Arnold speak more to authorial wish-fulfillment than anything else.
Torch Song's real dramatic heft has always resided in the last, and longest, of the playlets, that finds Arnold back together with Ed as well as the new parent of a quick-witted, punky 15-year-old, David (Perry Millward, in a performance as exaggerated as his wildly askew hair). Into this male menagerie blasts Arnold's mum (a grey-wigged Sara Kestelman, pictured with Bedella above left), newly arrived from Florida for a visit and not at all pleased with what she finds. A cross-generational fight for survival, their face-off builds to Arnold's own version of La Cage's anthemic "I Am What I Am", whereby the son stands firm against the emotional devastation wrought by his mother in an encounter that moves on from quips to draw blood; Kestelman and Bedella do it proud.
The torch songs of the title are here shared among the cast (Kestelman struggles with some high notes on "My Funny Valentine"), and the sense of togetherness fostered by Hodge's direction is made complete by the musical sextet that closes the play. If the actual text in 2012 seems either to diminish or elide issues that numerous other writers would go on to explore far more fully (Ed's sexual confusion gets played out in a way that owes more to dramatic convenience than common sense), it's best to appreciate Torch Song as the torch-bearer of a bygone era: an emissary of a culture no longer willing to be confined to its own backroom but ready for its share of the spotlight, wigs, mascara, and wisecracks at the ready.
For all that remains winning about Arnold's gay New York Jewish shtick, one is simultaneously aware of writing that frequently opts for either the easy laugh or the mawkish
rating
Explore topics
Share this article